Matt Marchese looks at how Luis Suarez is changing his ways into a maturer, better player, who is enjoying his football.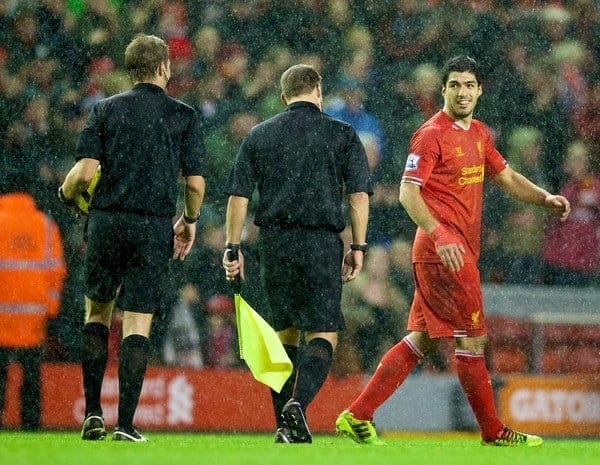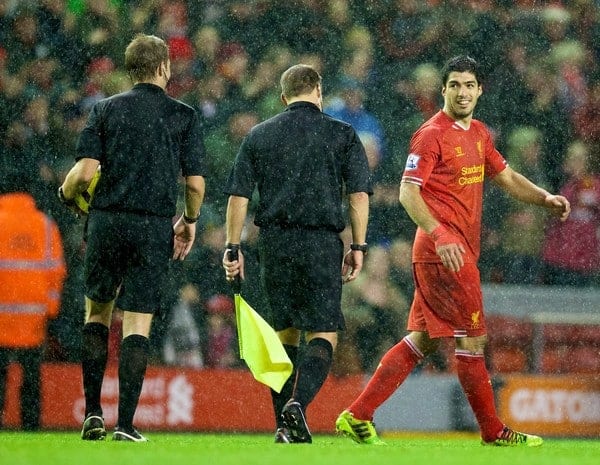 During the summer transfer window, speculation ran rampant that Luis Suarez would be on his way out of Anfield and off to Real Madrid.
Today, he leads the Premier League with 22 goals in just 16 games and the next closest player has 13 goals.
We can look back at the biting incident with Branislav Ivanovic or even further back at the biting incident while with Ajax in 2010 and talk about his immaturity, but not so much now.
Fans and pundits alike, see a new Suarez; a now driven Suarez, that wants to score all the time and more importantly, win in a Reds jersey. This was something that was in-comprehensive at the start of the season, especially with his frustration after his lengthy suspension and lack of talent surrounding him.
The Change
All signs point to the maturation of this soon to be 27 year old world-class striker. With the young talent around him finally coming to the forefront and taking pressure off his shoulders, the game is now easier for him. The rise of his partner in crime, Daniel Sturridge, has made defenders think twice about who is more dangerous on any given day, as proven by their master class performance in a short span against Stoke.
Going to a club like Real Madrid; despite his superstar status, could set him back, especially if he wants to be the go-to guy.
He is finally realising that Liverpool is where he needs to be right now.
You can see all sorts of changes in him and his play. He plays more like a bulldog than he ever has in his Liverpool career. His body language is better, he isn't bickering with referees nearly as much and most of all, he is smiling.
I know it sounds ridiculous, but it's the truth. He is enjoying football again.
And there is nothing more exciting for Liverpool fans then a happy, goal hungry, Luis Suarez.
The Deal
A new deal certainly went a long way to keeping that smile on the face of arguably the hottest striker in the world right now.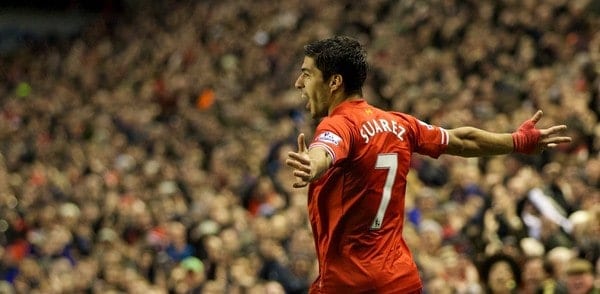 Management needed to find a way to show their faith in him, and having him sign on the dotted line of a new contract with a significant wage increase showed that they were willing to invest in him. That has to mean something in the grand scheme of things doesn't it?
His new contract signalled what could be the beginning of something special (again) for the club. The prospect of having one of the greatest players in the world right now, plus a possible spot in the Champions League could mean an influx of top end talent at Anfield.
And no one is more deserving to be at the top of that talent pool and the pay scale than El Pistolero.