Steve Maclean looks at the recent criticism of Liverpool's transfer policy and attempts to pinpoint where the "failings" begin and how they can be tackled.
"A camel is a horse designed by committee" – Sir Alec Issigonis, designer of the Mini 
After another transfer window in which Liverpool were left chasing shadows in Eastern Europe, fans are once again up in arms, and understandably so. Over the past two windows Brendan Rodgers' side have tried and failed to sign Henrikh Mkhitaryan, Diego Costa, Willian, Mohamed Salah and Yevhen Konoplyanka, and they are just the ones we know about. Predictably, the comical figure of Ian Ayre has been identified as the guilty party responsible for the club's failure to acquire its targets.
In the case of Henrikh Mkhitaryan, no matter what Ian Ayre did, the player was always going to join a brilliant Borussia Dortmund side fresh out of the Champions League final and going back into the competition again over a Liverpool side in turmoil. Diego Costa chose to stay with a side in the Champions League instead of one in the Europa, and Willian opted to join Chelsea, who also enjoyed Champions League status. The club decided Salah wasn't worth his asking price, and it was apparently the refusal of Ihor Kolomoyskyi to sign off the Konoplyank deal that stopped him joining Liverpool, not Ian Ayre's alleged incompetence. In each case, the failure was either in identifying targets for whom there would be competition from clubs with more to offer, or in going for players whose clubs simply weren't willing to sell. So is Ian Ayre is being given camels to ride in horse races?
Misdiagnosing the Problem?
After FSG had their fingers burned by the signings of Andy Carroll and Stewart Downing for a combined total of £55m, they appointed a transfer committee to ensure the same did not happen again. But in doing so, might they have misdiagnosed the problem?
The fundamental issue with Dalglish and Commoli's transfer policy was not that just one or two people had the authority to identify and sign players, it was that those people used a combination of reductive statistics and a taste for anachronistic, 'traditional' English footballers as their filters. You do not need a committee to stop a manager like Brendan Rodgers from signing Andy Carroll; Rodgers' philosophy alone means he wouldn't ever waste huge sums of money on such technically limited players in the first place. He wouldn't have signed Andy Carroll for £3.5m, let alone £35m.
The players Dalglish signed would have slotted comfortably into his title-winning Blackburn side, but in a more technical and continental Premier League that had long since moved on, these were not players worthy of the famous Anfield turf. What the club needed was a manager with a more progressive philosophy, who would recruit players suited to his style of play. In Brendan Rodgers we have that, so was the transfer committee really necessary?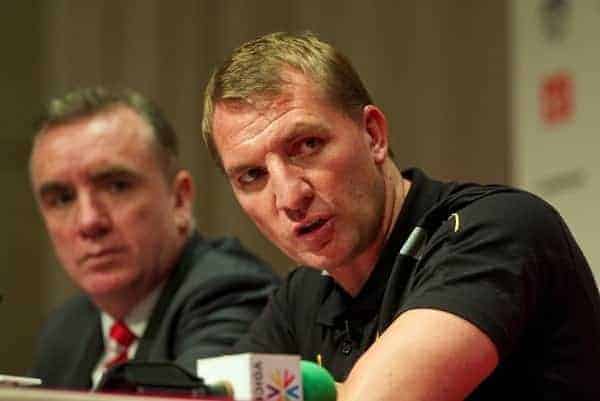 Design by Committee
In a blog post entitled 'Why decision by committee often fails', Presh Talwalkar – an expert on Game Theory and author of the Mind Your Decisions blog – uses probability to illustrate why committees "may not be the best for making touch choices!", concluding that, "That's not to say committees are useless. They will of course exist to diffuse risk and for the purpose of brainstorming (which may increase the odds of success over an individual). But this does show committees are ill-suited for the type of hard problem they are meant to address." 
It's fair to say that sourcing players good enough to take Liverpool back into the Champions League without the lure of Champions League football or bags of cash to throw at players qualifies as a "hard problem", and while several heads are useful for brainstorming as Talwalkar says, what is important is whether committee members only advise the manager, or if they actually have a say in a consensus decision-making process.
If the committee members are merely advisors to Rodgers, then why the fuss about it? All clubs employ scouts as extra pairs of eyes for managers already with a lot to do, and it's nothing revolutionary to have a team of backroom staff assisting and advising a manager. Shankly had the wisdom of the Bootroom to draw on and Alex Ferguson's staff were always hugely important to his success, as David Moyes is finding out. But the manager always has final say and ultimate authority. Issues arise when differences of opinion lead to indecision and procrastination, so if Rodgers doesn't have the authority to overrule and make final decisions, this could be the source of Liverpool's transfer failings. So the key question is how does the committee operate, and is it hindering rather than helping Rodgers build a successful team?
Another valid question is why FSG would entrust a manager to plan the coaching, pick the team and choose the tactics but not to choose which players he has at his disposal? Surely the architect of the vision is the best placed person to also source players to be part of it. While many fans think a Director of Football to handle player recruitment is the solution, the same argument stands here. During the summer many Reds glanced enviously towards White Hart Lane where Franco Baldini was pulling off a string of apparently impressive transfer coups. Talk to Spurs fans, though, and they will tell you that the players he delivered to then manager Andre Villas Boas were ill suited to his vision.
A top class football team is like a gourmet meal comprised of a variety of ingredients with different qualities coming together to complement one-another as a whole. The old saying goes that too many cooks spoil the broth, because like most endeavours dependent on creativity, a singular vision is often more coherent than a team effort. Compromise can result in the dilution of two or more visions and the realisation of none. So if Rodgers doesn't have the final say, this could explain the club's apparent inability to act quickly enough to secure targets, but even if he does have the ultimate authority, the transfer committee still doesn't appear to be doing what it is supposed to. 
Availability is Half the Job
After the latest disappointment Rodgers claimed that, "It certainly hasn't been because of a lack of work by the football club. There are lots of people who have worked tirelessly to identify and find the right types of players. A lot of those players haven't been able to become available for us."
While there's no reason to doubt Rodgers' staff are working hard, that doesn't mean they aren't ultimately failing in their remit. Any fan could hand Rodgers a list of players good enough to play for Liverpool. Scribble the names of Messi, Ronaldo, Thiago Silva and Hazard and the job is done. Those employed to identify targets are professionals, though. They are supposed to be experts. Nobody would think it good enough for them to identify quality players we all know about who Liverpool have no chance of signing. The job is to identify players good enough to improve the team who are also available. The availability of the players they identify ought to be a key aspect of the committee's remit.
Neither Salah or Konoplyanka are unknowns. Having scored against England for the Ukraine, Konoplyanka should be on most fans' radar, and having tested Chelsea in the Champions League Salah also has a profile. Is this the best we should expect from the committee?
We know Rodgers wanted players. We also know the committee failed to identify good enough players who were also suitably available. Whether or not Ian Ayre is lacking in his role, he is clearly not the major issue.
Recruitment Strategy
While some fans have questioned why the club were prepared to pay more for a secondary target (Konoplyanka) than the primary one (Salah), there is a logical explanation for this. It's likely that Konoplyanka was always considered a more polished player, but the management saw his expected fee as better value than Konoplyanka at £16m. As a less developed player, purchasing Salah would have been like acquiring a 100k property requiring 50k of renovation, whereas the 150k Konoplyanka condo was fully furnished and ready to go.
A more valid query might be to ask why we seem to adopt a one-after-the-other approach, pursuing one target until we miss out on them before switching attention to the next. Making moves for multiple options simultaneously would put us in a stronger position, save time and put more pressure on the selling clubs in the knowledge that we have alternative options.
Once again journalists are speaking of clauses seemingly without any understanding of the function of a clause. Just as it was reported that Suarez had a clause in his contract that required the club to "consider" offers of over £40m, it is being reported that a clause in Konoplyanka's contract was met, but that Dnripo's owner refused to sign the paperwork. What was this clause, then? The whole point of a clause is that it has some legal standing that triggers an action, overriding an owner's authority to make a decision. If a player has a transfer buyout clause, it means his club do not get to refuse an offer that meets it.
Losing out on Konoplyanka isn't the real issue for many fans who think a defensive midfielder and defenders are far more pressing needs for a team already outscoring the majority of the league. Perhaps the pursuit of a wide player was as much about allowing Coutinho to play in a central role as it was adding a new dimension to the attack, but either way, it would not have addressed the team's obvious defensive frailties.
If there are truly no players deemed good enough to improve the first team available, it does make sense to wait rather than buy players no better than what the club already have. But if this is the case the question must again be asked why there is a need for a committee that can't find any available players good enough. Whichever way you look at it, the fact is that this transfer committee is not identifying suitable, attainable players, and the ones it is identifying are ones most knowledgeable fans could point out, and who we never really had much hope of singing anyway.
Liverpool currently have one of the best players in the world and a great chance of holding on to him should fourth place be retained. Reinforcements would have made that task a little easier. The issue is not so much one of who we haven't signed, but who we might lose through a failure to strengthen. Should Rodgers perform a minor miracle and deliver Champions League football the gamble will have paid off, and the financial yield of Champions League football will be bolstered by the funds rolling over from this window, giving Rodgers a considerable kitty and the lure of football's top competition.
If the Reds should miss out on fourth, however, Rodgers and fans alike will be entitled to have the hump.