Many have claimed the Reds have been overly-reliant on Luis Suarez this season, but in 2014, in particular, others have stepped up to the plate when the Uruguayan hasn't been at his very best.

By Henry Jackson (@OnFootballTweet)
Of course, there can be absolutely no doubting that Suarez has been Liverpool's star man this season. The 27-year-old has scored 23 goals in 24 appearances, produced endless moments of individual genius and is the strong current favourite to be named Footballer of the Year at the end of the season.
While a number of rival fans have been quick to use the 'Liverpool would be nothing without Suarez' trump card, their performances and results of late prove that they don't always need the brilliant Uruguayan for inspiration.
Since the turn of the year, Brendan Rodgers' side have scored 26 times in all competitions. Of those goals, Suarez has scored just four. Daniel Sturridge has been relentless since returning from injury- the 24-year-old has scored in each of his last seven games- Steven Gerrard has chipped in with several efforts, mainly crucial ones from the penalty spot, while the likes of Raheem Sterling, Philippe Coutinho and Martin Skrtel have also contributed in front of goal at vital times.
In Liverpool's last nine Premier League games, Suarez has only scored three times; twice away to Stoke and once in the 4-0 drubbing of Everton. The Reds have been unbeaten in the last seven of those matches, winning five.
This is not say Suarez hasn't still been outstanding- he was majestic at times against Arsenal, Everton and in last night's vital 3-2 victory away to Fulham– it just means others have stood up when it's counted, rather than rely on him to get them out of jail game in game out.
It's almost as if Suarez now realises others have the ability to change games too. He doesn't feel like he has to do it all himself now, whereas earlier on in the campaign maybe he did. 
El Pistolero was always going to have a slight drop-off in goalscoring form after his, quite frankly, freakish performances after returning from suspension last September. The pleasing thing is that it hasn't affected Liverpool's displays at all, proving many detractors completely wrong.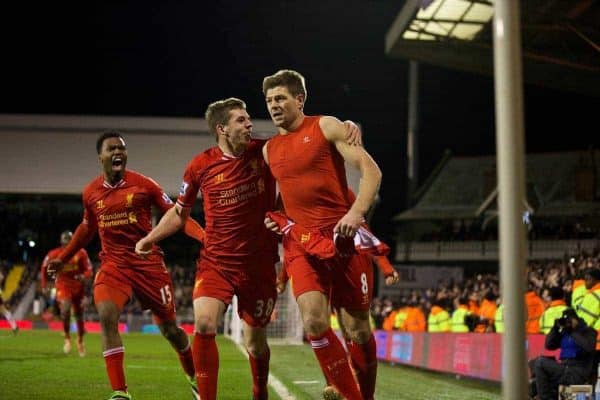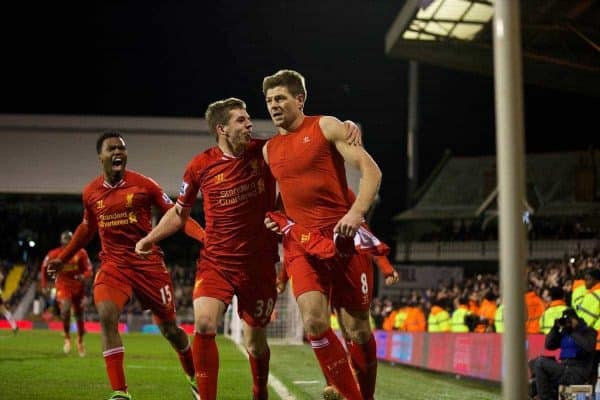 Rodgers is starting to create a side full of goals all over the pitch. Admittedly there is still work to be done- Jordan Henderson needs to start finding the net more regularly, while the defence, barring Skrtel, also need to score more- but the signs are very promising.
In years gone by Liverpool have often been horribly reliant on one or two players bailing them out in every game. There hasn't been a Reds side with as many attacking talents as this current crop since the days of Robbie Fowler, Steve McManaman and Stan Collymore in the mid 1990s. While it's obvious that Suarez and Sturridge are pivotal, they are not the only threat now.
Defensively Liverpool need to improve drastically if they are to have a genuine shot at title glory this season, but they would already be out of the reckoning had they had to rely on Suarez every game.
As it is, there are many players making key contributions to the side, silencing those 'one-man team' doubters delightfully in the process.