Luis Suarez has reiterated his commitment to Liverpool, saying he wants to stay and play Champions League football with the Reds.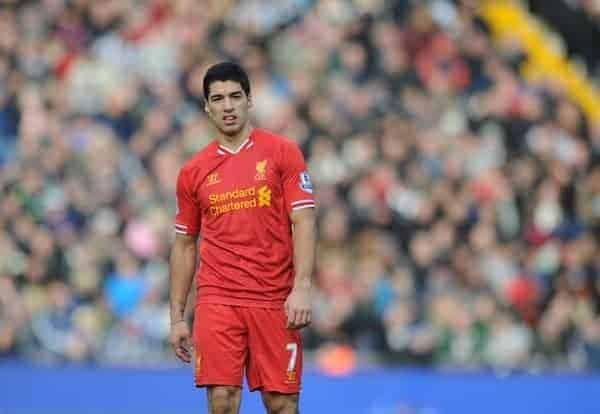 In an interesting interview with the Liverpool Echo on Friday, Suarez revealed he has a burning desire to experience the famous Champions League nights at Anfield.
Liverpool currently sit in fourth place in the Premier League, three points ahead of fifth placed Tottenham, and just four points from league leaders Chelsea.
Should the Reds finish in the top four, barring Manchester Utd winning the Champions League, it would be the first time Liverpool have qualified for the UEFA's elite tournament since their participation in it in 2009/10.
"I watched the games on TV this week and when you hear that Champions League music that's motivation in itself," Suarez told the Echo.
"I want to be there with Liverpool. It's an unbelievable competition. It's where we want to be, playing against the top teams in Europe.
"Stevie has told me about Champions League nights at Anfield. He said when you have played Champions League football at Anfield you will never forget it. I want to try it for myself.
"When I arrived here I said it was my dream to play for Liverpool and play Champions League here. I know I can achieve my dreams here."
Suarez says the faith Liverpool's supporters have shown in him have helped him overcome a difficult year in his career, but he now feels settled on Merseyside and playing his best football.
"The fans have helped me so much," he added. "Everyone knows that I had some difficult times last summer.
"But they have always supported me and always had confidence in me. I really feel that support in my heart.
"I think this has been the best season of my career so far. It's my job to score goals and create goals, and help the team.
"When you have really good team-mates and a manager who believes in you then it helps so much with your job.
"For me, stepping on to the pitch knowing I have the confidence of the supporters means everything to me as a player. They help me to give my best."
Suarez and Liverpool are now looking towards Sunday's Premier League clash at home to Swansea City.
A victory could move the Reds up to second in the league table, depending on other results this weekend.