Every game is crucial now to Liverpool as they embark on what could be a very exciting final 10 games of the season. Oliver Smith picks apart the challenge in front of Brendan Rodgers' men.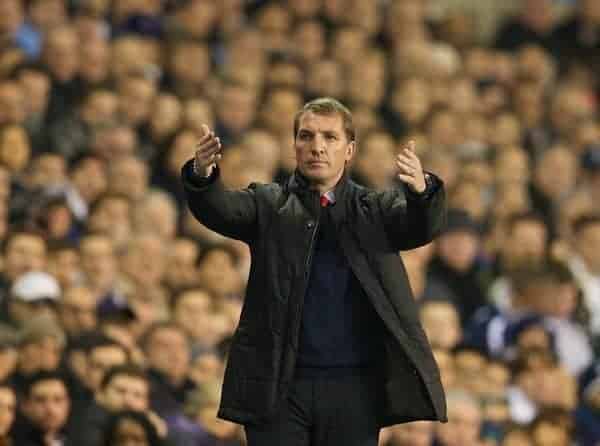 It's been a long time since Liverpool were in with a shot of winning the title at the business end of the season- five years, to be precise.
In the 2008/2009 season the Reds were in third place after 28 games, level on 58 points with Chelsea but seven behind leaders Manchester United, who also had a game in hand. At the end of arguably Rafael Benitez's best season in charge of the club, the Merseysiders sat in second, their huge haul of 86 points, which would normally be more than sufficient to claim the title, beaten by the remarkable 90 points accumulated by United.
Fast forward five years and, to the delight of Kopites, not only are Liverpool back in the title race, Manchester United have been, to borrow a famous Fergie quote, 'knocked off their f***ing perch'. Second placed Liverpool are only four points behind Chelsea, while David Moyes' laughing stock languish in seventh, and may even struggle to qualify for the Europa League if their form continues on its current downward trajectory.
Have Liverpool got it in them, though, to go all the way and finally win their 19th League title almost a quarter of a century after they last finished top of the pile?
One factor that is certainly in the Reds' favour is the absence of any distractions from cup competitions.
While Chelsea, City and Arsenal will have to juggle the demands of the Champions League and the FA Cup at least until next Wednesday, by which point City and Arsenal are likely to have exited European football at the hands of Barcelona and Bayern Munich respectively, Liverpool can concentrate fully on claiming as many points as possible from their final ten League fixtures.
Although Liverpool's long-term aspirations should be to emulate their title rivals in competing on all fronts, the short term benefits of a fairly uncongested fixture list could prove significant. With only one midweek fixture scheduled during the remainder of the campaign, Liverpool will have a full week to recover physically and prepare mentally and tactically for upcoming matches.
In addition, Liverpool's fixture list, although fairly tough, offers the Reds some great opportunities to not only improve their title credentials, but also damage their rivals' chances of claiming top spot. Massive six-pointers against Manchester City and Chelsea at Anfield await the Reds' in April, and those matches could prove decisive in the title race.
Away matches against Norwich and Crystal Palace, who will both probably be fighting for their Premier League survival, are potential banana skins, but, if Rodgers' side pick up enough points in those matches to keep themselves in with a shot of winning the title on the final day of the season, they can count on claiming three points at home against Newcastle, who have pretty much nothing to play for and therefore should be easy to defeat.
With the likes of Lucas and Sakho returning to the squad to add depth and provide more options after prolonged spells on the treatment table and the SAS instilling fear in defences across the country, Liverpool certainly can win the title. Whether they will or not depends on them improving their defence and holding their nerve when it really counts.
Ignoring the clean sheets kept in the Reds' first three League fixtures, which appear to be anomalies, defence has been an area of weakness throughout the season for Liverpool. Injuries and poor form have blighted their back line and rendered them unable to develop a stable defence, while individual errors have also frequently proved costly.
Consequently, they have conceded on average 1.25 goals per game, which is significantly higher than the average for title winners in the Premier League era of 0.85. Moreover, Manchester United are the only team to have won the title while conceding on average more than one goal a game, achieving the feat three times but only once since the turn of the millennium. Having already let in 35 goals this season, Liverpool would have to concede only three more goals in their final ten fixtures to lower their average to a goal per game.
Those statistics should worry Brendan Rodgers. He must marshal his defensive troops and get them to improve their displays; otherwise, history suggests, Liverpool's title challenge will unravel.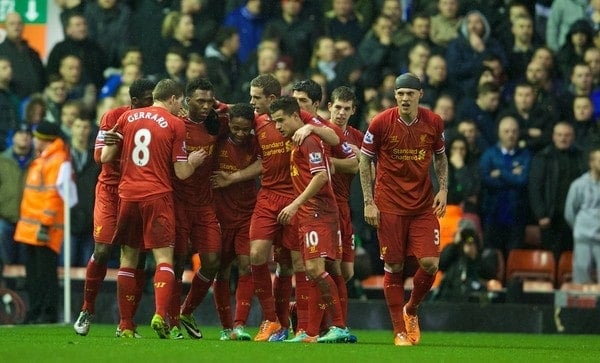 At the same time, he must equip his squad to cope mentally with the pressures of a title challenge. Competing for top spot in the Premier League is tough at the best of times, but the fact that Liverpool haven't won the top prize for such a long time just heaps even more pressure on the players trying to break that hoodoo.
Hopefully sports psychiatrist Dr Steve Peters, who has been working at Liverpool since November 2012 and will travel to Brazil with the England squad for the World Cup this summer, will prove his worth in the closing stages of the campaign.
At the end of the day, the fact that Liverpool still have a chance of winning the title with ten games to go is testament to how exceptional their season has been.
In August, a title challenge was beyond the wildest dreams of even the most optimistic Kopite, with most supporters and pundits fairly reasonably foreseeing the Reds taking part in a tough challenge for Champions League qualification.
Now, at the business end of the season, Liverpool supporters are starting to believe that what was previously deemed impossible could actually happen; come 11th May, Liverpool could be Premier League champions.