Following Daniel Sturridge pulling up with a hamstring injury and Jordan Henderson's late straight red card during Liverpool's victory over Manchester City on Sunday, Gary Taylor explores how Brendan Rodgers may cope without two big players.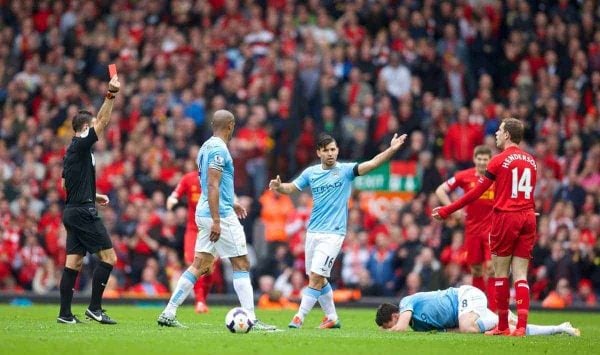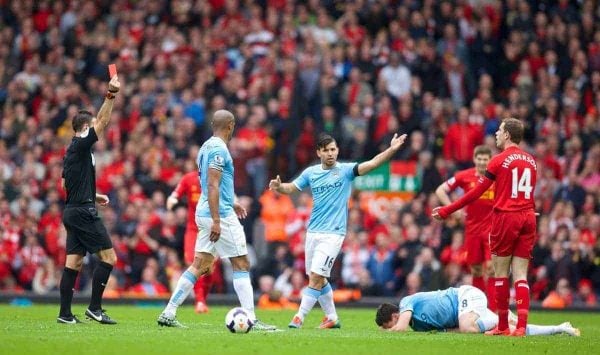 It's a day that will live long in the memory of all Liverpool fans.
Anfield at its imperious best – crackling with energy, passion and raw emotion as the team dug deep to further cement their position at the summit of Barclays Premier League – the finishing line now tantalisingly within their sights.
Against the backdrop of the Hillsborough 25th anniversary and some genuinely moving scenes, Brendan Rodgers' fearless charges were asked some searching questions by a richly assembled Manchester City team brimming with talent and international stars.
As they have done countless times already during this campaign, they answered those questions in some style, with a mixture of scintillating attacking football, body-on-the-line defending and the relentless, unceasing desire which has set this team apart from all recent Liverpool sides and indeed all their rivals in the league this year.
A day later, still swimming in the highs of what could turn out to be an historic victory, with the roar of the Kop still ringing in our ears, it's easy to forget that the victory was not without cost.
How great a cost, remains to be seen, but it's hard to imagine that the sight of Daniel Sturridge limping off followed by a Jordan Henderson red card would not have caused some consternation to the onlooking Brendan Rodgers — his Liverpool side undoubtedly left weakened for at least three of the four crucial games now standing between them and glory.
Sturridge, whilst admittedly off the pace in the last few games, has been a constant threat all season with a hugely impressive tally of 20 goals to his name.
A prime contender for PFA Young Player of the season, he might consider himself slightly unfortunate to be sitting in the shadow of Luis Suarez — a position which has almost certainly denied him some of the acclaim his performances have deserved.
With his pace, movement and world class finishing abilities, Sturridge's importance to the team cannot be overstated. England's top goal scorer will be undoubtedly be a huge miss if, as seems likely, the injury to his hamstring keeps him out for one or more of the forthcoming fixtures.
Jordan Henderson, following a tentative start to the season, has shifted through the gears under Rodgers' expert tutelage and has found himself an ever-present in this revitalised, title-chasing team. His endless energy reserves and tireless running alongside the passion and natural leadership he shows on the field have seen his stock rise to the point where he is surely one of the first names on the team-sheet.
Happy to do the donkey work which allows  Steven Gerrard the freedom to dictate the play from in front of the back four, he offers a combination of qualities which no other Liverpool midfielder is able to match.
His three match ban then could hardly have come at a worse time and his contributions will be sorely missed.
How Rodgers copes with both of these losses will be a huge test of his managerial credentials and could well go a long way to deciding the outcome of the title race.
His options to replace Henderson in midfield would seem to be relatively straightforward – with both Lucas and Joe Allen able to slot in almost seamlessly.
Neither offering quite the energy levels of Henderson, but both showing over the course of the season that they are able to come in and deliver strong performances — whether that be in deeper or the more advanced roles within midfield. So far, so good.
The bigger problem for Rodgers will be trying to trying to find a way to replace the constant menace and goal-scoring threat that is Sturridge.
A look at the bench from Sunday's game reveals that the options in the striking department are lamentably short. Iago Aspas, Liverpool's current third choice striker, has hardly set the world on fire since his arrival in the summer.
His limited game-time is a clear sign that Rodgers has his reservations about his suitability to the English game. It's hard to imagine that he'll be thrown in at the deep end at such a critical stage of the season.
The most obvious option then would be a return to the trusted 4-3-3 formation – spearheaded, obviously, by the inimitable Luis Suarez – with the width provided by two from Sterling, Coutinho and Moses.
There's no doubt this would still represent a substantial threat going forward, and might be good enough to see us across the line, but you can't help but feel it would be a step backwards.
A big factor in this Liverpool team's success so far this term has been Rodgers' ability to change the system when required – the 4-1-2-1-2 diamond being used to particularly good effect in recent games.
Having two strikers to contend with through the middle has been too much for many defences to cope with over the last few months and I wonder whether Rodgers may look to find a way to replicate that – the answer coming, perhaps, from another player who's been in scintillating form of late.
The resurgence of Raheem Sterling this season has been nothing short of miraculous. His pace and raw talent has never really been in doubt, but his mentality following his breakthrough into the first picture left many questioning whether he'd make grade the grade at Liverpool or fade away like many promising prospects before him.
Thankfully, and to his immense credit, he's left that player a long, long way behind him. Now he finds himself a key weapon in Rodgers' armoury – a player with blistering pace, incredible strength, vision, poise, intelligence and an eye for goal.
The calmness of his finish against Manchester City, a testament to the depths of his mental strength and self-belief.
Whether he's capable of making the switch to an out-and-out striker role remains to be seen. But the speed with which he adapted from the wide-right position to the tip of the diamond suggests that he could very quickly find himself terrorising defences alongside Luis Suarez, with Philippe Coutinho providing the ammunition from the tip of the diamond. Gerrard, Allen and Lucas patrolling the midfield behind.
Of course, second guessing  Rodgers has never been a particularly fruitful endeavour, and it's more than likely that he'll have one or two surprises in store between now and the end of the season.
I for one, think Sterling could be the perfect complement to Suarez in the absence of Sturridge and I'm sure it'll be an option that the manager considers with the game against Norwich fast approaching.