A number of rival fans are squirming in their seats at the thought of the Reds winning the Premier League, and they are using the excuse that Liverpool have suffered no injury problems all season. Henry Jackson puts the record straight.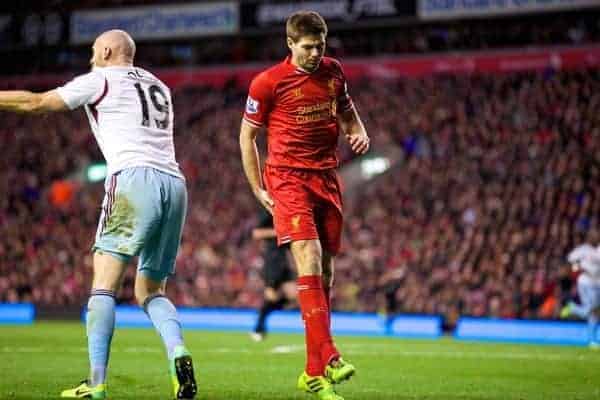 As Neil Poole pointed out in his excellent recent article for This Is Anfield, all football fans can be guilty of making excuses for a rival's success.
The bitter reasoning for Brendan Rodgers' side's success this season is now really coming to the fore; "you haven't had European football to contend with" is one but the main excuse for Liverpool's sensational campaign is that they've suffered no injury problems while others have.
This is total rubbish.
While there can be no doubting that over the last few months Liverpool have been fortunate to have had a settled XI almost every week, give or take the odd tactical tweak or minor injury, this was simply not the case earlier on in the season. Key players have missed fair chunks throughout.
Philippe Coutinho was out of action for almost two months between September and November with a shoulder injury.
Daniel Sturridge didn't play between the Merseyside derby in November, in which he scored a vital last-minute equaliser, and the 5-3 away win at Stoke in January. He missed the away losses to Manchester City and Chelsea; two games that could prove pivotal in the title race.
Steven Gerrard missed the whole of December – possibly Liverpool's most challenging month of the season fixtures-wise – after pulling a hamstring against West Ham, while Mamadou Sakho missed three months of action with the same problem.
Lucas Leiva, a player who had become so important at the heart of the Reds' midfield, missed two months with a knee problem. He's not been 100 per cent fit at any point since August.
Jose Enrique, Liverpool's only recognised left-back at the start of the season, has been sidelined since November and won't play again until next season. Glen Johnson, another key full-back, has suffered consistently with an ankle injury.
The below graphics show exactly how much of the season each Liverpool player has missed (courtesy of Injury League).

When you look at Liverpool's rivals, they have all suffered from injuries and had good luck with them too.
Chelsea have had the same settled goalkeeper and defence – Petr Cech, Branislav Ivanovic, Gary Cahill, John Terry and Cesar Azpilicueta – virtually all season, while key players like Eden Hazard, Oscar and Ramires have all been consistently available too.
Arsenal have certainly been unlucky with injuries since the turn of the year, with stars like Aaron Ramsey, Theo Walcott, Mesut Ozil and Jack Wilshere all missing, but it's easy to forget that earlier on in the season they were able to field the same team almost every week.
Manchester City have missed Sergio Aguero, undoubtedly one of the world's great strikers, but they certainly haven't been crippled with injuries. Vincent Kompany, Yaya Toure and David Silva, City's three best players along with Aguero, have been out for short spells but nothing too drastic.
The below table shows that, in fairness to them, Arsenal have been hit the hardest on the injury front, but Chelsea and City, Liverpool's two title rivals, have been more fortunate; particularly Jose Mourinho's side.

Injuries are going to play their part in any season. Sometimes you will be fortunate and have a similar side week in week out- Arsenal's 'Invincibles' are a classic example of this- and sometimes injuries to several key players may derail your title bid.
Regardless of this, the Premier League is won on merit. The best team wins it because they have been the most consistent, superior side over a 38-game season.
If Liverpool do go on to win their first league title since 1990, expect the usual tantrums to emerge from rival supporters. The injury excuse seems to be a personal favourite between them right now, but as the above information shows, their two biggest rivals for glory have suffered less in that respect.
Do you think Liverpool have been lucky this season? Let us know in the comments section below.