Mark Pearson discuses the deflating events of the last few days, sticking with your footballing philosophies and how it is ingrained in Liverpool Football Club to get up, dust ourselves off and go again.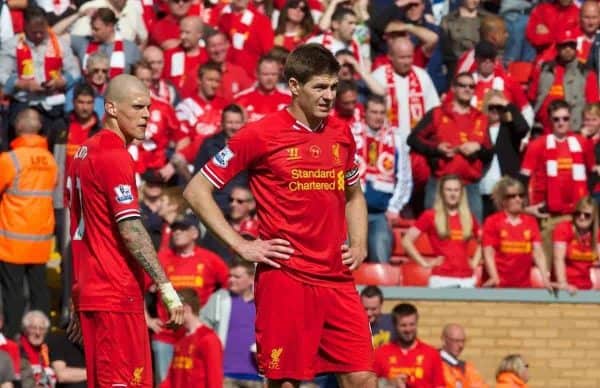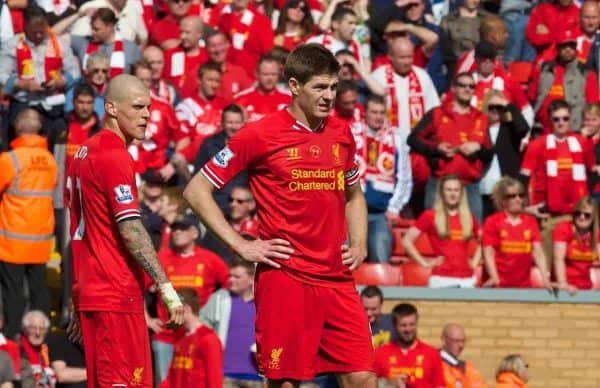 "Why do we fall? So we can learn to pick ourselves back up again…"
— Thomas Wayne: Batman Begins
Fallen
When Fernando Torres and Willian ran towards the Anfield Road end in surreal slow motion akin to something like a penalty in Ice Hockey, Liverpool supporters all over the world collectively knew that the title race had been blown open and that we were no longer in the driving seat.
I for one, although as deflated as any Liverpool fan anywhere found myself strangely thinking about a scene from the film "Batman Begins" (my mind is a strange and unique form of matter). It's a scene whereby a young Bruce Wayne has fallen down a well filled with Bats and from this experience a vital lesson was learnt which shaped the future for him and the world around him. A frightened and bewildered Bruce is told by his father "Why do we fall Bruce? So we can learn to pick ourselves back up again…" They are words never lost on Bruce Wayne and are the foundations upon which he becomes the famous alter ego of Batman.
Now Jose Mourinho shares many similar traits to Batman's famous arch enemy "The Joker", being narcissistic and hypocritical to name just two, but for every Batman you need a Joker, for every Liverpool you need a Chelsea. But what I hope is that Liverpool themselves fell down a well in losing that game, and that a valuable lesson has been learnt that will never be lost and help shape the future.
Naïve
It is almost impossible to criticise this Liverpool team as they have exceeded all expectations this season, the fact we are deflated in only being 2 points clear at the top of the league with 2 games to go speaks volumes for the strides taken in the last 12 months. However, as the season has transpired and with it the very realistic ambition of winning the Premiership, yesterday's naivety may perhaps have cost us dearly.
Having witnessed the Athletico Madrid v Chelsea match I cannot believe that Liverpool were unaware of how Mourinho would setup against us a few days later. I knew Chelsea would come and defend deep and look to counter, I'm sure I wasn't the only Liverpool fan to think the same way. So you can be sure if we knew it then Brendan Rodgers and the coaching team knew it. So the question is this:
Why didn't Liverpool adapt to counter Chelsea's tactics?
A boring drab 0-0 draw with nobody crossing the halfway line would have us sitting 5 points ahead of Chelsea and 4 ahead of Manchester City right now. By Liverpool dropping deep and playing keep ball it would potentially have drawn the Chelsea players higher up the pitch. The higher up the pitch Chelsea became the more space behind them would have been created, perfect for Suarez, Sterling and Coutinho.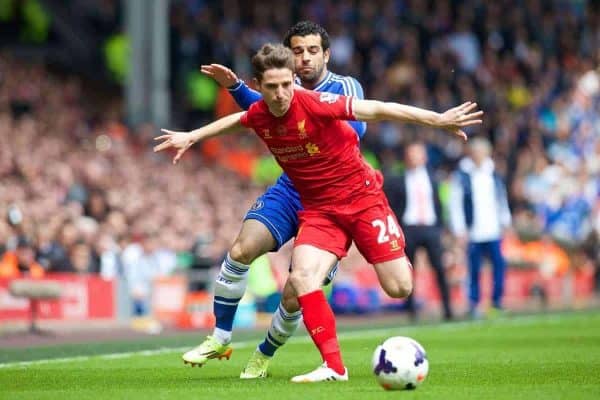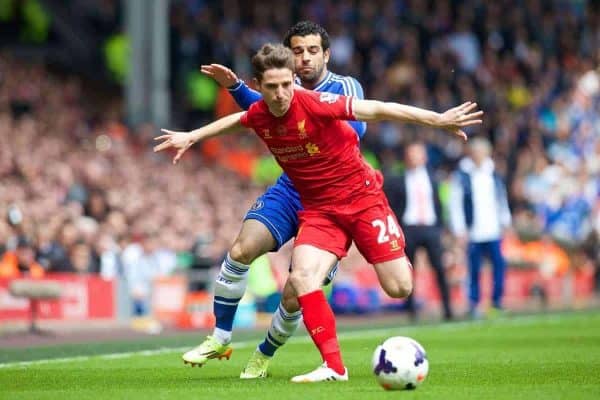 But we didn't do that.
If Chelsea had refused to come out of their defensive third then by us knocking the ball around the halfway line for 90mins it would also have given us a 0-0 draw with the same point's margins I have mentioned ahead of our rivals.
But we didn't do that.
What we did was to play straight into Chelsea's trap. What we did was to play exactly as Jose Mourinho expected us to play. We fell down the proverbial well.
Identity
Go all the way back to Brendan Rodgers first ever interview as Liverpool manager, he was asked to describe his footballing philosophy.
"The philosophy is very much based on the attacking side of the game. People ask me that question and I always say it's about being offensive and creative, but also with tactical discipline. That's the principles of this club. This is a club that's based on fast, attacking, offensive football. But I'll repeat – it's very important to have tactical discipline within that."
There is no question in my mind that Brendan today is the very same Brendan who gave that first interview. Nothing has changed. Liverpool do play fast, attacking, offensive football. 96 goals in the League is testament to that philosophy. It has served us well in 25 of the 36 games we have played in the league this season. It has us currently sat at the top of the table with 2 weeks of the season remaining.
For so many years now Liverpool FC has not had an identity. Liverpool FC has not had a way of working. We have not had a style of play. Now we do, and it's amazing to watch and more often than not providing 3 points in a league match. There is no need to rip up the blueprint after one defeat against a team assembled for near £700 million who are renowned for playing defensive football. That is Chelsea. If Chelsea wish to play the way we saw on Sunday then let them, thank the lord we only have to watch them twice a year and forget about them.
Tactical discipline – the one element Liverpool do not exceed expectations in. This is our Bruce Wayne lesson. Tactical discipline went out the window when Liverpool failed to score in the opening 25 minutes. Anxiety that we were not blasting a team away caused bewilderment and frustration. Made us try and force things harder, quicker, and it cost us. Our shape went. Our slick passing became wayward. Everybody tried to force moves not evolve moves. A Stevie G error in trying to force the play cost us. Not the philosophy. Not Jose Mourinho.
"Why do we fall? So we can learn to pick ourselves back up again…"
It's a lesson to never forget in future – We are Liverpool.