The 26-year-old was seen as a strong replacement for Pepe Reina when he signed for Liverpool for £9m last summer, but has he really been an improvement on the Spaniard? Henry Jackson (@OnFootballTweet) assesses the Belgian's first season at Anfield.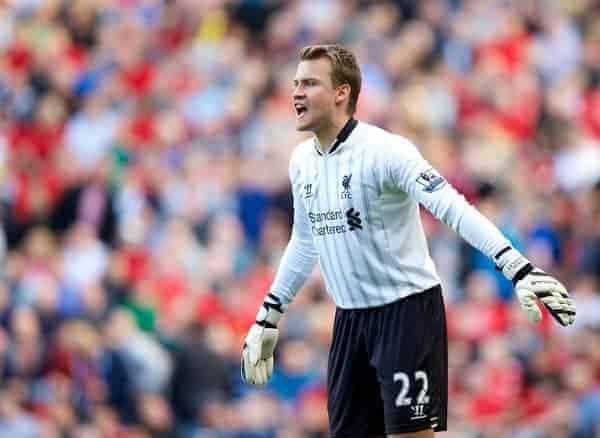 Simon Mignolet's Liverpool career could not have started any better. His last-gasp penalty save in the 1-0 opening day victory over Stoke City made him an instant hero, and the Reds' season could easily have panned out very differently has the big Belgian not starred on the day.
Three wins without a goal conceded at the start of the campaign.
It's fair to say, however, that the 26-year-old has not enjoyed the most flawless of seasons at his new club. Bought in to replace the declining, increasingly error-prone Pepe Reina, Mignolet has been a mixed bag.
He has made a number of errors in important games, and while his shot-stopping ability is world-class at times, his dominance in the air and ability on the ball – he doesn't look comfortable with playing the ball out from the back – both need work and improvement long-term.
So looking at the Opta data on Statszone, Mignolet has a total of 8 'Big Chances Saved' and 5 'Errors Led To Goal'

— Dan Kennett (@DanKennett) April 22, 2014
The 14-time capped Belgium international saved his first two errors for high-profile games in December, in fairness he had been excellent up until that point, against Manchester City and Chelsea.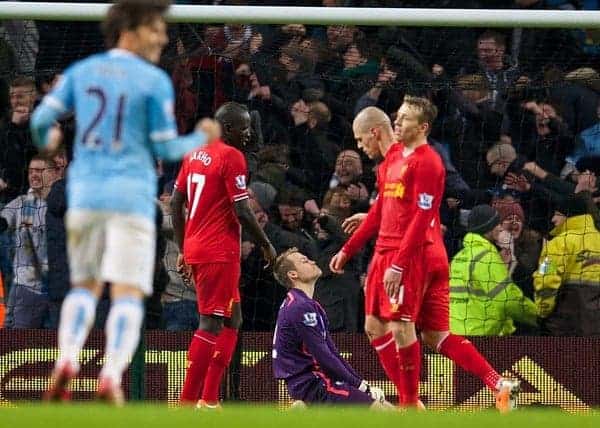 With the Reds playing superbly against Manuel Pellegrini's side at the Etihad, and drawing 1-1 at a crucial point in the game, Mignolet's tame attempt to stop Alvaro Negredo's saw Liverpool lose 2-1. How important that could prove to be at the end of the season.
The same applies to the error against Jose Mourinho's men. Again Brendan Rodgers and his side were drawing 1-1 at one of their biggest rivals' ground, but Mignolet's fumble from Samuel Eto'o's close-range effort trickled agonisingly into the net. It wasn't a howler, but he had to do better.
In the 2-2 draw at home to Aston Villa in January, the Belgian completely misjudged a cross to allow his international teammate Christian Benteke to head home and put the visitors 2-0 up, while in the previous game, the 5-3 win at Stoke, he let Jon Walters' strike past him far too easily.
It could be argued that he could have done better for Fulham's second goal in the vital 3-2 win at Craven Cottage in February, while in another enormous 3-2 win, against City just over a week ago, he had to shoulder some of the blame for Glen Johnson's own goal, which made it 2-2 at the time.
Finally, in Sunday's win over Norwich at Craven Cottage- also 3-2- Mignolet made arguably his worst mistake of the season to date, punching the ball straight to Gary Hooper. The striker converted to make it 2-1 and bring the Canaries back into the game, and luckily the Reds held on.
Where Mignolet has been fortunate is that, invariably, his mistakes have not cost Liverpool in their quest for the title. A number of his errors have been masked because the Reds have gone on to win the game.
As mentioned above, the former Sunderland goalkeeper has been far from a disaster in his first season at Anfield. He's also not been a huge success either, however, and not at the level of the likes of David de Gea and Petr Cech.

It's also important to stress that a first season at such a huge club is always going to be tough for a relatively young player. There are plenty who struggle to begin with, and grow from strength to strength over the years. At 26, Mignolet is also still years from his peak years as a 'keeper.
Bruce Grobbelaar was critical of Mignolet last week; his comments and especially the timing of them seemed incredibly harsh.
There are also two other factors to keep in mind. First, would Mignolet benefit from more competition from a back-up 'keeper? Rodgers was keen to bring in Shay Given last summer, whose experience in training would perhaps have aided Mignolet. And also, is 'keeper coach John Achterburg's role being looked at?
Achterburg was a temporary appointment to first-team goalkeeper coach in 2011 and his appointment along with the departure of Xavi Valero with Rafa Benitez coincided with Reina's dip in form.
If Liverpool do win the Premier League, every single player will deservedly gain legendary status at the club for their achievements. Simon Mignolet has certainly been a solid member of the side, but there can be no doubting that he could have done better.
Do you think Mignolet has been a good signing by Liverpool? Let us know in the comments section below.