The timing of David Moyes' departure from Old Trafford couldn't have been better for Liverpool, writes Liam Jones.

When the news broke officially on Tuesday morning that 'The Chosen One' was given the boot after just 10 months in charge, you could almost hear the collective screams from the majority of fans of Premier League teams. After Manchester United's disastrous season sunk to a new low with defeat against Everton, ruling them out of the Champions League and reaching their 6th defeat out of 6 against North West teams, their board decided the time was up for the Scotsman.
Fans of the top 6 Premier League teams in particular were disappointed by the news and many feel that Man United will be a much stronger force next season consequently.
However, I argue that, at least in the short term, this decision from Man United could not have come at a better time. To explain this I ask you to imagine what the biggest story in the media would be this week if there were no managerial changes in Salford this week?
Of course, it would be the biggest game left in the season, the game many are calling another 'Title Decider', Liverpool vs Chelsea.
Now obviously, it hasn't been completely forgotten about, but the attention is completely on Moyes and United. When managers are doing their press conferences, they are being asked questions about Moyes rather than the title race; pundits are talking about United's situation rather than the key battles of the weekend; and friends and colleagues alike are discussing potential replacements and how they would fare instead of who will come out on top, both on Sunday and come May 11th.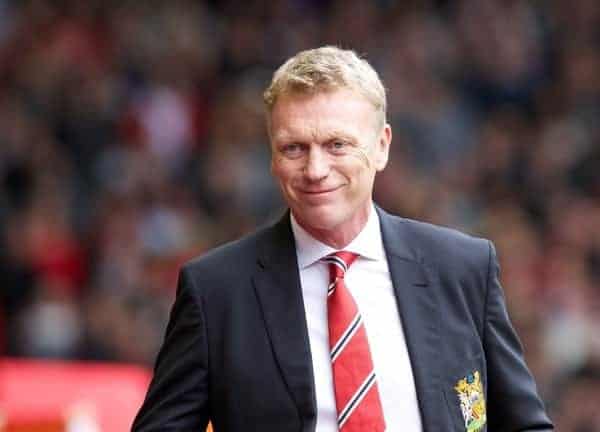 I imagine a lot of people will be thinking that this lack of coverage this week won't make any difference to the result (and performance) against Chelsea. Rewind to before the Man City game and I would agree with you. Up until that point we had shown no signs of pressure, we were breezing through games with a swagger that hasn't been seen in Liverpool since the very early 90's.
However as soon as we had daylight against City, and suddenly became title favorites, some players in the squad seemed to lose that confidence, engulfed by the fear that one mistake now could cost us the title. This seemed to continue on against Norwich too. As soon as we got 2-0 up, it seemed like we didn't know whether to 'stick or twist', so to speak.
Eventually we got pushed back (or decided to fall back) and came under immense pressure for a lot of the game. Certain players in particular seemed very afraid of making a mistake and resorted to passing the ball sideways and backwards, inviting the opposition forward and thus making it an extremely nervous last ten minutes for Liverpool fans to endure.
With this in mind it seems like any pressure we could avoid prior to the Chelsea game could really prove crucial to our title bid. If certain players feel less pressure on their shoulders it could potentially prevent a costly mistake and so could help us to come out of this game maintaining our favourable position on top of the Premier League. If this does prove to be the case, then a special thank you should be reserved for the Man United owners and board for their impeccable timing, which I'm sure they didn't consider in their decision to oust the best Manchester United manager for many many years… for Liverpool fans.
Liam Jones
Follow me @LiamJones1655