With reports suggesting that Rickie Lambert's surprise move to Liverpool is close to being completed, Jack Lusby asks if he is the right signing for Brendan Rodgers and the club.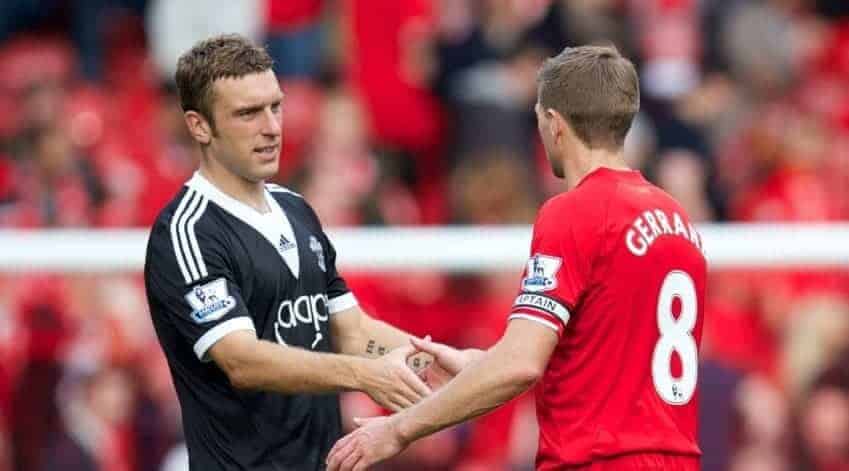 With the round-the-clock reporting within modern football, it is rare that a transfer story genuinely surprises. In recent years, only Oussama Assaidi's ill-fated move from SC Heerenveen in 2012 would have caught most Reds off-guard.
However, Rickie Lambert's projected £4 million move from Southampton to his boyhood club will have come as a surprise to all.
With Brendan Rodgers looking to kick-start his side's transfer business early—hoping to secure the signing of Lambert before the World Cup—is a move for the Saints' centre-forward the right one?
Style of Play
It is perhaps a lazy generalisation to suggest that Lambert, as a six-foot-plus centre-forward, offers most when knocking the ball down to teammates, holding up the ball and giving opposition centre-backs nightmares in the air.
Far from it, the former Bristol Rovers man offers most with the ball at his feet, and can be considered more of an archetypal No. 10 than your traditional hulking English centre-forward (see: Andy Carroll).
In fact, as per Squawka, the 32-year-old won only 41 percent of his headed duels last season; keep the ball on the ground, however, and Lambert will thrive.
[youtube http://www.youtube.com/watch?v=8PaPDvPR0kM&w=560&h=315]
This video, detailing Lambert's performance against Manchester United towards the tail-end of the 2013/14 season, shows the Englishman's ability with the ball at his feet.
Again, courtesy of Squawka, the forward created 53 chances for his Southampton teammates last season, the third most in the squad behind another Liverpool target, Adam Lallana (68) and Northern Irishman Steven Davis (57).
Of these, 10 were goal assists—only three less than a certain iconic Scouser.
Rickie Lambert made 10 assists in the Premier League last season. The only Englishman to register more was Steven Gerrard (13).

— Squawka Football (@Squawka) May 30, 2014
However, Lambert would still have facets of his on-ground game to work on, with a meagre 70 percent pass success rate suggesting that perhaps he needs to work on his decision making.
Despite performing best in the No. 10 role, an exquisite finish against Manchester United in the clip above also shows Lambert's supreme ability in front of goal.
In a quiet season by his standards, the 32-year-old finished with a Premier League goal haul of 13 for the 2013/14 season, and of Liverpool's players naturally only Luis Suarez and Daniel Sturridge eclipsed this tally.
What's more, the Englishman offers a set-piece prowess to rival that of Suarez and Steven Gerrard.
Doubt he'll be taking free-kicks at Liverpool but this is what Rickie Lambert can do. https://t.co/AtOSDhXn9E

— Squawka Football (@Squawka) May 30, 2014
Able to create chances and finish them off with aplomb, Lambert would be a great asset at Liverpool's disposal.
Commitment
Will be nice for a new player to say he has supported the club his entire life & mean it! #LFC #Lambert.

— Si Steers (@sisteers) May 29, 2014
As Liverpool writer Simon Steers puts it, with Lambert a lifelong Liverpool fan—and a former charge in the youth ranks—the forward will bring a fortified and resolute commitment to the club that can only work to the Reds' advantage.
In an interview with LFC earlier this year, Lambert expressed his admiration for Gerrard from a fan's perspective.
"He's No.1 for me and I think he always will be. He has meant everything to me, growing up as a Liverpool fan. The nights he has given Liverpool fans are unbelievable – I'll never forget them and I know the Liverpool fans will never forget them."
Canny words from a player who was far from a potential signing at the time, these are the words of a player with a genuine passion for the club.
With Liverpool entering a vital period in their revival under Rodgers, with Champions League competition to relish, the commitment of players such as Lambert—who know what it means for the Reds to succeed more than most—will be immeasurable.
Business
The general consensus is that the deal for Lambert will be around the £4 million mark, with BBC Sport suggesting that this will include various add-ons.
This represents great value for a player who, two years Gerrard's junior, has much left to offer.
Reports surfaced earlier in the week claiming that Rodgers would entertain offers for returning striker Fabio Borini in the region of around £12 million; whilst the Italian could contribute to the Reds' cause next season, this would be a deal too good to turn down given his performances so far.
At the beginning of his career as opposed to Lambert's autumn years, selling 23-year-old Borini to be replaced by the England international may seem a confusing move.
However, despite some seminal performances on loan at Sunderland throughout 2013/14, Borini is far from an established Premier League player, which Lambert has proven himself to be since Southampton's promotion.
At this juncture, Lambert is of a much higher calibre than Borini, can offer much more to the club immediately and a potential £8 million in Rodgers' coffers can be spent adjusting the squad in other areas.
A move for Lambert, even at the wrong side of 30, makes great business sense for Liverpool.
Role at Liverpool
The clues were there last season. Brendan Rodgers likes Rickie Lambert. https://t.co/Ns6kJB2ygz

— Squawka Football (@Squawka) May 30, 2014
It would be misguided to suggest that Lambert would start every game for Liverpool next season, with the effervescent attacking talents of Suarez, Sturridge, Philippe Coutinho and Raheem Sterling flourishing in 2013/14 it would be remiss to hinder the quartet's progress.
However, joining Liverpool, Lambert can expect to feature heavily in what will be a congested fixture list with the added demands of the Champions League to contend with.
Mauricio Pochettino's Southampton side played a similar high-tempo pressing game to that of Rodgers' Liverpool, suggesting that Lambert wouldn't struggle to adapt to the change.
The Englishman's role at the club would likely be in rotation with Rodgers' current attacking options in terms of starts, and would be a welcome option from the bench for games as stretched as Crystal Palace away in 2013/14.
Able to play as a No. 9, a deep-lying No. 7, and in his best position in the No. 10 role, Lambert would give Rodgers plenty of options.
It wouldn't be remiss to suggest that, with his ambitious passing range and creative abilities, the 32-year-old couldn't fill in for Gerrard in the regista role at a stretch.
Likely happy with a rotation role at his beloved club, Lambert will still play a prominent, diverse role at Liverpool.
Verdict
Therefore, is Rickie Lambert's projected move to Liverpool the right one?
In a word, yes.
The England international will offer Brendan Rodgers a complex, intelligent option across the front line, and perhaps even deeper, supplemented with a genuine Premier League pedigree.
At £4 million, even at the age of 32, signing Lambert from Southampton this summer will likely prove a snip for the Reds.
[poll id="196″]
Do you agree with our assessment? Let us know in the comments below.