Now it's the end of the season, we can all breathe a sigh of relief, and here, just for fun, Simon Collings selects an eleven made up on Liverpool's worst Premier League signings.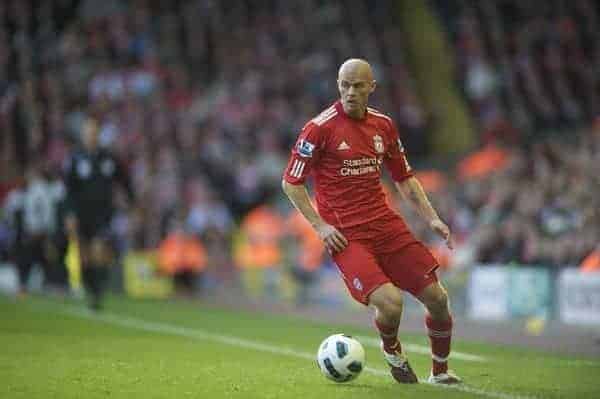 For some strange reason I have been thinking a lot about Jonathan Woodgate. Sounds strange I know, but the ex-Leeds, Newcastle & Tottenham defender keeps popping into my head recently and will not go away.
He of course also had the privilege of representing Spanish giants Real Madrid (2004-2006), where he teamed up with fellow Englishmen David Beckham & Michael Owen.
His début came in a league fixture against Athletic Bilbao, where he had an unfortunate outing to say the least: scoring an own-goal and being sent off.
Further injuries meant the former England international made only 14 appearances in two years after the club forked out over £13 million for his services – leading to a fans website declaring him the clubs' worst signing of the 21st century.
A bit harsh perhaps – he wasn't a bad player, just injury-prone. Nonetheless, it did make me chuckle!
This flicker of comic-relief, as it happens, was a very much welcome distraction as the pressure and tension of our charge towards the title becomes even greater.
Of course, I wouldn't change our position or situation in the table for the world… but it is painstakingly nerve-racking trying to stay clam or not let ones mind race into overdrive as each game grows evermore important.
To help me cope with all this silly pressure, I used my bizarre affection for Woodgate's hilarious spell in the Spanish capital and took the liberty of creating Liverpool's all-time worst Premiership XI (1992 to the present).
In no way hateful or malicious, I reeled off name after name: Sean Dundee, Jean Michel Ferri, Erik Meijer, Bernard Diomede, Stewart Downing, Andy Carroll.
The list goes on. We really did had some shockers over the years – all pulling on the famous red jersey.
Whether they've been dodgy last minute buys, failures in living up to huge price tags, or not being capable of keeping up with the pace of the English game, they've all managed to leave us frustrated, embarrassed, and confused at how they ever managed to play for our great club.
There are literally too many to mention, however, in a classic 4-4-2 formation that Roy Hodgson would be proud of, here is Liverpool Football Club's all-time worst Premiership XI. Enjoy…
Goalkeeper: Chris Kirkland (App.: 45. 2001-2006)

He arrived at Anfield with fellow 'keeper Jerzy Dudek, as boss Gerard Houllier splashed out to cement Liverpool's present and future between the sticks.
Billed as England's next great No.1, Kirkland endured a frustrating time as injuries got the better of him. His greatest moment came in that game in 2004 against Olympiacos, where he played his part in one of Anfield's greatest nights.
However, he will be remembered for what might have been: a huge talent shot down by injuries.
Left-Back: Paul Konchesky (App.: 18. Goals: 0. 2010-2011)
The embodiment of Roy Hodgson's tenure at Anfield: just not good enough. Even with years of Premiership experience behind him, Konchesky failed to cope with the pressure of playing for a big club.
Quickly shipped out when Kenny Dalglish arrived, it will be interesting to see how the Londoner fairs next season when his current club (Championship winners Leicester City) arrive at Anfield.
Centre-Back: Djimi Traore (App.: 141. Goals 1. 1999-2006)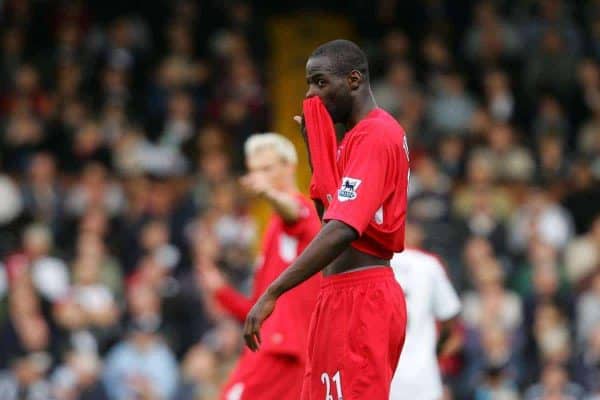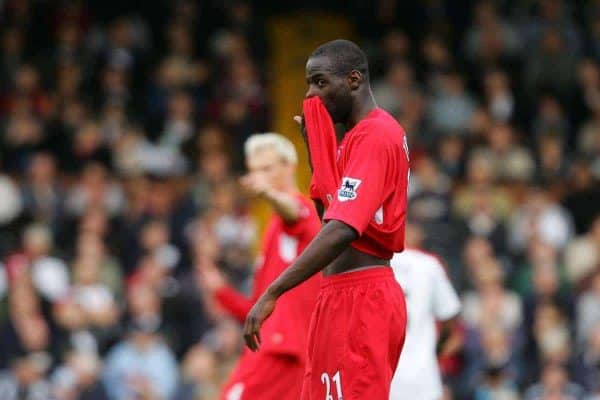 Nervous. Leggy. Scorer of world-class own-goals. Champions League winner. LFC cult hero! Hard to believe Traore was courted by many top European sides before Houllier worked his magic in 1999. How he won so many medals with the club is one of English football's biggest mysteries.
He did score an absolute worldie against Steaua Bucuresti in the U.E.F.A. Cup in 2003, but will be mostly remembered for that own-goal against Burnley!
Centre-Back: Danny Wilson (App.: 9. Goals: 0. 2010- 2013)
Another young hopeful who failed to live up to expectation. Arriving from Rangers with many a Scottish young player of the year awards under his arm, he was tipped to be the next great Scottish defender to play for the club.
He of course was not. After making his début during Northampton Town's victory over us at Anfield in the League Cup, Wilson struggled at the club.
He was loaned out, and eventually signed for Hearts on permanent deal – whom, as it happens, have just been relegated from Scotland's top flight!
Right-Back: Bjorn Tore Kvarme (App.: 54. Goals: 0. 1996-1999)
A bit of a blast from the past here, Kvarme was signed from Norwegian club Rosenberg by Roy Evans. He started well as a Reds took the league by storm with their attractive style of play.
However, he was soon found out and his error that led to Everton's Danny Cadamarteri scoring in 1997 continues to live long in the memory! You could say he was the Djimi Traore of the mid-nineties!
Right Midfield: Antonio Nunez (App.: 27. Goals: 1. 2004-2005)

Perhaps best remembered for bizarrely being part of the Michael Owen transfer to Real Madrid. We did also received £8 million but you could argue Madrid got the better end of the deal.
Every time Nunez appeared for the club it was a harsh reminder of how we let such a great striker go in the way we did. Injuries didn't help his brief spell on Merseyside either, but you could tell straight away that he simply wasn't good enough.
Although he did leave the club with a Champions League winners medal! Fair play to him I guess!
Centre Midfield: Christian Poulsen (App.: 21. Goals: 0. 2010-2011)
Another one of Roy Hodgson's masterstrokes in acquiring the Dane's services! Although hugely experienced throughout Europe, Poulsen was also hugely slow – particularly with the ball.
Along with Konchesky, he simply summed up the current England manager's spell at the club: not good enough.
Centre Midfield: Alberto Aquilani (App.: 28. Goals: 2. 2009-2012)
Surely, the first rule when seeking to sign an expensive player is making sure his not injured! – unless he's a Luis Suarez or Lionel Messi!
Unfortunately for Rafael Benitez, the Italian was neither. Signed as our replacement for Xabi Alonso, whenever Aquilani took to the field it was again a painful reminder of how much we missed the Spanish playmaker.
The pace and hustle-and-bustle of the English game was too much for the injury-prone Roman, although he's continued to make a name for himself back in Seri A – which I suppose says it all when you think about it!
Left Midfield: Bruno Cheyrou (App.: 48. Goals: 5. 2002-2004)
He may have looked like Zinedine Zidane, but he certainly didn't play like him! He seemed more interested in driving Ferrari's than playing for the club – where his impact was minimal to say the least.
He did get a winner at Stamford Bridge, as well as a tidy brace against Newcastle, but that was pretty much it. He simply embodied that when Gerard Houllier gets transfers wrong… he really does get them wrong!
Forward: El Hadji Diouf (App.: 80. Goals: 6. 2002-2004)
After supposedly making an impact in the 2002 World Cup, the Senegalese forward joined fellow international Salif Diao on Merseyside in a switch that saw both acquisitions get off to a decent start.
However, his antics on and off the ball was not the Liverpool way, and the fact that Houllier had a choice between signing him or Nicolas Anelka left us all the more frustrated! Was Diouf our worst ever No.9? Jamie Carragher seemed to think so!
Forward: Andriy Voronin (App.: 38. Goals: 6. 2007-2010)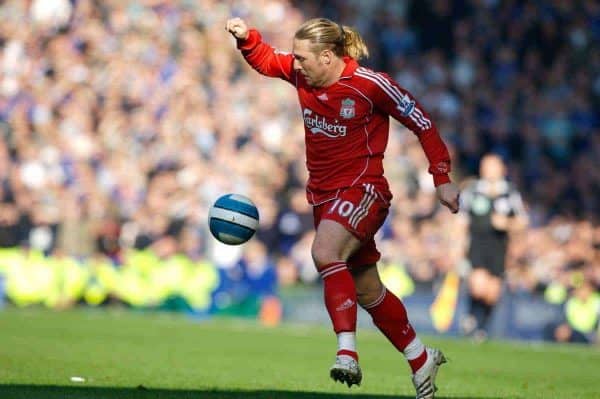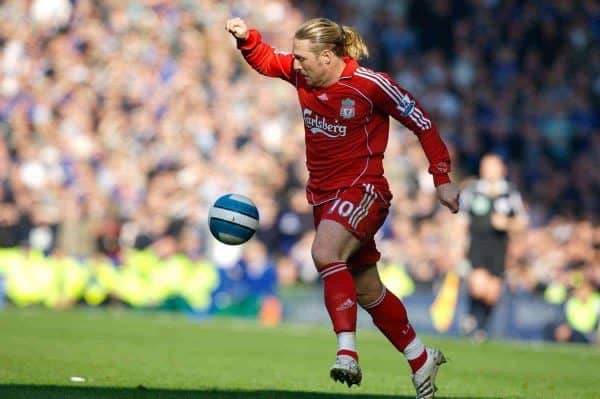 Signed on a free by Rafael Benitez, the ponytail-haired forward came to Anfield on the back of a few decent seasons in the German Bundesliga – so if anything his services would be a bonus.
He scored a beauty away at Toulouse in a Champions League qualifier, but the Kop faithful soon found out he'd need a hatful of chances before he could find the back of the net.
The amount of one-on-ones he seemed to mess up made Emile Heskey look world class. The fact that he wore the No.10 jersey was an unwanted statement at how far we'd slipped back as a club.
So what do you think? Is this team really all that bad? Whom would you have selected? Let us know in the comments section below.
I suppose the only bonus we can take from this embarrassment of players is the fact that thankfully, they didn't all play for us at the same time. If this were the case, we'd be playing in the lower divisions now for sure!