Red Machine: Liverpool FC in the 80s The Player's Stories – Simon Hughes, Mainstream Publishing (2013)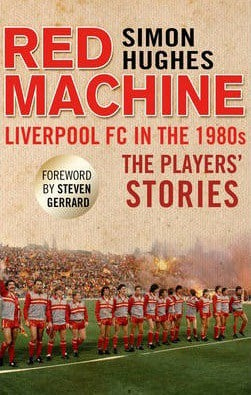 We all lead busy lives. TV shows want us to tear apart the careers of scarily tearful singers or dancers with the click of our mobile phone. Some of us are trying to pick up the pieces of yesterday, today. So, if you do not have time to read any more of this article, be assured that my thoughts on this book could be easily summed up in one sentence.
This book is one of the best books that I have read about Liverpool FC this year.
Rather than cutting and pasting a series of anecdotes gathered together from newspapers and programmes, taking words and feelings out of context, this book tries to tell a story about the Club during one of the most successful periods of the club's history through a series of interesting interviews with former players.
This book does not quite say that everything was great in the 80s. The book is objective and sensitive. It tries to link the Club with what was going on in Merseyside around thirty years ago. Unlike certain other clubs in the UK, you cannot really talk about Liverpool FC without talking about the city of Liverpool.
Regardless of the internal boardroom changes that have taken place at Anfield down the years, and the changing international dimension of football, I like to think that the city and the club are closely linked. This book will stoke a few memories and shows that the link was particularly strong whether through triumph or tragedy.
I could be a bit biased. The 80s remains my decade of choice. I was born thirty three days into the decade, three months before Steven Gerrard. It is sad to say that I do not have much in common with the Liverpool Captain, apart from a fairly similar haircut, but after reading the book's introduction, it was refreshing to think that I was not the only person to grow up with one of my earliest football memories being the 1986 FA Cup Final.
Throughout my childhood days, when my Dad used to do the football pools on a Wednesday night, I quickly began to realise that there was not much choosing a game involving Liverpool. It seemed that a team's coach could merely turn off the M62 towards Anfield and they had lost already.
Without even checking the pictures and the film of May 10th 1986, I could tell you it was a sunny day. It was also sunny on 15th April 1989; another football day that is etched in my memory for totally different reasons. It is weird how the weather can form your memories throughout your life.
For an impressionable nine year old, asking questions about things that I should not have asked question about Hillsborough remains vivid, with the next day newspaper coverage of fans rammed up against the steel fences still stuck in mind. At the age of four and five, I was probably in bed for the 1984 European Cup Final as well as Heysel.
Coupled with Brookside, the Beatles, The Farm's "Altogether Now," Cilla Black and Blind Date, and Derek Hatton, Liverpool strongly featured in my early days of life. Then, and now, I just wish that I had scored in front of the Kop.
I am not sure if the players that are featured in this book had the same memories of entering Liverpool as me. The first time that I actually made it to Merseyside for a football game was on 30th September 2000. Leaving the bright yellow clad Moorfields station, over the 80s bubble flooring that seemed to be the flooring of choice for every 80s built swimming pool across the land, Liverpool was everything that I thought it would be.
For those featured players in this book, coming to this City to ply their football trade made them feel that they had reached the very top of their game. Anxiousness is a common them through the book. Anxiousness to satisfy the ultra-high demands of Anfield's extremely demanding management. Anxiousness to play with footballing staffs. Anxiousness not to get injured in the experience and many players make reference that player injury was seen as a sign of potentially contagious weakness rather than a medical reality.
Some of the players, who are featured in this book, are brutally honest about their own shortcomings. For Michael Robinson, it was the ultimate dream to play for Liverpool. The reality of playing for the reds was quite different. With new players coming through the doors of Melwood, Robinson realised his days were numbered. That particular interview seems to be the one that gave the most for the author of this book and although Robinson is a particularly big star in the Spanish football media, his days at Anfield seem to be a bit of a regret for him.
Howard Gayle's account was also extremely interesting. Gayle is a Scouser born and bred, trying to find himself amongst the inner city gangs of Merseyside. Gayle talks about the 1981 Toxteth riots; the vivid backdrop to Charles and Diana's wedding. It is a scary account that means you can not put the pages down. He tries to use Liverpool Football Club as a way of trying to keep himself together. It is questionable whether it quite works or not for Gayle, but you do get a sense of the state of Merseyside in the early eighties through that particular chapter.
The players that are interviewed in this book are also not the usual subjects. Bruce Grobbelaar and John Barnes are interviewed for this book, and it is difficult to think of a back story that is quite as eventful and down-right shocking as the Zimbabwean born goalkeeper. It was also welcome to read about John Barnes – the person, and his development through the London footballing scene, through Watford FC to Anfield.
The book climaxes with some recollections from Ronnie Moran – a figure that regularly features in this book as a driven, slightly fearsome creature of the bootroom. He is the last surviving member of the Liverpool dynasty, like to Royal Family, who ruled Merseyside football for nearly forty years.
Moran's interview concludes a well written account of a time on Merseyside, where the City was fighting for economic and social survival, and turning to the local football clubs for some sort of salvation. The power of the writing and the recollections will keep you interested from beginning to end.