Luis Suarez's latest controversy could see him receive a ban from FIFA as early as Wednesday night. The latest incident comes 14 months after the bite on Branislav Ivanovic, which saw Liverpool condemn the striker and seek to help him change his ways.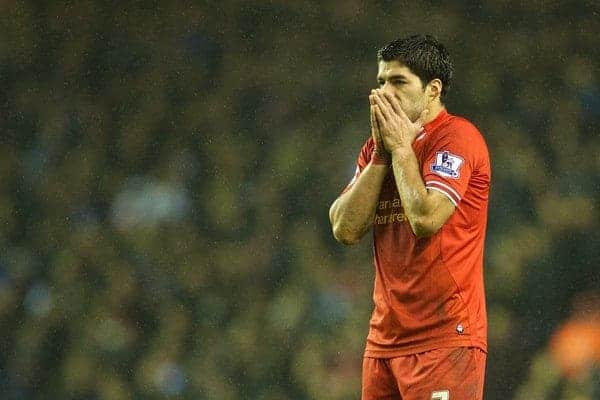 Liverpool immediately moved to condemn Suarez after the Ivanovic incident, releasing a statement from Suarez, managing director Ian Ayre and manager Brendan Rodgers within hours of the match finishing.
"His behaviour is not befitting of any player wearing a Liverpool shirt and Luis is aware that he has let himself and everyone associated with the club down," said Ayre. "We will deal with the matter internally and await any action from the FA."
"Having reviewed the video footage and spoken to Luis, his behaviour is unacceptable and I have made him aware of this," commented Rodgers.
Of course, the latest incident occurred while on international duty, and Uruguay's response has been quite the opposite of Liverpool's – with his lawyer telling Uruguayan radio: "We're going to use all the arguments possible so that Luis gets out in the best possible way."
After the Ivanovic incident, Liverpool said that they would seek to help Suarez. "Luis hasn't worked with Dr Steve [Peters] yet but that's something that will be in the pipeline," Rodgers explained.
"What we try to do with all the players is ensure there's a support mechanism there to help their human needs."
Suarez vowed to change his ways. "I want to change the bad boy image that has stuck for a bit because I don't think I am at all how I have been portrayed," he said in an interview with Sports Illustrated just a week before the World Cup. "I would like that to change because it's awful to hear and read what is said of you.
"On the field, sometimes passion overwhelms you and you do things you regret afterward. At the same time, you have a chance to learn from those things.
"I think I [have] been a role model since last summer; I have been professional, and I have the desire to forge ahead and play well regardless of what is said to me."
That interview with SI was one of many that Suarez had given over the previous 12 months, as he and Liverpool sought to change his bad boy image. He'd seemingly improved his manner on the pitch and was conquering his demons. All until that moment of madness on Tuesday night.
Here is a look at how Liverpool and Suarez tried, and it would appear failed, to fix Suarez's image following the Ivanovic incident:
26th April 2013– Suarez took to his twitter to apologise for biting Ivanovic and promising to change his ways:
"I am truly very sorry. I hope that all the people who I have offended at Anfield last Sunday will grant me forgiveness.
"I know that all the things that are happening to me in England will help me to improve my conduct on the field. Right now, I just want to focus on becoming a better footballer on and off the field. Many things have been said and written about me, I just tried to do my best on the field. I hope to come back early to play."
Reds boss Brendan Rodgers said at the time that the club "had to move on" and that they looked forward to "welcoming a better person and player when he returns."
21st February 2014– Suarez conducted an interview with the Liverpool Echo, and in it he thanked the fans for their support during a tough period for him:
"The fans have helped me so much. Everyone knows that I had some difficult times last summer. But they have always supported me and always had confidence in me. I really feel that support in my heart.
"I think this has been the best season of my career so far. It's my job to score goals and create goals, and help the team. When you have really good team-mates and a manager who believes in you then it helps so much with your job.
"For me, stepping on to the pitch knowing I have the confidence of the supporters means everything to me as a player. They help me to give my best."
March 2014 – Suarez conducted an in-depth interview with FourFourTwo magazine, with the interviewer writing an article after saying that "I met the real Luis Suarez… and he was a thoroughly nice chap."
From there, followed interviews with Sports Illustrated, The Daily Mail and British broadsheets, each finding Suarez to be very much the opposite of his bad boy image. There was also ESPN's incredibe, in-depth, 'portrait of a Serial Winner'
But all that has been completely undone by this latest incident. Happening at a World Cup has only further damaged by Suarez and, indirectly, Liverpool's image.