With many former and current Liverpool players competing in this year's World Cup, Jack Lusby picks the best of the past and present for his XI.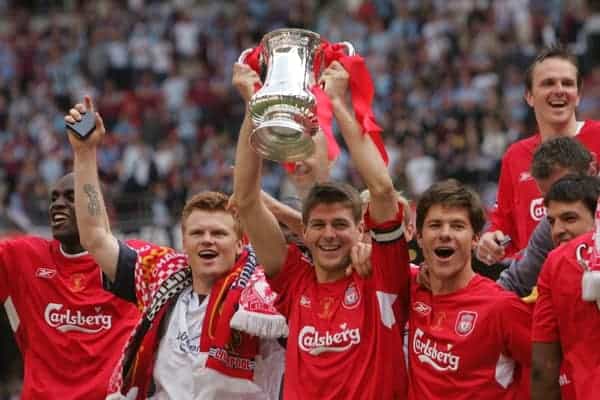 The 2014 Brazil World Cup is well and truly underway, and is set to be one of the best in recent times.
Liverpool players have graced the biggest stage of them all on many occasions over the years, and this competition is set to continue in the same way.
So far to name a few we have seen French centre-back Mamadou Sakho assert himself on proceedings in a 3-0 victory over Honduras, ex-Red Maxi Rodriguez claim all three points for Argentina against Bosnia-Herzegovina and Daniel Sturridge score a consolation effort for England against Italy.
But would any of these players make it into a past and present World Cup XI?
Without further ado here is said XI, utilising a modern 3-5-2 formation.
Goalkeeper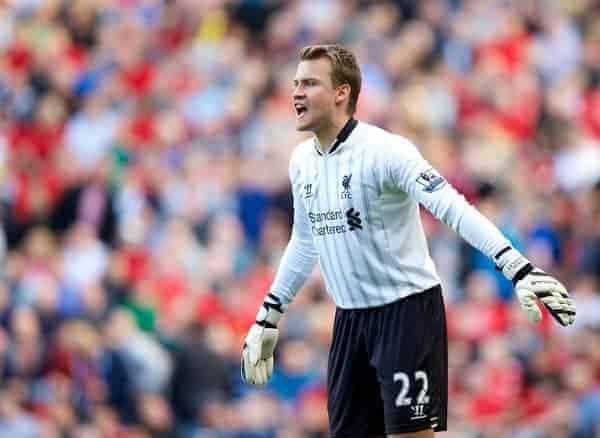 Whilst he may not start for his country, with Chelsea's Thibaut Courtois likely to put paid to that suggestion, Belgian goalkeeper and current Liverpool first-choice Simon Mignolet makes the cut here.
Former Liverpool back-up Charles Itandje would be an unpopular choice either way due to his perceived disrespect at a Hillsborough memorial ceremony, but his contribution to the Cameroon cause pales in comparison to the powers of Mignolet in any respect.
Spanish shotstopper and current Reds exile Pepe Reina would give Mignolet the most cause for concern, but the fact that loan club Napoli have ruled out a permanent move for the 31-year-old says it all.
The Belgian is now Reina's superior, and continues in the same vein in this XI.
Players to miss out: Pepe Reina, Charles Itandje
Defenders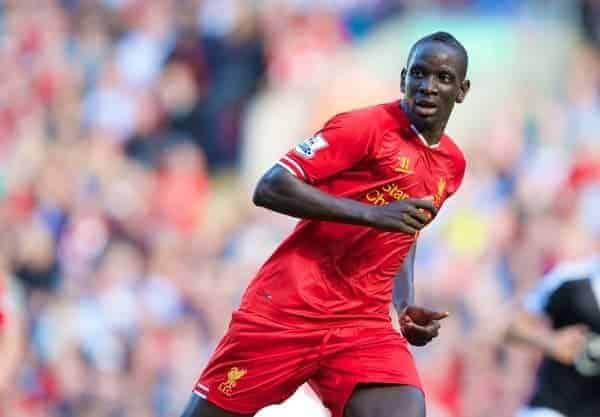 Opting for a back three in this XI, this means that three centre-backs will form the core of the defence.
Of those current Reds, only one makes the starting line-up, that being French central defensive monolith Mamadou Sakho.
The 24-year-old played the full 90 minutes as France decimated a tenacious Honduras side on Sunday night, completing 96 percent of his attempted passes, per Squawka.
Partnering the 2013 summer signing is an encapsulation of resurrection—Gabriel Paletta.
Signed by Liverpool under Rafa Benitez in 2006, Paletta made scant appearances for the Reds in a single dismal season, before being sold to Argentinean club Boca Juniors following the signing of Emiliano Insua.
However, the 28-year-old—now at Parma—has turned things around, and started against England as Italy won 2-1 on Saturday night.
Part of a solid Azzurri back line, Paletta would complement this defensive line-up adeptly.
Elsewhere, wedged in at centre-back for the final slot is Argentine destroyer Javier Mascherano.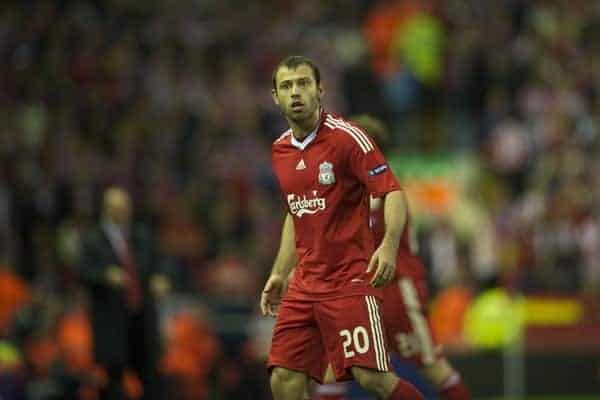 More than likely any Red's dream selection for a return to Anfield, the 30-year-old was one of few genuine world-class players at the club upon Roy Hodgson's appointment in 2010.
Now at Barcelona, Mascherano has adapted his game to suit that of a free-flowing defensive setup, and would complete this side's back line phenomenally.
Players to miss out: Glen Johnson, Sebastian Coates, Kolo Toure
Midfielders

Liverpool have been blessed with many outstanding midfielders in recent years, and as such this quality suits a formation flooded in the middle of the pitch.
Firstly, on the wings come one former and one current Red—Argentine marauder Maxi Rodriguez and English prodigy Raheem Sterling
.
33-year-old midfielder Maxi left the club in 2012 after a fruitful two-and-a-half year stint, and now plays his club football in his homeland for Newell's Old Boys.
On the other end of the age spectrum, Sterling was utilised in No. 10 role by Roy Hodgson in England's first World Cup game against Italy, performing sensationally.
Every attack went through the 19-year-old and the former QPR youngster would be a credit to any XI.

In the centre of midfield it would be hard to miss out one former Red, that being Spanish playmaker Xabi Alonso.
Alongside Mascherano, Alonso was part of Liverpool's self-proclaimed 'Best Midfield in the World' in the mid-2000s, and would be welcomed back by the Anfield faithful in a heartbeat.
Now a mainstay in Carlo Ancelotti's Real Madrid side, along with Vicente del Bosque's Spain side, Alonso remains one of the world's best.
Alongside Alonso would sit two current Brendan Rodgers charges—Steven Gerrard and Jordan Henderson.
The Englishman have made themselves into pillars on which their club and country's midfield are based on, and their work in tandem has become crucial for both.
Players to miss out: Alberto Aquilani, Victor Moses, Raul Meireles
Strikers

There are only two true first-choices for this XI when it comes to forward options, and that comes in the form of current Liverpool striker partners Luis Suarez and Daniel Sturridge.
Suarez was forced to watch on in dismay as Uruguay fell to a 3-1 defeat at the hands of Costa Rica on Saturday night, whilst Sturridge could do little to help the Three Lions in their loss to Italy the same evening, despite scoring.
However, this belies the enduring quality of the pair and their partnership is a match for any in world football.
England forward and new Reds signing Rickie Lambert would make for a solid backup option in lieu of either of the pair, and will likely do so under Rodgers at Anfield next season.
Furthermore, Dutch workhorse Dirk Kuyt will forever live in the hearts of faithful Reds due to his determined contributions in the past.
The boy least likely now, ironically, is former Liverpool star Fernando Torres, who continued his woeful form with some risible attempts in Spain's surprise 5-1 defeat to Netherlands on Friday night.
Players to miss out: Rickie Lambert, Dirk Kuyt, Fernando Torres
The Final XI

How would this XI fare in this year's World Cup? Who would make yours? Let us know in the comments below.