The projected sale of Luis Suarez to Barcelona marks the end of a hugely successful spell with Brendan Rodgers; here Jack Lusby looks back at their relationship.

Luis Suarez's projected move from Liverpool to Barcelona this summer marks the loss of possibly the Reds' best player in decades.
The work of the Brendan Rodgers, in tandem with his Uruguayan charge, resulted in the best ever season of both manager and star striker in 2013/14; as such, it is an incredible disappointment that the pair have to part this summer.
The reported £75 million fee that Liverpool will receive for the services of Suarez this summer is a true marker of the development of Suarez into a world class player under Rodgers, and the manager's role has been genuinely pivotal.
The relationship of Rodgers and Suarez throughout the past two seasons has been key to the success of the club of late, and this sale will mark the end of a fruitful two year fling.
On Rodgers' Appointment

Signing Rodgers as manager at the end of May 2012, Liverpool chairman Tom Werner described the Ulsterman as "a forward-thinking coach at the forefront of a generation of young managers and will bring to Liverpool attacking, relentless football."
The tip of this offensive spearhead throughout Rodgers' tenure to date has been Suarez, and the manager told Liverpool fans sites in September 2012:
"He's so clever. I mean if I think about me managing against him last year he was one of the players I thought: 'You need to be careful of this little bugger!'…you know he's so bright, he's persistent, so his strengths for me are in and around the box, he can drop in and become free, become loose, and play as the loose forward."
This role, as the "loose forward" has seen Suarez's, and in turn Rodgers', career at Liverpool flourish—this was particularly pertinent in the last season.
2013/14 Season

As this "loose forward," Suarez showed his ability to adapt to the evolving tactics of Rodgers, particularly throughout 2013/14.
Suarez was equally as effective within a 4-1-2-1-2 with a midfield diamond as he was within a fluid 4-3-3; in the latter, the Uruguayan often cut in from the wing to support Daniel Sturridge.
In 2013/14, Suarez scored 31 goals in 33 league games, winning the Premier League's Golden Boot and launching his name firmly into the footballing stratosphere.
Following Suarez's incredible performance in the 5-1 victory over Norwich in December of last year, Rodgers was full of praise for the striker:
"I haven't seen many individual performances like that before. It was a joy to watch, sheer brilliance from one of the best strikers in the world."
Suarez is and was clearly the best player that Rodgers has managed to date, and the 2013/14 season—surely Suarez's last with the club—was to be his greatest.
Suarez's Behaviour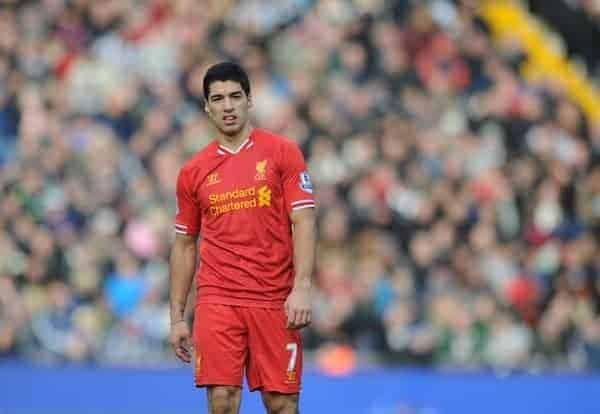 The main stigma within Suarez's move to Barcelona is his involvement in a bizarre bite attack on Italy's Giorgio Chiellini whilst representing Uruguay at this year's World Cup.
This, clearly, isn't the first issue the striker has had whilst he has been on Liverpool's books, or even before—at Ajax, Suarez was banned for biting PSV midfielder Otman Bakkal in 2010.
Throughout his relationship with Suarez at the club, Rodgers has approached his various transgressions sensibly.
The manager joined Liverpool following the allegations that Suarez racially abused Manchester United left-back Patrice Evra, but following his arrival Rodgers pressed the focus onto the football:
"We have to move on. We have to move forward. What's happened has happened and let's let it go now, however hard it is. We want to be winning games and doing our best for the football club."
This treatment continued following the striker's bite of Branislav Ivanoic, and his later pressing for a transfer to Arsenal.
David Anderson, writing for the Daily Mirror, credited Rodgers for the way in which he has approached Suarez's often bizarre lapses of judgment.
"When the Uruguayan tried to force through a move to Arsenal in the summer…he did not burn his bridges with Suarez so that a rapprochement could be made when he did not go."
This is completely exemplary of Rodgers' treatment of the volatile forward throughout the two years in which they have worked.
Rodgers has made his name as a wholly pragmatic manager, as adaptable in front of the media as he is within his tactical makeup.
Few would have expected—even with previous blots on his copybook—Suarez's bite on Ivanovic, just as much as his latest transgression, but Rodgers has belied his young years by showing a maturity when approaching such incidents.
Development Under Rodgers

Ultimately, the most demonstrative fruit of this relationship has been the sheer development of Suarez into a genuine world-class talent under Rodgers.
This can be succinctly put into context when comparing the performances of Suarez under former Reds manager Kenny Dalglish and the Northern Irishman.
According to WhoScored, in the season and a half Suarez was under the stewardship of Dalglish, the Uruguayan scored 15 goals and made six assists in 44 Premier League appearances.
This is a rate of 0.3 goals and 0.1 assists per game.
Under Rodgers in two seasons, Suarez scored 54 goals and made 17 assists in 66 league games.
This is a rate of 0.8 goals and 0.25 assists per game.
Furthermore, the Uruguayan was more successful in terms of key passes made, passing accuracy and accurate through balls; the data can be seen in the table below.
All results are averaged per game.


Under Rodgers last season, Suarez was awarded the Premier League Player of the Season, the FWA Footballer of the Year, the PFA Players' Player of the Year, and shared the European Golden Shoe award with Real Madrid's Cristiano Ronaldo.
Under Rodgers, Suarez has become a goal machine, and a more complete player overall, and it is due to this that interest from clubs such as Barcelona has arisen.
The Northern Irishman will be hard pressed to manage a better player in his undoubtedly long and successful career.
The treatment and development of Suarez has been a wholesale credit to his soon-to-be previous manager, and that is the legacy that should be taken from this sale.
Will Brendan Rodgers ever manage a player as good as Suarez again? Let us know in the comments below.