Sebastian Coates has enjoyed a positive pre-season, much to the surprise of many, and with Daniel Agger reportedly leaving, could the Uruguayan end up being an important squad player this season? Henry Jackson assesses Coates' future.

If there was one player that most Liverpool fans didn't expect much from during pre-season, it was Sebastian Coates.
The 23-year-old has been a disappointment since arriving at Anfield in 2011- that goal against QPR aside– failing to live up to his glowing reputation and making just 24 appearances for the club. Last season admittedly was disrupted by a serious knee injury, with a loan move to Nacional enabling him to get fit for the World Cup.
Since then, Coates returned to pre-season training a week early, aware that he still wasn't fully recovered from the injury which had ruled him out for 8 months.
With a move away from Liverpool seemingly inevitable this summer, Coates has produced a string of highly impressive performances in the last few weeks, with his assured, classy display against Manchester City on Thursday the best of the bench.
Rodgers on Coates vs Man City:

"Every player has an opportunity. Seba was out for a lot of last season. He's done well in pre-season, he has been very composed on the ball and he passes it well. He has done well."
While it would be careless to even talk about the Uruguyan in the same breath as Reds legend Sami Hyypia, there are definite similarities between the two in terms of style.
Like the legendary Finn, Coates is very tall (6″5), dominant in the air and good on the ball. He makes up for a lack of mobility by reading the game well and positioning himself intelligently; the sign of a talented defender lacking in speed.
This is not some knee-jerk attempt to get Coates playing first-team football week in, week out for the Reds because of a few good pre-season displays – Dejan Lovren, Mamadou Sakho and Martin Skrtel are all superior – but with Daniel Agger surely leaving and Kolo Toure something of a liability, he could be worth persevering with.
Also impressed with Sebastian Coates. Looks in Better shape and defended well

— keith costigan (@KeithCostigan) July 31, 2014
Very average 45mins. Coates has done very well. City the better side with Jovetic/Navas lively but few clear cut chances

— James Pearce (@JamesPearceEcho) July 31, 2014
Let's not forget that Coates was extremely highly-rated when he first arrived at Liverpool.
He had just enjoyed a superb Copa America for Uruguay in the summer of 2011, culminating in him winning the Young Player of the Tournament award as his side lifted the trophy. He was being lauded as one of the best young centre-backs around, and a future captain of his country by some.
There are definite comparisons to be made between Coates and Manchester United defender Phil Jones. He too signed with an enormous reputation- Sir Alex Ferguson famously claimed he could go on to be the club's greatest ever player- but is currently something of a laughing stock. He is still just 22 though, and forgetting club rivalry and jokes about his bizarre facial expressions for one second, there is every chance he will come good.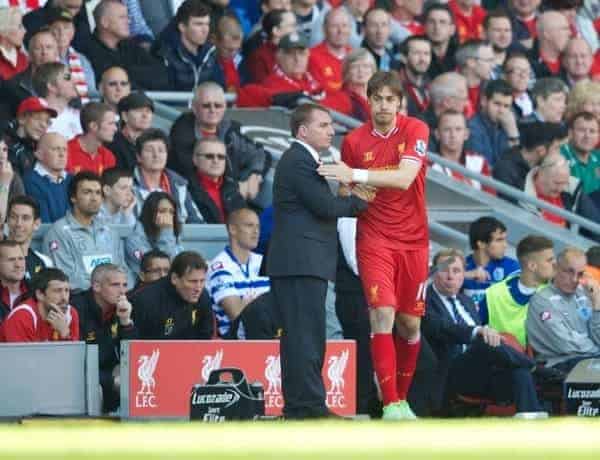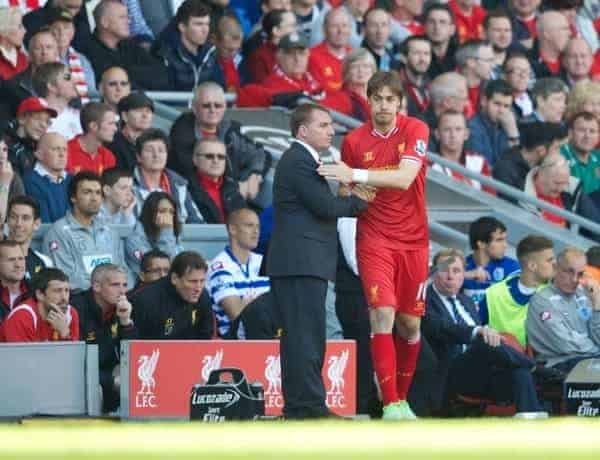 There is certainly an argument to say that the same could happen with Coates. It's very easy to forget that he is still only 23, and is still years from his peak.
Maybe the Premier League doesn't suit him, maybe he was overrated back in 2011, but would it not be worth keeping him for a little longer just to see if we are witnessing the start of a huge improvement? Being fourth-choice centre-back doesn't exactly mean Rodgers is taking a huge risk in keeping him.
There have been plenty of players down the years who have come close to being sold by Liverpool and ended up thriving- Jordan Henderson is as good an example as any- and you just wonder whether getting rid of Coates this summer, as is rumoured, would be a mistake.
Assuming he takes his impressive pre-season form into the new domestic campaign, he can be an able backup to Lovren, Sakho and Skrtel, and gradually improve his game further.
[poll id="218″]