With the increased competition at the heart of The Reds' defence following Dejan Lovren's arrival, Ben Twelves discusses who should be the central defensive partnership this season.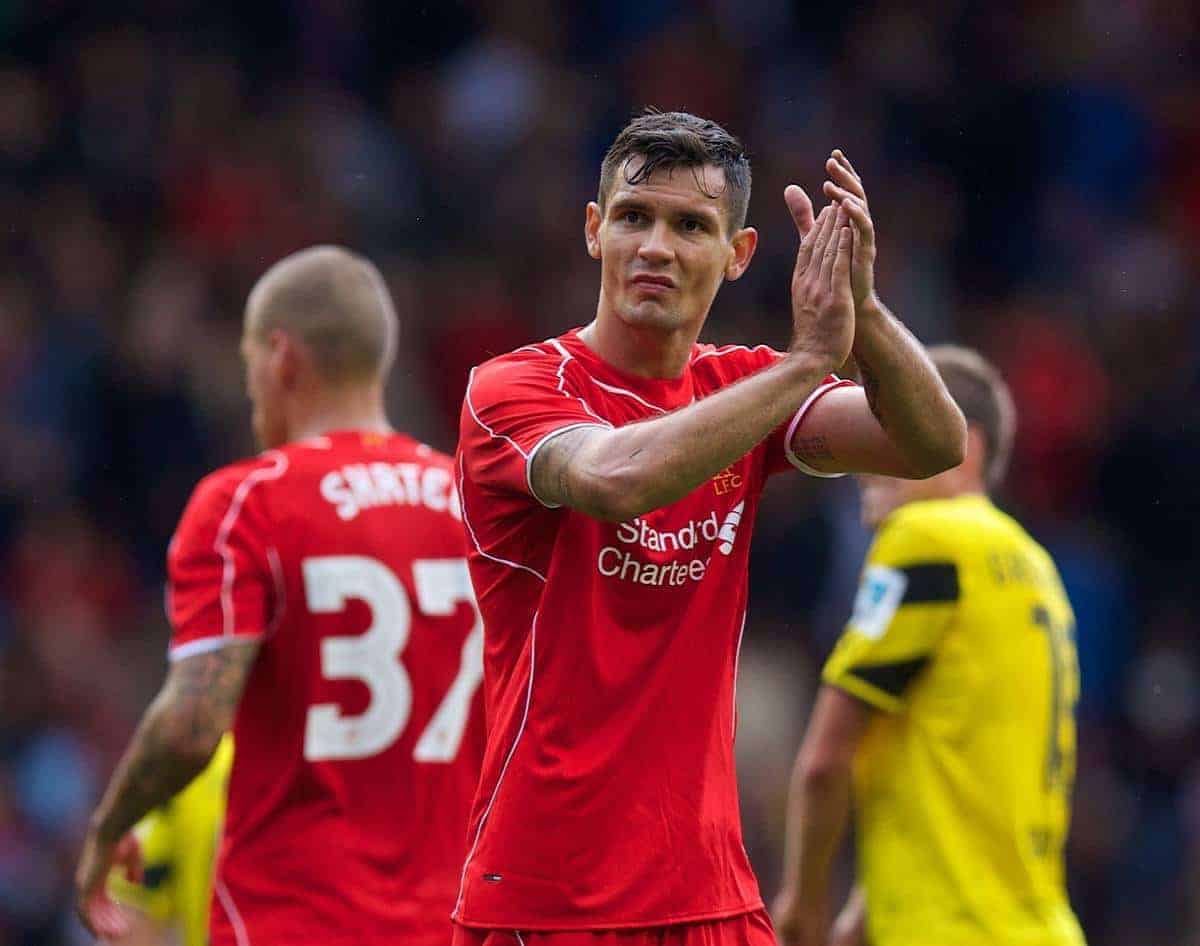 Having conceded an alarming amount of league goals last season (50) Brendan Rodgers was always going to look to strengthen his defensive options this summer window. A new right and centre back have joined the exciting squad being assembled at Anfield and the situation over a left back upgrade, and the pursuit of Alberto Moreno, seems to be nearing a positive conclusion as Rodgers looks to bolster his defensive options.
With options comes decisions, and at the moment, there's little debate over who should occupy the full-back slots, with large sections of the fan base already in favour of new signing Javier Manquillo replacing Glen Johnson at right-back, and Alberto Moreno – should he arrive – making the left-back slot his own. But it's at centre-back again, like last summer, where the real questions are being asked over who should be the first choice pairing.
Dunno if it got picked up on TV but Lovren was shouting his head of all game today. Seems he's the defensive marshall we've needed.

— Kop 305 (@Kop305) August 10, 2014
The arrival of the impressive Dejan Lovren – the leader Liverpool's back line have so badly lacked since Jamie Carragher retired – has seen central defenders in the squad increase to six players.
Departures are expected – namely Kolo Toure and Daniel Agger – it will leave Liverpool with a far more healthy four options in the centre of defence; Mamadou Sakho, Dejan Lovren, Martin Skrtel and Sebastian Coates.
So who should be the partnership to lead Liverpool in 2014/15?
It doesn't take a genius to work out that with Rodgers paying £20 million for Lovren, he will be the pick of the centre backs this season. His obvious leadership alongside his composure, and assured manner make it easy to see why the Liverpool manager was so desperate to bring the Croatian to Anfield and it's safe to assume that 25-year-old will take the lead role.
What is up for grabs then, is the shirt alongside the new signing.
Lovren Left or Right?
Lovren is accustomed to playing as the left sided centre half naturally as displayed against Borussia Dortmund on Sunday when Skrtel partnered him as the right sided centre back. The pair defended well with the commanding Croatian producing an excellent debut performance but there were obvious differences in the way both players defend.
Lovren was vocal in instructing the back line, forcing them up away from danger and holding his position on occasions as Dortmund attacked the Reds' defence, but Skrtel on the other hand at times continued to drop deeper – a trait that contributed to the team conceding so many goals last season.
Lovren also stepped up and out to meet the ball, and confronted Dortmund in their attacks, while Skrtel again at times backed off inviting pressure. While not necessarily a criticism of the long serving Slovakian – more an observation in the differing defending techniques – it's not the way Rodgers is trying to instil; it's what he's trying to move his defenders away from.
Sakho watched from the bench with  Toure and Coates at the weekend, and a potential problem for the Frenchman is that like Lovren, he too is naturally left sided. The ex-Southampton man's distribution and comfort in possession is excellent with both feet, and perhaps with a bit of fine tuning from Rodgers' he could slide across and play as the right sided centre back to accommodate the left footed Sakho.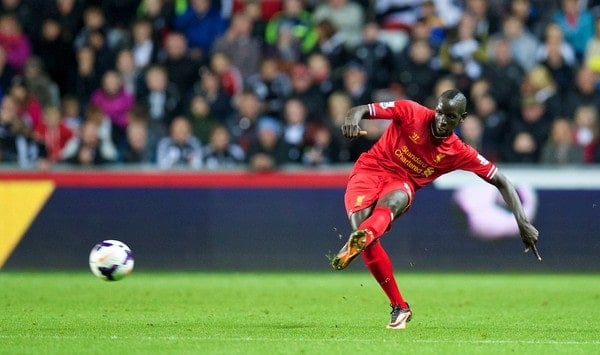 It's hard to believe that Rodgers would spend big on two naturally left sided central defenders, completely ignoring the right, so coaching the Croatian international to adapt could well be on the managers' agenda. It would make sense seeing as with a long season ahead, injuries to come and the amount of games to play, all three will be required to play next to each other at some point.
With this in mind, it's fair to say that Lovren, Sakho and Skrtel are therefore the three main centre back's for Rodgers, with Coates and possibly Toure in reserve for when called upon which isn't a bad set of central defensive options as the manager continues to transform his squad.
BR: I thought Dejan Lovren was brilliant today, he's a real professional. Both he and Martin Skrtel were excellent today, as was Manquillo. — This Is Anfield (@thisisanfield) August 10, 2014
After a solid performance, Lovren and Skrtel seem to be the logical choice for Sunday once again. Replacing the Slovakian with Sakho would not necessarily be a risk – as both have been signed due to their suitability with the style Rodgers wants – but they haven't yet played together in a competitive game.
With a new right back in the defence already and the possibility of Johnson, Enrique or yet another new recruit at left back, wholesale changes could be a dangerous game. It was slightly surprising that Sakho didn't come on to play alongside the new recruit on Sunday for some part of the match but it could be viewed as the clearest indication yet that it will be Skrtel and Lovren as the defensive partnership on Sunday afternoon.
I'd go with Lovren Sakho myself, for the record.

— Kop 305 (@Kop305) August 8, 2014
However, while it makes sense for Skrtel and Lovren to remain as the starting pair for Sunday's first league fixture due to the small experience gained last time out, Sakho alongside the French speaking former Lyon man, is the strongest partnership available at Anfield and will hopefully be phased in by Rodgers sooner rather than later.
As the best two central defenders in the squad, both with seasons ahead, they could not only form a long-term partnership for years, but a top-class one at that.
[poll id="225″]