Kopblog reflects on the City defeat and looks ahead to the trip to Spurs this weekend, hoping Liverpool can find their attacking spark again.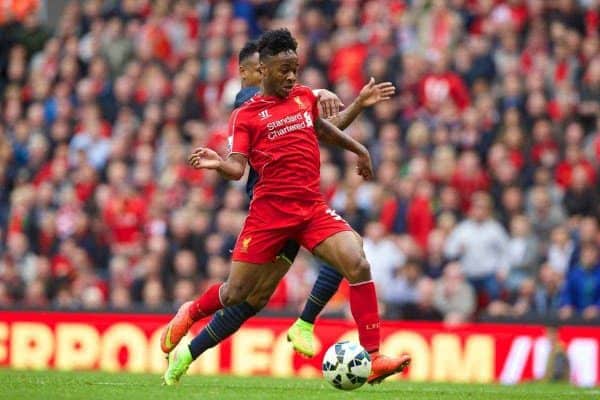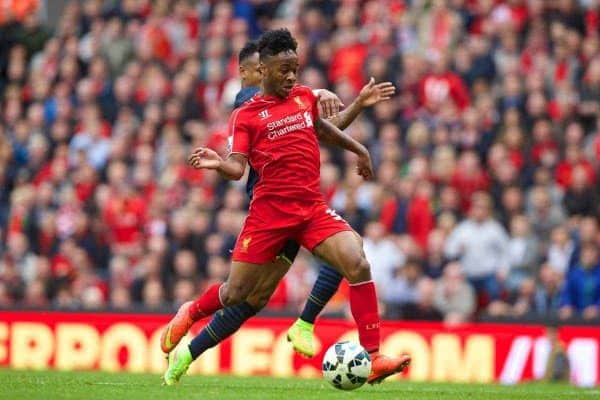 Last season we found an identity. We won football matches by blitzing teams. Especially in the 2nd half of the season where we averaged almost 3 goals a game. We pressed teams, regained possession and killed teams on the break. Such as Everton, Arsenal at home, Spurs away and City at home in the first half – when we should have been out of sight.
In other games we'd play a more controlled possession game and still score 3 or more goals. For example Man United and Southampton away.
No matter the approach for a specific game during the 2nd half of the season one thing was constant. Our ability to get in the penalty area and create chances.
In the 2 games so far this season we've looked neat and tidy at times and had good passages of controlled play. We have looked good in the middle third of the pitch But we've not created many clear chances. We've not hurt the opposition enough. In the final third we have been a bit hesitant and indecisive. That final pass or cross, the decision making whether to pass or shoot, has been off. We are playing like a recent Arsenal side when they've come up against quality. Pretty the ball about, don't do anything overly threatening and eventually end up getting beaten.
The lazy observation is to say we miss Suarez. I think we've missed his directness. Even when not playing well he's never hesitant or indecisive. He'd always take a player on or take a shot and just make things happen. We're also missing having someone closer to Sturridge. In these last 2 games he's looked isolated and not linked up as well as when he's had a partner up front. It might be coincidence but his best spells so far have been when Lambert has come on.

In the 5 games last season where Suarez was suspended we scored 5 goals in 5 games. The following 5 games with him in the side we scored 12 goals.
There's no doubt we were a more creative and penetrative team with Suarez last season. Brendan Rodger's job will be to recreate that without him.
It's a shame Lallana has been injured and Balotelli wasn't signed early enough to start the season for us as maybe they could helped the team be more of a goal threat.
I wanted Markovic to start against City with Coutinho in midfield. I don't see Phil as a wide forward, I think we get more pressing and creativity from him when he's deeper. Markovic looked like Ronaldo when he came on. He was a threat, wasting no time taking on Man City defenders and linked up well with Moreno. Shortly after that we went down to 10 men with Johnson getting injured and that was the end for us really. Markovic spent the rest of the game running back towards his own goal.
At the back I think we have problems. The same problems as last season. Making Defensive errors, losing midfield runners and holding a poor defensive line. The left side of our defensive is being targeted by the opposition and effectively so. All 4 goals we have conceded has come from that side. This is a concern considering we've spent £32m on a left centre back and left back with an £18m left center back sitting on the bench.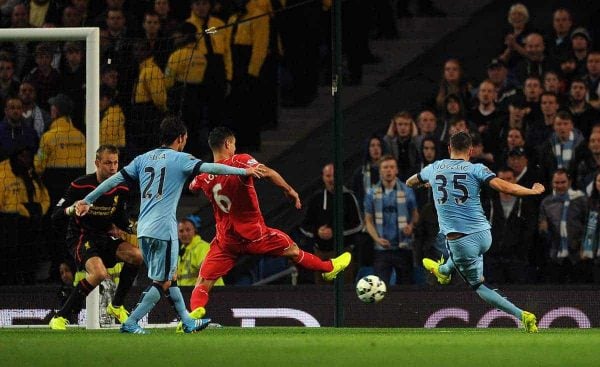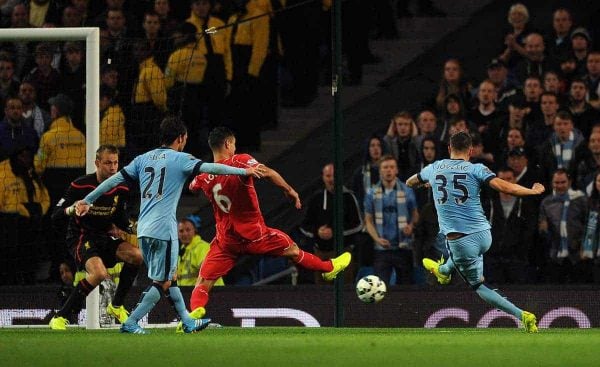 Credit to Man City. They are very clinical in their attacking play. They get between the lines and always seem to make the right decisions. But the defending for all the goals was a shambles.
The first comes from Gerrard letting Silva jog past him into our penalty area where there is a massive gap between Lovren and Moreno. Then there is a poor defensive header from Lovren towards the direction of Moreno who stands rooted to the spot waiting for the ball to come to him. By the time he swings his leg in an attempt to clear Jovetic has driven his shot through Mignolet's legs. I see some fans saying Moreno's mistake was down to him not being used to the pace of the Premier League. I disagree. It's a fuck up plain and simple. In La Liga strikers press loose balls in the penalty area. If Glen Johnson made that mistake you can imagine the reaction.
The Liverpool players were out early to kick off the 2nd half and we began the half with purpose. The tempo was quicker and signs were encouraging until we were undone again. Another Man City attack down our left. There's no pressure on the ball with Allen caught out on the left trying to press one of the City players who has squared it inside. Gerrard is in no man's land as he's marking nobody but is too deep to press the ball. Lovren charges out (Skrtel doesn't) and he and Moreno are about 10 yards ahead of Skrtel and Johnson. City bypass Moreno and Lovren with ease, work the ball across to Jovetic. 2-0. Despite Johnson's attempted kung-fu kick clearance on the goal line.
The third goal is embarrassing. 3 passes from their goal keeper into the defence, midfield and through to Aguero. Lovren's position is shocking and he gets skinned for pace. (Why do we never buy quick center backs?). What the fuck Mignolet is doing I don't know. I think I'm going to have to delete my Mignolet the Magnificent blog as he's making me look like an idiot.
When we are attacking well and scoring a lot of goals I can overlook the awful defending but when we're stuttering up front the bad defending is a lot more apparent. Some people said we didn't have to score 100 goals this season, that we could score 20 less but concede 20 less and be just as effective. As if it's as easy as that, like adjusting the settings on a graphic equaliser. It's quite possible we score 20 less and concede 10 more. I want 120 goals as at the moment it looks like we'll concede 70!
Player ratings:
Mignolet: Did not make a save. The third was his fault and it killed the game. Needs to stop making errors. 4/10.
Johnson: Did ok defensively but most of City's attacking play came down the opposite flank. Was poor going forward. Continues to be very hesitant when on the ball. Just can't make up his mind what to do with the ball. Takes 53 touches then does one of three things; 1. Plays a simple non-threatening pass. 2. Gives it away. 3. Runs straight into opposition players and loses the ball. 5/10.
Skrtel: Fairly solid game although often he'd get caught deep while Lovren was 5-10 yards ahead of him. Is that his fault or Lovren's? Or perhaps both? 5/10.
Lovren: Not a good game from our £20m center back. Positional play let him down in the lead up to all 3 goals conceded. If he is the leader of the back four. The others aren't yet following. 4/10.
Moreno: Played well for 38 minutes or so then made the mistake for the first goal and got caught out positionally a few times. Showed signs of looking like a good attacking fullback. Should have squared the ball to an unmarked Sturridge in the 6 yard box rather than pulling it back to a City player. 5/10.

Gerrard: It was a struggle for the skipper. Let David Silva wonder pass him in the lead up to the first goal. Got caught positionally throughout the game and couldn't create anything of note when on the ball. 5/10.
Allen: Worked hard, did his job in terms of pressing the ball, regaining it and retaining possession. Didn't really offer anything in an attacking sense though. 6/10.
Henderson: Similar to Allen, worked hard out of possession and was neat and tidy in possession. No creative passes like the one against Southampton however. He did make a couple of very good attacking runs into the box but was tentative when he got the ball both times. Choosing to pass to someone in a worse possession than he was rather than shoot. 6/10.
Coutinho: Flattered to deceive once again away from home. Struggled to create anything and didn't get close enough to Sturridge. Didn't play poorly but must do more. 6/10.
Sterling: Our best player in the first half. Bright in possession, took his man on when he could and made a few diagonal runs into the penalty area. Missed a half chance. Must get on the ball more as he is our inform player at the moment. 7/10.
Sturridge: Quiet for the most part but seemed to come alive when Markovic and Lambert came on. Was our best player in that brief period where it looked like we might get back into it. 6.5/10.
Markovic showed flashes of what he is capable of which is an exciting prospect.
Lambert got in the right position to force the own goal. Had another chance to make it 3-2 but chose to pass it. He looks like the weight of the world is on his shoulders whenever he has worn the Liverpool shirt.
Can was decent.
Against Spurs I'd like to see a midfield inverted triangle of Hendo-Gerrard-Coutinho and a front 3 of Sterling, Sturridge and Balotelli or Markovic. We could go with the 4-4-2 diamond with Sterling at the apex or 4-3-3. Either way we have enough quality creative attacking players on the field to create a lot of chances. Especially with Lallana and Markovic/Balotelli as options from the bench.
With Johnson and Moreno getting injured and Flanno also out it'll probably be Jose Enrique at left back and Manquillo at right back with Skrtel and Lovren in the middle.
I don't think we'll make any drastic defensive improvements until we have top quality defenders and a class DM. (That could be 2-3 years from now). That's why I hope we regain our attacking spark as soon as possible because unlike the defence I think we have real quality in attack and it's surely just a matter of time before we are giving teams a good hiding again. Hopefully we can beat Spurs and get our swagger back.