Liverpool head to Man City tonight, the scene of Simon Mignolet's error that allowed Alvaro Negredo to score last season. Rebecca Parry takes a look at the keeper's first year and expects a bright future.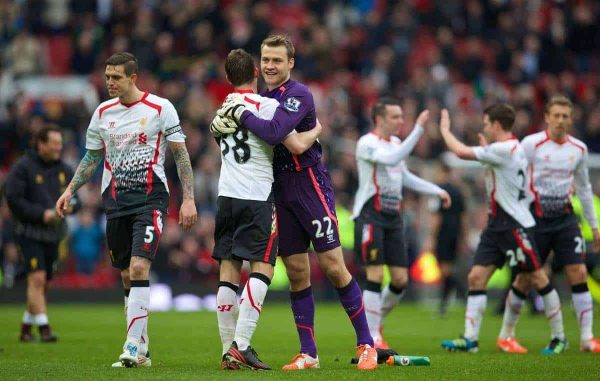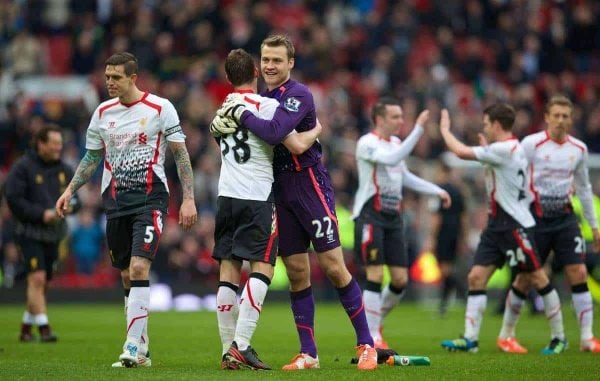 Most of the time, goalkeepers are judged on their first performances. In Simon Mignolet's case, I don't think you can get much better than saving a penalty in the last few minutes of your debut to secure the win.
Every keeper signing is going to be seen as a risk, because you never know what can happen to throw them off course. However, after Pepe Reina's strange loan departure last year, a proven Premier League replacement seemed exactly what we needed. Rebuilding the side needed to progress sooner rather than later – Reina's replacement had to come in and do the job with no major issues.
Going Unnoticed 
I wrote an article early last season highlighting the job Mignolet had done so far. It was one of few; he had done the job so well, his contribution was unnoticed. Even though this may seem uncomplimentary, hiding away from the limelight is the best thing a goalkeeper could ask for sometimes.
When David de Gea was struggling for the first few months of his Manchester United career, that was the primary focus of their games – the opposition already has a clear advantage, and swapping and changing him by game didn't do his confidence any favours.
Even though Mignolet already had substantial Premier League experience, with a new goalkeeper you always expect a few games where the "settling in" excuse is used.
Going unnoticed for the majority of last year, it just highlights how well of  a job  he has done so far. In a positive way, he gave us nothing to talk about, he just did the job he had to do.
Room to improve
Like all goalkeepers, there are good and bad in his game. Being used to having Pepe Reina between the sticks for so many years, distribution from the back was just part of Liverpool's game.
And even after a year in the squad, distribution from Mignolet's point of view could be improved. Long and direct balls obviously aren't the way we want to do things, but part of Reina's game was to get the ball out of his hands and up the other end of the pitch as quickly as possible.
In some ways, we haven't missed this as much as we could have done, considering the way Liverpool's passing and aggressive counter-attacking proved to be the winning formula last year. But as a team becomes more of a completed product, ideally, every angle could be covered.

Shot-stopping supreme
In terms of shot-stopping, we've got one of the best in the business. You only have to look at the Southampton game last weekend to prove that there is not much more he can do in terms of keeping out those forceful shots that no keeper has the right to prevent.
With penalties, I'd rather have him in goal than Reina, purely on the basis of what I've just said. We didn't have many occasions where this had to be put into practice last year, but in pre-season, his spot-kick saves were rather impressive.
One other point that does come to mind with Mignolet also, is that he knows his own strengths. There are very few times where you see him charging out and sliding to rescue a loose ball, and rarely have there been times where I've questioned his decision making (including strong punches, and claiming crosses at the right moment).
Back-up needed?
For the last few years, Brad Jones has been good back-up for League and FA Cup games, but now with us being involved in Champions League, you'd have to expect that extra support will be needed.
A number of different names have been mentioned, whether we'll actually acquire someone before the window closes is a different matter. We will strengthen if we do manage to bring someone in, but it was never top of our list for transfers this window, and I think we'll manage ok if this turns out to be the case.
At only 26, Mignolet is still in the younger years of his career. He still has to work on some aspects of his game, but I'm confident he can have another successful season, especially now with the support of an enhanced and improved defensive line in front of him.