Liverpool host Swansea City in the League Cup fourth round on Tuesday night, as the Reds look to give their season some much-needed momentum. Henry Jackson selects five players who should start against the Welsh outfit.

Liverpool's 0-0 draw with Hull on Saturday was another disappointing Premier League result, but attention now turns to Tuesday's League Cup clash with Swansea.
Brendan Rodgers has the job of rotating his side for the visit of the Swans, but there is a definite middle ground between making eleven changes from the weekend's game and not resting enough players. At the end of the day, this is a competition Liverpool should be looking at winning, and playing a side of youngsters and squad players would be criminal.
The Northern Irishman eluded to this back in August, which suggests he will be putting out a relatively strong team:
"I want a trophy this year. My sole aim in the first three years was to get us into the Champions League. I knew what it meant to the city and the supporters, so my drive in that period was to get us back.

"Now I want the club to win the big trophies again. That's what I said to the players. The expectancy this season is continual improvement. We want to win. To be successful is winning trophies."
With players such as Raheem Sterling and Steven Gerrard desperately requiring a rest – and with trips to Newcastle and Real Madrid within a week of this fixture – here are five players Rodgers should start with against Swansea.
RICKIE LAMBERT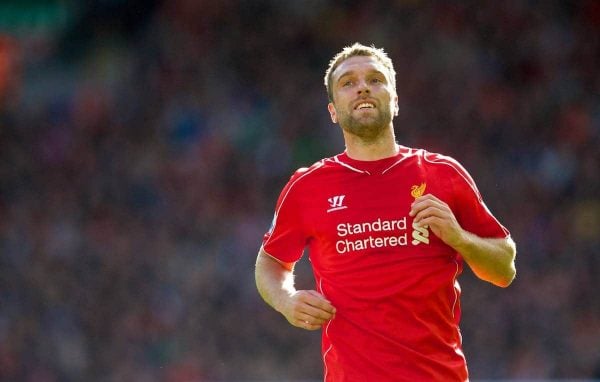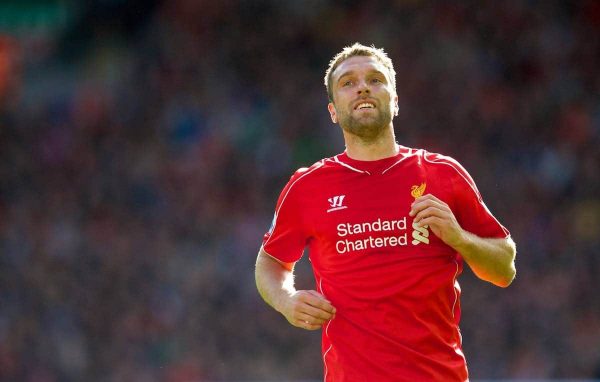 It's easy to feel plenty of sympathy for Lambert, whose dream move to Anfield in the summer has been something of a nightmare so far. He has not scored in his nine appearances to date, and his touch and movement have been very poor.
In fairness to the 32-year-old, however, he has barely started a game, and it makes total sense for Rodgers to put him in from the beginning against Swansea. His confidence is in serious need of a boost, and a little like Peter Crouch when he failed to score well into his Reds career, you just feel one goal would do him a world of a good.
Lambert has not become a bad player overnight, but he just needs a run of games and a key moment to go his way in order to ignite his Liverpool career.
MARIO BALOTELLI

Like Lambert, Balotelli is having a serious confidence crisis at the moment. Many see him as an arrogant player who doesn't get affected by criticism, but it's clear to see he's actually a sensitive soul. His last-gasp miss on Saturday will have haunted him.
Although there will be many calling for the Italian to be rested for Tuesday's clash, if he is paired with Lambert in attack it could well be beneficial for both. It's no secret that both thrive in a front two- Balotelli still can't be properly judged until he plays alongside Daniel Sturridge regularly- and they could dovetail nicely against Garry Monk's side.
Although the 24-year-old has been far from good enough in a Liverpool shirt so far, he has also been nowhere near as bad as some are making out. Of course his goalscoring record must improve, as must other elements of his game, but there are other players in the squad more deserving of criticism than him currently.
PHILIPPE COUTINHO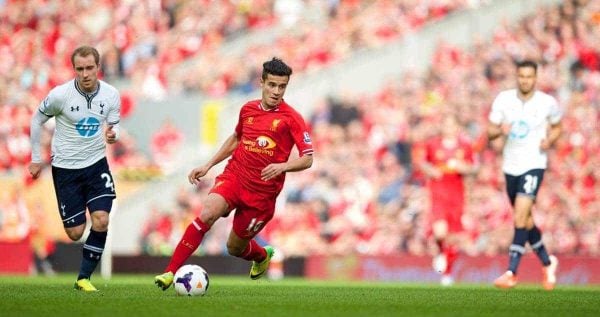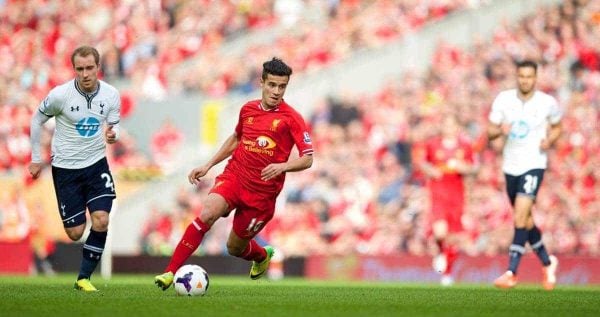 Coutinho has had a strange few months at Liverpool. He was sensational on the Reds' pre-season tour of America, looking primed to be one of the stars of the season, but his form then fell away at the start of the Premier League campaign.
His recent cameos against the likes of QPR and Hull have been superb though, and he has more than justified a start against Swansea over Adam Lallana, who is still a little off the pace. There is actually an argument to start the former Southampton man as well, in order to get more playing time.
At the end of the day this is a game Rodgers and many fans desperately want to win, and if he just picks players in desperate need of form, chances are they will be eliminated. Coutinho is the total opposite in that respect, and an influential display from the start against the Swans would surely make him a certainty to play against Newcastle on Saturday.
EMRE CAN

Can's Reds career was frustratingly halted in September, following an injury picked up on Germany Under-21 duty, but since his return he has looked very promising.
The 20-year-old was arguably Liverpool's best player against Hull, showing class on the ball, good defensive work and a maturity beyond his years. With Steven Gerrard almost certain to be rested on Tuesday, Can should be given the opportunity to shine in defensive midfield once more. Who knows, he could be the long-term successor to the skipper.
The former Bayer Leverkusen star almost looks a combination of Gerrard and Jordan Henderson, combining the former's expertise on the ball with the latter's drive and energy. This is the perfect game for him to showcase his talents once more.
LAZAR MARKOVIC

Markovic has really struggled to adapt to life in England since his £19.8m move from Benfica, but it would be extremely knee-jerk to just write him off. The Serb has been hailed as one of the finest young talents in Europe, and sometimes it just takes time to adjust.
Considering his limited playing time in the Premier League and Champions League, Markovic simply has to start against Swansea. He could thrive at the top of a midfield diamond behind Lambert and Balotelli, allowing Raheem Sterling a night off in the process.
Like Lambert and Balotelli, the main thing affecting the 20-year-old is confidence. He desperately needs to play a big part in a Liverpool win in order to boost his self-belief, and you feel once that happens we may well see a completely different player. It's easy to forget how ineffective Sterling was this time last year.
[poll id="263″]