Jordan Henderson is not letting talk of a new Liverpool contract distract him, insisting he'll "be here for many years".

Reports over the weekend suggested Henderson will be offered a new five-year deal at Anfield after becoming one of the first team's most important players.
Henderson, who has made 141 appearances for Liverpool since joining from Sunderland in 2011, was recently promoted to vice-captain after demonstrating increasingly passionate leadership on the pitch.
With many tipping the 24-year-old to soon be the first choice Liverpool skipper, a new long-term deal seems a no-brainer from the club's point of view.
"I am just concentrating on playing football," Henderson told press ahead of England's forthcoming European Championships qualifiers against San Marino and Estonia. "I am not worried about that.
"I am enjoying my football, I love this club and I want to be here for many years so that shouldn't be an issue."
Henderson's professional-like manner in speaking about his career and ambitions will be praised again as he added, "I'll let my agent sort that out, it's nothing to do with me."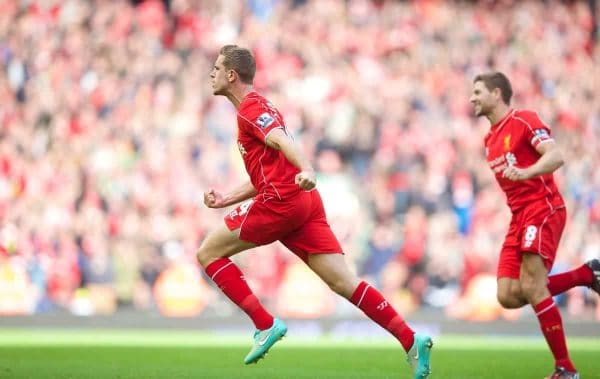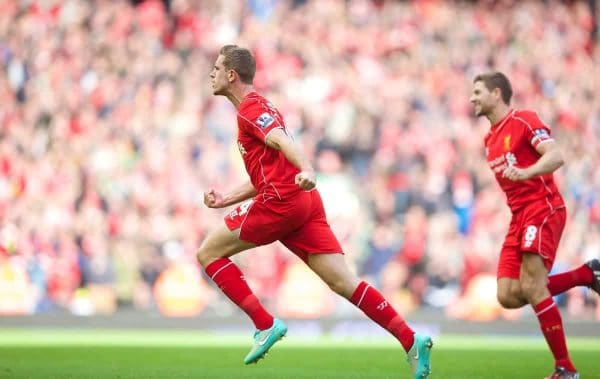 The midfielder was Liverpool's man of the match on Saturday as they earned a vital Premier League victory over West Brom at Anfield.
His second-half winner, slotting home with great composure past Baggies' keeper Ben Foster, was topped off by spearheading the Reds to victory.
After the game Brendan Rodgers explained how moving Henderson to a more advanced role against West Brom helped win the game.
"We flipped the midfield triangle about and played with Stevie controlling and Jordan just in advance of that," he told press.
"He's the one player in the country that can really dominate a game without the ball due to his running capacity. He has great physicality in the game and today was about trying to get him forward that bit more and encouraging him to go [forward].
"That forward run allows him to offer the combination with Adam for the first goal, and for the second goal he arrived in the box and finished really, really well.
"It was a big performance from him today."
How important is Henderson in the short and long-term future of Liverpool? Let us know your thoughts in the comments section below.