We Are Liverpool editor, Neil Poole, takes a look back at a bleak seven days that thankfully ended on a high.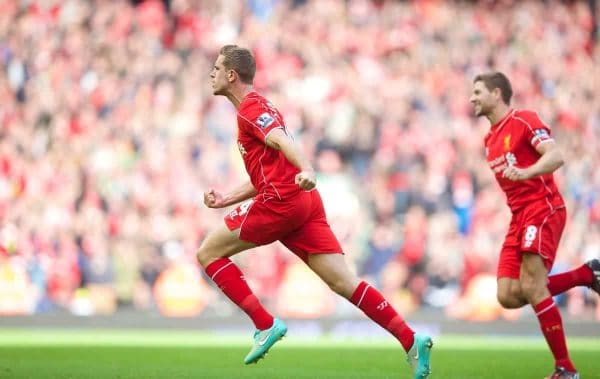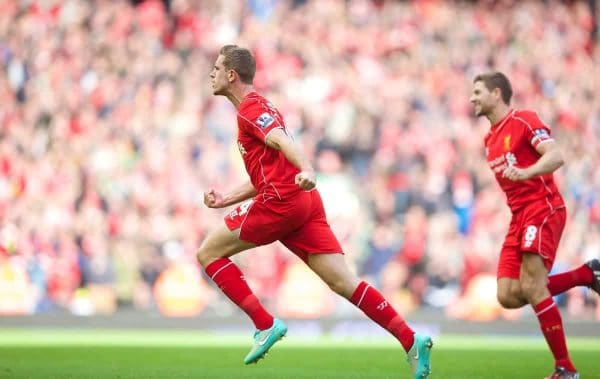 In a week that began with Prime Minister, David Cameron, letting it slip that he resented the poor and ended with Roy Hodgson claiming that people with accents can't be eloquent, football pundits, players, managers and fans depressingly filled the contempt gap in the interim days. It's open season and few have been able to resist the urge to kick off the lightweight covers and reveal their resentment for the players they've decided are destitute of the attributes necessary to make it as a Liverpool player.
Before Liverpool had even kicked a ball in the new week Jamie Carragher and Gary Neville picked over the bones of the Merseyside Derby, setting the trend for some serious moving of goal posts in the week ahead. Yes Mignolet has his flaws but was I the only one who found the Crouching Tiger, Hidden Dragon theory somewhat bizarre.
I'm all for analysing why bad things happen but truth be known if you lean in to look at the crack too closely you'll eventually disappear up your own arse.  To blame Mignolet for crouching a fraction too low as Jagielka's rocket flew past him is akin to blaming JFK for not moving his head to the left a few inches when he heard the bang.
The 1 nil defeat against Basel was a turgid affair, which in fairness could easily have ended up a draw if it wasn't for Martin Skrtel's 50 pence shaped head directing a ball towards our own goal that seemed no way impossible in the laws of Physics. Most of the players were well below par but all fingers were pointing at one man; pointing from far away, outside the box even. Step forward Mario Balotelli. Although if the common consensus is to be believed, he probably can't be arsed stepping forward.
So what exactly happened between the standing ovation he received when substituted in the Derby and when the final whistle blew against Basel 5 days later that swung opinion so violently?
I saw a depressing Everton goal, a frustrating Basel goal and Mario have a poor Champions League game, suffering the same malaise as the rest of the team. Two of these events were outside of his control yet he has been singled out. All concerns before Balotelli signed was that he'd be trouble off the pitch and wouldn't be troubled to do much on it.
None of these pre-judgments appear to yet be founded; certainly not in the public domain at least. Cue a whole new series of reason why he's not a Liverpool player or in some cases just fingers in the ears and loud shouts of 'La la la la la' when faced with a case for his defence.
I'm unsure what to make of Brendan Rodgers' open criticism of Balotelli. Does is signify that behind closed doors there are already problems? Is it man management aimed at getting the best of him? I truly don't know. He's not wrong about the need for Mario to score more goals. Whether he's right to heap the pressure on now is open to debate. He'll need to be careful though because the last thing he'll want is another angry Stewart Downing on his hands complaining about what a nasty meany he is. Rumour is Brendan can barely sleep at night.
Quick tangent, I've noticed a revisionism of Stewart Downing's Liverpool career creeping in recently. Let me just reset the balance: Bang average coward out of his depth.
Post Basel, Gerrard furrowed his well furrowed brow and bemoaned that we were soft all over the pitch and that Basel wanted it more. I'm torn on what is more bleak here: the fact that we can't motivate ourselves for 90 minutes in a competition that we've clambered to get back in for five years, or the fact that Gerrard has 'that' look again. The look like he's just jumped into his snazzy swimming pool only to see ten turds floating around him…all with little Liverpool shirts and fluorescent boots they have no right to wear.
And on to Saturday's Hayley's Comet of a 3pm kick off against West Bromwich Albion. I'm not sure if it was the critical pub quiz knowledge that West Brom's ground is the highest in the Premiership but this game against this solid but unspectacular Yo-Yo Club always felt like it was going to be an uphill struggle.
During the game, the tension was palpable and I think most feared the worst when West Brom were awarded a penalty for Lovren's reckelss foul outside the box. If you hate Lovren you'll ignore the outside the box bit. If you like him you'll probably still nod you head at the reckless bit.
Such is the  current tension, one can only hope Ian Ayre is onto a multi million pound kettle company pointing out the the fertile sponsorship potential of Lallana's and Henderson's goal celebrations. You could all but see the release of steam from their heads in a game in which the pressure had begun to reach boiling point.
I'll let the less refined, uncultured youths write about the celebration lob-on pictures doing the rounds. So 2013.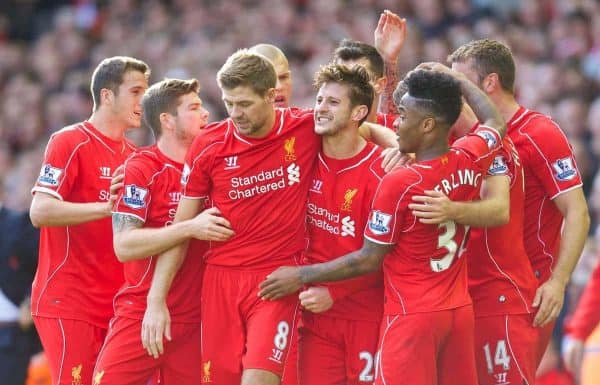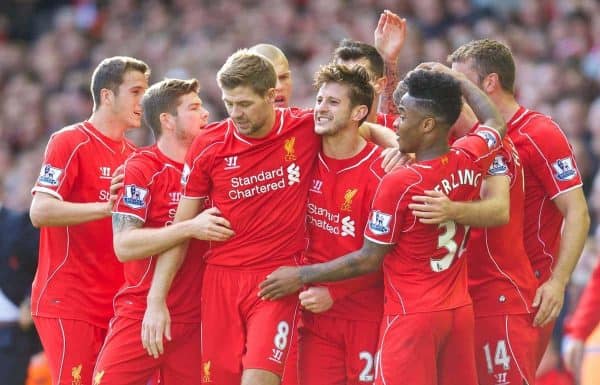 Henderson assisted, scored and screamed at his captain in injury time to keep the ball in the corner. Lallana's importance grows in each game and his goal was a joy to behold. Balotelli looked motivated when he came on and god forbid may be made of stronger stuff that Steward Downing and actually respond well to the criticism.
One game doesn't paper over the cracks and the jury is still out. Some of these Liverpool players may turn out to be poor. However, the victory against West Brom should at least give us all some reason to put the resentment back in the draw for a couple of weeks.
Well, until Hodgson runs Sterling into the ground in the international break then makes him train the day after. If that happens, summon up the contempt, thicken your accent and we'll eloquently tell Roy to fu… [Cough]