We take an in-depth look at Liverpool FC's financial history within English football since the mid-eighties – with some interesting findings.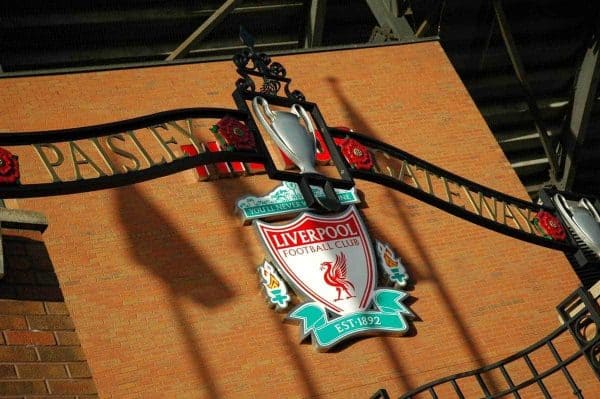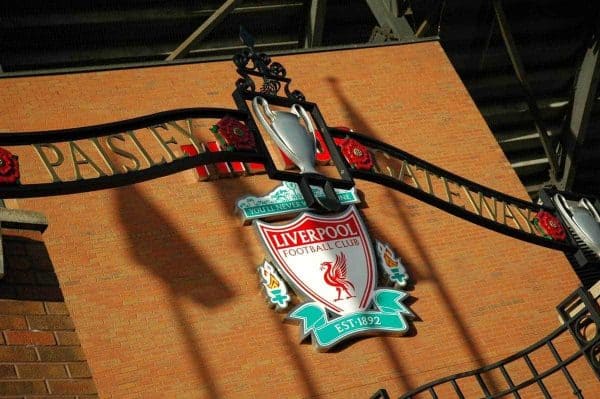 I cannot stand the term transition period. As a Liverpool fan I've heard it a lot over the years – to the point where I don't think the club has gone through two seasons in a row without being "in transition". In my eyes transition is a good excuse for when things are going pear shaped. I will admit that at times being in transition is a valid reason for results not going well but too many times it is trotted out – to the extent where I now have an unreasonable view on it.
The term first began to vex me during the Gerard Houllier era, particularly the 2002-03 season where the club got rid of good players that had settled. Players such as Nick Barmby, Nicolas Anelka (on loan) and Jari Litmanen. And replaced them with the absolute dross; El Hadji Diouf, Bruno Cheyrou, Alou Diarra and Salif Diao.
2002-03 actually began very well with 9 wins and 3 draws in the first 12 games. But then things went south pretty quickly as we then went 11 games without a win. During that near 3-month period where we couldn't buy a win, Houllier would trot out all sorts of rubbish about the new players needing time to settle.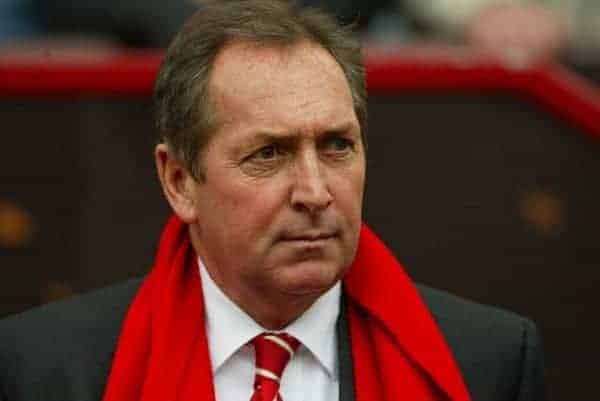 Meanwhile the likes of Barmby, Litmanen and Anelka were all playing well at their new clubs. We were all told though that this was just a transition period and we'd be back. Any time we had a couple of defeats and then drew a game it was the turning of another corner.
Such was my vexation that when Arsenal came to Anfield on the 29th December 2002 I actually wasn't bothered if we lost. Now, before you label me a disgrace and stop reading the rest of the blog. Let me explain:
I support Liverpool FC, not any individual (player or manager). If I see the removal of a manager as being for the greater good of the club and an awful result would hasten his exit, then I'm all for getting that awful result.
I was happy for Thierry Henry to tear us apart. He did tear us apart but Arsenal squandered chance after chance and we actually put in a brave performance, especially in the 2nd half and scored a late equaliser through Emile Heskey. Sure enough in the post-match interview Houllier said we'd turned a corner.
The transition period in 2002-03 was self-inflicted. It was the manager's decision to get rid of good players and sign rubbish ones. So as far as I was concerned the transition from good team to not so good team was all on the manager.
There was one other occasion I was happy for Liverpool to lose – away to Blackburn on the 5th January 2011. It turned out to be our last game under Roy Hodgson. Had we won the game I doubt it would have been his last game as manager for us, so I admit I was glad when Gerrard put that penalty over the cross bar. To this day I'm convinced he missed it on purpose, and who could blame him?
Money Talks
There has been a lot of debate about this being yet another transition period for us and whether or not it is a valid excuse for our poor start to the season so much I won't bore you with another one. Instead, I'd like to come from a different angle and talk about what I think was/is the real transition period. It's about the money and so I'm going to bore you with some stats now.
Pre-Premier League Era
I have spent the last week pulling all sorts of figures together to help me understand where LFC sit in terms of financial power and how that has changed through time. I went back to the 1987-88 season as I thought it would be good to look at a period of at least five years before the Premier League era.
I was interested to see if we were as dominant off the pitch in terms of buying power than we were on the pitch. There is a saying that LFC doesn't buys stars we make them. I wanted to see if that was true or not. People often refer to Ian Rush being signed and put in the reserves for a year but that wasn't the case with all of our stars. Dalglish wasn't signed to play in the reserves or sit on the bench. Neither was John Barnes.
In the period from 1987-88 to 1991-92 I could only find the net spends across all seasons from Liverpool, Manchester United, Arsenal and Spurs. I am sure that Everton would have spent a decent amount of money in this period but couldn't find the information. Spurs had a negative net spend in that they made a profit from buying and selling (Alan Sugar being a bit stingy with the purse strings). So I didn't bother including Spurs on the bar chart below.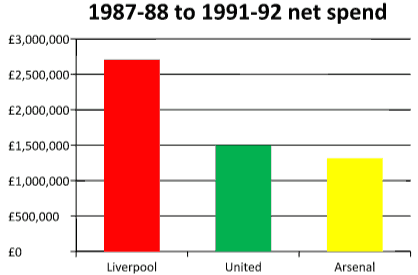 As you can see Liverpool were the big spenders in this period and by some margin. That's £2.7m for LFC compared to £1.5m for United and £1.3m for Arsenal. We broke the British transfer record twice in this period. Spending £1.9m in 1987 for Peter Beardsley and then £2.9m in 1991 for Dean Saunders. We also broke the British transfer fee for a defender signing Mark Wright in 1991 for £2.5m.
Beardsley, Saunders and Wright may not have been world superstars but they were the 'marquee' signings of the era. They were considered amongst the best in their position in the country and we were able to buy them.
Mid Nineties
During the first few years in the Premier League era we were still able to flex our muscles in the transfer market. The following were all big money signings at the time: Paul Stewart £2.3m, Nigel Clough £2.75m, Neil Ruddock £2.5m, Phil Babb £3.6m, John Scales £3.5m, Stan Collymore £8.5m (another English record transfer fee), Jason McAteer £4.5m.
With these big money deals in mind I expanded the data to include signings from 1987-88 season to the 1995-96 season. The line graph below has the cumulative net spend season on season throughout this period for the top six spenders.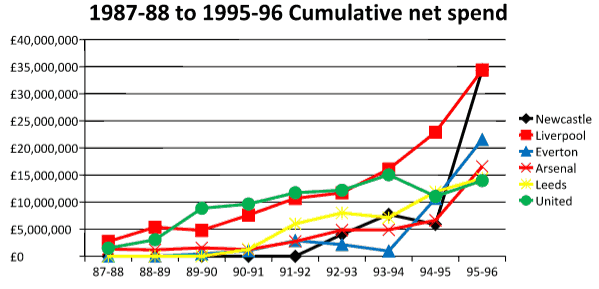 See how we are nip and tuck with United from 1990 to 1993-94 then from 93-94 to 95-96 we had a bit of a spending spree although sadly this didn't translate to success on the pitch. It's a similar story for Newcastle. Massive spending from 94-95 to finish the period just above us.
Notice how even Everton spent a few quid (Don't let them tell you they never spent money).
Blackburn, although spending big money (in net spend terms) spent the vast majority of it between 1991-92 and 1993-94. They didn't spend enough throughout the period in the above graph to make it on the list. However if we were to look at the period between 1991-92 and 1993-94 they would have been top by a distance.

Unlike Liverpool and Newcastle they made their spending count by winning a Premier League title. In 1992 they won promotion via the play-offs. In 1992-93 they finished 4th. In 1993-94 they finished 2nd and in 1994-95 they won the title. All went south though when Kenny went from manager to Director of Football in 1995-96 and then left the club at the end of that season.
Just to put Liverpool's mid-90s spending into perspective I have the transfer price index (TPI) amounts of what we paid for players in this era. TPI converts football prices to 'modern money' with its own inflation index. I like to use TPI and not standard inflation because football transfers occur outside of the economic bubble. It exists within its own much bigger bubble.
Liverpool mid 1990s big money transfers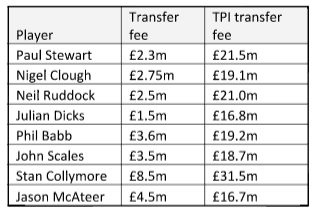 As you can see wasting big money on mediocrity is not just a recent phenomenon for Liverpool.
For a full explanation of what TPI is click here, this is actually a chapter from a really good book called 'Pay As You Play: The True Price of Success in the Premier League era' which you can check out here.
Into New Millennium
Have a look at the graph below covering the period 1996-97 to 2002-03. Again, these are cumulative net spend figures across this period. From here on in our financial might begin to diminish slightly.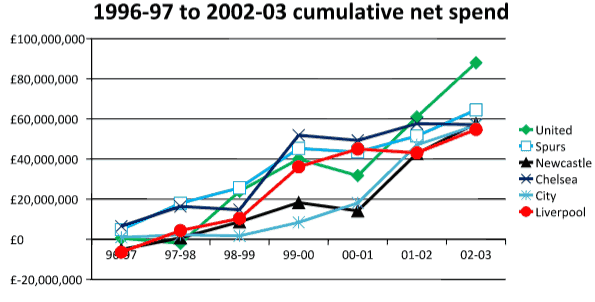 Manchester United take over as the big spenders here and from a position of strength as well. They win five league titles, the Champions League and the FA Cup across the seven seasons.
Liverpool drop down to sixth not far behind the likes of Spurs, Newcastle, Chelsea and City, but sixth nonetheless.
You might have noticed that Arsenal does not appear on this graph. They actually ranked 10th in net spend over this period yet they won the league title and FA cup double twice. This is a magnificent achievement and why I think Arsene Wenger was the best manager in the world in those days.
Abramovich Era
Sadly for Wenger and Arsenal fans though, when Roman Abramovich came to town and bought Chelsea, the spending would be taken to a new level and as a result Arsenal, after the incredible invincible season of 2003-04 would not challenge for the title again.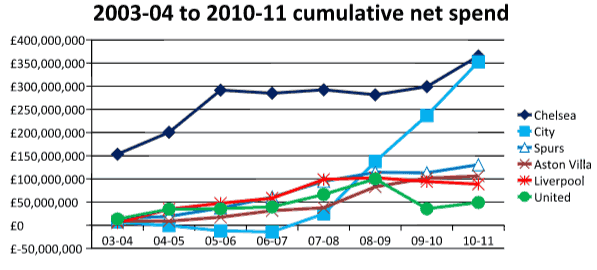 Just look at that Chelsea spending from 2003-04 to 2005-06, blowing everyone out of the water. During this period Man United were being effected by the Glazier leveraged buyout and their massive debt. Clubs such as Spurs, Aston Villa and ourselves outspending them.
You can see the sudden surge in Man City's spending from 2007-08. It is quite incredible.
We are an ordinary fifth here despite spending big money on the likes of Torres, Mascherano, Johnson, Aquilani, Suarez and Carroll. Having to sell big to buy big makes a difference especially when you are selling key players you'd rather not sell. Liverpool selling Torres or Alonso for big money is a lot different than Chelsea selling Mata and David Luiz for example.
During this period Aston Villa finished in the top 5 or 6 in the league a few times. Martin O'Neil was hailed as a genius but those high league placings came at a price as the club have been desperately trying to balance the books ever since O'Neil bailed.
Spurs had to pay a pretty penny for their Champions League qualification, although Harry would have us believe it was all down to his managerial acumen.
Arsenal again didn't make the list but after 2003-04 they haven't got close to winning it.
The FSG Era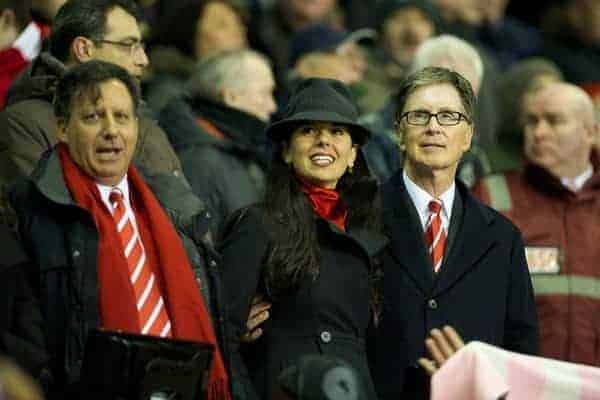 I thought it would be good to look at the period starting from FSG's first full season to the present. We are in fourth place here which is unsurprising given the financial mess we were in prior to the takeover. No sudden splurges in spend for us. Just a steady £30m – £40m net spend per season. Nice and steady like, but enough to win us a title? We came very close last season but seem to have gone backwards this.
Man United are back to splashing the cash again after Alex Ferguson's retirement. Chelsea and City are up there of course and Arsenal are spending money again.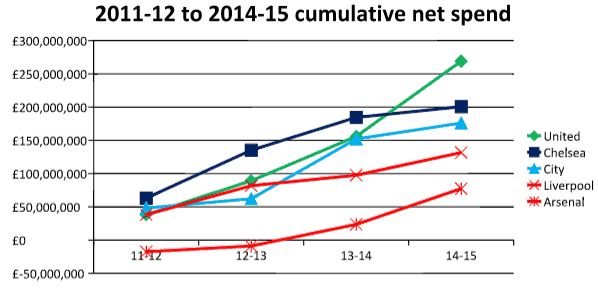 Arsenal, Dortmund, Atletico Models
Arsenal won two doubles while not spending very much in terms of net spend but in an era before the really obscene spending and before their best players were being picked off by Premier League rivals. Since Roman Abramovich changed the landscape, Arsenal simply haven't been able to compete.
Dortmund managed to win back to back Bundesliga titles in 2010-11 and 2011-12 where they got 75 points and 81 points respectively. At that time Bayern Munich were indifferent, finishing 3rd with 65 points in 2010-11 and 2nd with 73 points in 2011-12. Since then Bayern have really cranked up the spending – to the tune of €109 (net) while picking off Dortmund's best players. In that time Dortmund had a net spend of €13m.
Bayern have won the Bundesliga the last 2 seasons with a points margin of 25 and 19 respectively and so far this season they are 4 points clear at the top while only goal difference separate Dortmund and the relegation zone.
Atletico won the title last season. A magnificent achievement especially as neither Barcelona or Real Madrid had poor seasons (they both got 87 points). Can they sustain it though? It will be difficult, especially having lost Courtois, Diego Costa and Filipe Luis. They are currently fourth in La Liga and four points off the top, so not doing too badly at all.
Last season we almost pulled off an Atletico but we haven't backed it up with a solid start this time around. Where Atletico's success was based on superb defending, losing three key players has not damaged them in the way our attacking style has been damaged by the loss of Suarez and Sturridge. Also, Atletico tend to do a better job in the transfer market than we do. They sell key players every summer, re-invest the funds and go again.
Unlike any other league in the world, the Premier League now has four cash rich clubs that can go out and spend big money on players. In Spain there are only two and in Germany and France there is just one. This makes it extremely difficult for a club that isn't cash rich to compete for the Premier League title.
It is unlikely you'll get all of Man City, Chelsea, United and Arsenal have bad seasons at the same time (although so far this season three out of four haven't been great). So realistically for a club to have a sustained period of competing for and winning the title they will have to be able to compete for the top players in the transfer market.
The reality though is that Liverpool haven't been a leading club in the transfer market since the mid-1990s and I think this reflects the true transition period. You could say that the late 90s or early 2000s saw the transition from big club to not-so-big-club. The wages paid by the bigger Premier League clubs suggests as much.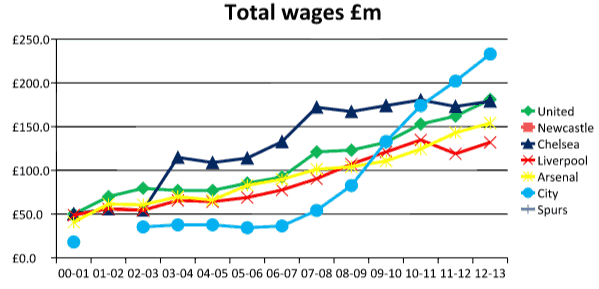 In 2000-01 United, Chelsea and Liverpool all had an annual wage bill of around £50m with Arsenal paying just under £41m. In 2001-02 we are overtaken by Arsenal and then once the Abramovich effect takes hold in 2003-04 Chelsea jump clear of everyone.
Liverpool go ahead of Arsenal in 2008-09 and actually get close to United in 2009-10 But we now know that this was due to an RBS loan. As FSG takeover and get the finances under control our wages dip considerably in 2011-12 and we're now 5th on the wage table.
Check out Man City's sharp rise.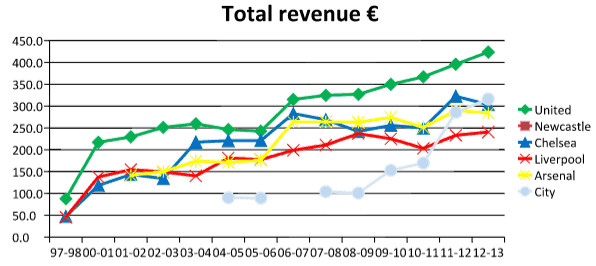 These total revenue figures are up to 2012-13 where we are fifth. It will be interesting to see where we are once our recent commercial deals are included in the accounts.
To get back to where we want to be and stay there will require another transition in my opinion. That red line in the above graph will have to start pointing north as quickly as possible so we can pay top wages and transfer fees again (but without doing a Leeds United or an Anzhi Makhachkala of course).
Even then it will be important not to piss away substantial funds on the wrong players as we've done too often before.
Joseph Cousins
Follow @kopblog
Follow @JCuzzy1