Liverpool manager Brendan Rodgers insists captain Steven Gerrard can continue to influence matches and is far from finished as a pivotal player for the club.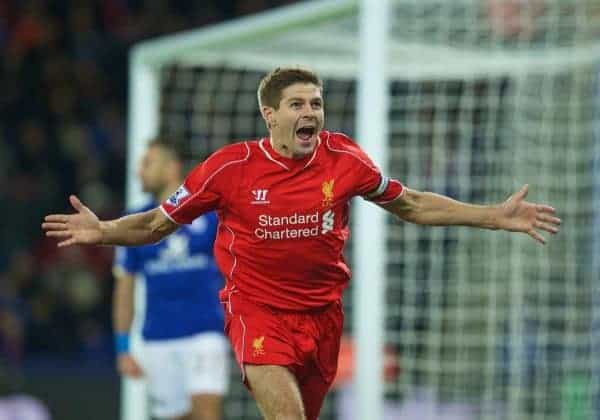 The Reds midfielder, who is delaying making a decision on the offer of a new contract – believed to be a one-year deal – to extend his stay beyond the summer, scored the crucial second in a 3-1 at Leicester.
It helped Liverpool come from behind after Simon Mignolet's unfortunate own goal had been cancelled out by Adam Lallana's 50th career league goal and, after Wes Morgan was sent off, Gerrard even had a hand in his side's third for Jordan Henderson.
"At this moment in time I know Steven Gerrard," said Rodgers, who restored his captain to the side after resting him against Stoke at the weekend.
"If I can manage his training and games he can still have real impact for this team.
"Even though he is approaching 35 at the end of this year he still has fantastic qualities but like every other player, no matter how good they are, the wheels are out and they are ready to land – but he is not ready to land yet.
"At this stage of his career it is about the level of the game and he is a very important player for us.
"He is not 24 any more. You have to do that (manage workloads) with players at this part of their career so it is about mapping out the rest of the season for him.
"I think you saw the energy in his legs tonight and his influence in the game, especially as it wore on. It was an outstanding performance from Steven and an excellent goal." Gerrard appears in no rush to make a decision on his future.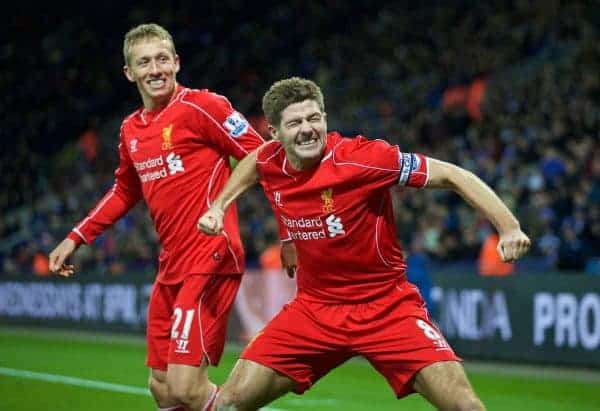 "I'll decide when I'm ready. There's nothing to say on the contract at the moment," he told BT Sport. "When there is, the fans have known me long enough, I'll come out and say what I need to say."
Gerrard's demotion to the bench on Saturday, having been a high-profile substitute in the Bernabeu against Real Madrid in the Champions League last month, sparked rumours of a rift between him and his manager.
Rodgers insists nothing could be further from the truth but he did admit Gerrard and the team may be benefiting from the recent move to switch him to a more advanced role behind the striker.
"We spoke again yesterday just to confirm that we hadn't fallen out with each other!" added the Reds boss. "As a coach you look at the players you have in order to get the best out of them.
"He has a natural instinct to get forward and join in and his combinations with Raheem (Sterling) and Rickie (Lambert) were very good and he arrived in that spot when the ball was cut back for a great finish.
"He was outstanding tonight but it is something that I have always known."
Leicester manager Nigel Pearson, whose side have now lost six and drawn two since beating Manchester United in October, had a row with a disgruntled fan after another defeat.
"I had a spat with a fan towards the end. I don't know what they are looking at at times," he told BT Sport. "If they cannot see the players are having a proper go maybe they need to stay at home.
"The players are giving everything. I will always look for the positives. It is very easy for people to look at what we are not good at.
"I don't like the commitment of my players being questioned. If they honestly think they are not committed, they are very wrong. Maybe that is why I stay in the stand."
PA