With Liverpool's positive attack undone by poor defensive work against Arsenal on Sunday, Jack Lusby rues Brendan Rodgers' continued mistakes.

Liverpool manager Brendan Rodgers will have been relieved as Martin Skrtel's stoppage-time header earned his side a valuable point in Sunday's home Premier League clash with Arsenal, which leaves the Reds in the top half of the Premier League table as a short Christmas break ensues.
A deserved first-half goal from Philippe Coutinho was quickly cancelled out by a header from Arsenal's Mathieu Debuchy, before a goal from striker Olivier Giroud put the Gunners ahead.
https://twitter.com/Arsenal/status/546733949842911232
After the game Arsenal manager Arsene Wenger spoke of his side's "bad memories," after last season's 5-1 loss at the hands of Rodgers' side, but this time Liverpool were unable to capitalise on the north London side's deficiencies.
It was a similar tale to last season from Rodgers, with an impressive attacking bent let down by some poor defensive work, and an apathetic in-game tactical approach.
The manager will surely talk of a corner turned, but it was more of the same from a Reds side lacking true cutting edge.
Excellent Attack

Prior to this clash, Rodgers came out swinging, defending his tactical innovations for the Manchester United loss and subsequent AFC Bournemouth victory.
"The other night it was a British coach playing 3-4-3 so he has probably thrown the team together. 'He has played seven midfielders?' If it was a foreign coach it would probably have been seen as a wonderful tactical idea of playing the game. 'Sterling playing through the middle – what is he doing? [Lazar] Markovic out wide?' But that is the key for us – trying to get the players in position who can make us effective."
Although the manager came off rather self-aggrandising, the 3-4-3 formation and its effect on Liverpool's attacking game was once more evident at Anfield on Sunday.
Rodgers continued, by claiming: "When you have got the players to play in the way we want to work you can see the issues and the problems we can cause opponents."
By deploying Lazar Markovic in an unnatural left wing-back role, Rodgers has actually allowed the young forward to initiate play from an effective area.
Markovic goes off having created most chances (4) and completed joint most dribbles (3) of any player on either side.

— Andrew Beasley (@BassTunedToRed) December 21, 2014
Furthermore, deploying Coutinho and Raheem Sterling in their favoured central roles has restored their potency.
Coutinho was particularly threatening, especially in terms of defending from the front (with four tackles won), taking on a flat Arsenal defence (with two successful take-ons) and clearly with his persistence in front of goal.
It was the midfielder's shot that finally breached an impressive Wojciech Szczesny's goal on 45 minutes.
#LFC much better side so far. Only frustration that they haven't worked Szczesny more. Sterling, Coutinho, Lallana and Markovic very lively

— James Pearce (@JamesPearceLFC) December 21, 2014
Finally, Adam Lallana contributed another effective performance alongside Coutinho in a more advanced position, after spending the majority of his early Liverpool career shifted from role to role.

Lallana made five key passes, more than any other player on Sunday, as well as a joint-high six tackles, with Coutinho and Lucas Leiva similarly imperious defensively.
The quartet of Coutinho, Sterling, Markovic and Lallana have proven a hugely effective attacking force in Rodgers' new system, but their hard work was unfortunately undone, as ever, at the other end of the pitch.
Miserly Defence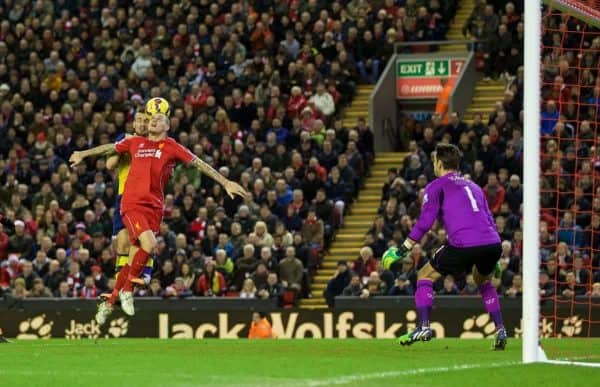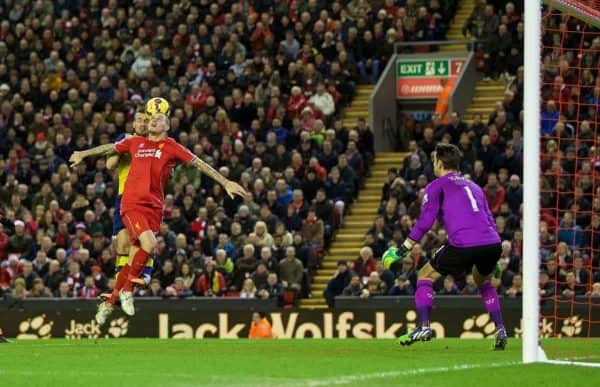 The welcome presence of Mamadou Sakho in the starting line-up will have warmed most Liverpool fans, with the centre-back exiled under Rodgers this season in favour of the abysmal Dejan Lovren.
The French international was a positive influence in terms of possession—the only centre-back at the club able to consistently play a forward pass from the back—and decisive in the tackle.
Joining Kolo Toure in Rodgers' defence, Sakho's presence vindicated his supporters.
However, the other half of the Liverpool back line—Skrtel and goalkeeper Brad Jones—were not reading from the same hymn-sheet.
Debuchy's goal. 1-1. https://t.co/6io2R2Qst9

— – (@AFCVines) December 21, 2014
Debuchy a great competitor. Not sure Skrtel is.

— Jonathan Northcroft (@JNorthcroft) December 21, 2014
Amid an overall poor defensive effort, Skrtel and Jones' contribution to Debuchy's equaliser was a head-scratcher—the centre-back failing to challenge the Arsenal man in the air, and Jones completely wrong-footed on his line once more.
Jones was again, unfortunately, at fault as Giroud's goal went through his legs.
An initially encouraging, cohesive performance diminished into a familiar chaos; Toure's failure to intercept Santi Cazorla's cutback for Giroud's finish outlined an infectious failure.
Although Skrtel provided the invaluable equaliser, it remains a bizarre decision for Rodgers to replace Toure with Rickie Lambert on 80 minutes instead of the Slovak (if any defender was to go), and it was the manager's inability to effect the game from his technical area which was, too, uncanny.
Uninspired Substitutions

With the game in the balance, the impetus was on Rodgers to affect the game tactically—particularly after his media riposte prior to Sunday's tie.
Rightly, he looked to his attacking reserves, and although the comparatively paltry duo of Lambert and Fabio Borini stood out as the most influential, his decision to replace Toure and Markovic with the pair was bemusing.
What was more outstanding here, however, were the players Rodgers decided to leave unchanged.
These were, namely, a tiring Steven Gerrard and Lallana.

Markovic's direct, unrelenting pressure was a significant threat to a once-more unimpressive Calum Chambers, and as his aforementioned statistics show, he was Liverpool's most threatening, direct outlet.
While impresive, Lallana, as per usual, faded as the 90 minutes went on—of 11 Premier League appearances, the midfielder was been substituted seven times.
Furthermore, Gerrard continued his midfield disappearing act in his third start in a week—another familiar scenario—with the attacking contributions of Lucas outlining his growing fatigue.
Noticeable how it's Lucas getting forward more than Gerrard now. Fitness an issue for Gerrard after so many games.

— Matt Ladson (@mattladson) December 21, 2014
It remains an immense disservice to such a loyal servant of the club to persist with a 270-minute week for the Liverpool captain—as has been previously proven, given a rest, Gerrard is a much more effective player.
Meanwhile, summer signing Emre Can continues to waste away on the Anfield substitutes' bench.
Liverpool boss Brendan Rodgers after today's 2-2 draw: "A performance that was better than when we won here (against Arsenal) last year 5-1"

— Phil McNulty (@philmcnulty) December 21, 2014
Overall, Liverpool's 2-2 home draw with Arsenal on Sunday was more of the same, and an ultimately disappointing result given the level of dominance Brendan Rodgers' side had throughout.
Credit is due to the manager for his attacking innovation, but there is much work to do both defensively and with Rodgers' in-game management once again.
Statistics via WhoScored.
How should Brendan Rodgers have influenced the game with his substitutes? Let us know in the comments below.