Five years after Liverpool signed Maxi Rodriguez on a free transfer from Atletico Madrid, Jack Lusby assesses his Anfield career – proving not all free transfers are bad.

This week marks five years on from Liverpool's signing of winger Maxi Rodriguez and, while the cultured Argentine will never be considered one of the club's greatest ever players, there is cause to argue he is one of the club's best signings in recent years.
Maxi spent just a season and a half with Liverpool, but remains a fondly regarded player by Reds supporters – with good reason. Indeed, you still hear how he "runs down the wing for me" (to the tune of Heartbeat's theme song) on the odd away day.
A hugely underrated player, despite his cherished presence in the memories of Liverpool fans, Maxi was an important squad player for four successive Reds managers during a turbulent time.
Most paramount, however, Maxi proved that free signings can still be great players.
Moving to Merseyside—January 12th, 2010

Maxi joined Liverpool in January 2010 with a mixed reputation. Primarily, he was considered a phenomenal, influential talent, whose performances for Espanyol had earned him a £5 million move to Atletico Madrid in the summer of 2005.
A series of strong, committed performances endeared Maxi to the Atletico faithful, and the midfielder was rewarded with the captaincy in 2007, following the departure of Fernando Torres.
There was also that golazo for Argentina in the 2006 World Cup.
Elsewhere however, this reputation was soured by Maxi's petulant reaction beyond subbed by manager Abel Resino in a game against Barcelona—the Atletico captain threw his armband on the floor with disgust.
This signalled the end of Maxi's La Liga career, but a fortuitous offer of salvation beckoned.
On his signing, then-manager Rafa Benitez described his joy at finding his man, who possessed "character and a good mentality," and would hopefully represent an end to a long search for a top-quality winger.
Maxi's arrival followed the failed tenures of Antonio Nunez, Bolo Zenden, Mark Gonzalez, Nabil El Zhar and Ryan Babel.
Benitez continued: "He can play in three positions – on the right, left or as a second striker – and is someone with a very positive mentality, which is what we are looking for.
"He is comfortable on the ball, can pass and keep possession. He is good at getting into the box and scoring goals and a good finisher. Every year he gets five to 15 goals from the right side of midfield."
The manager knew the quality he was signing, and Maxi rewarded Benitez's faith.
The Liverpool Years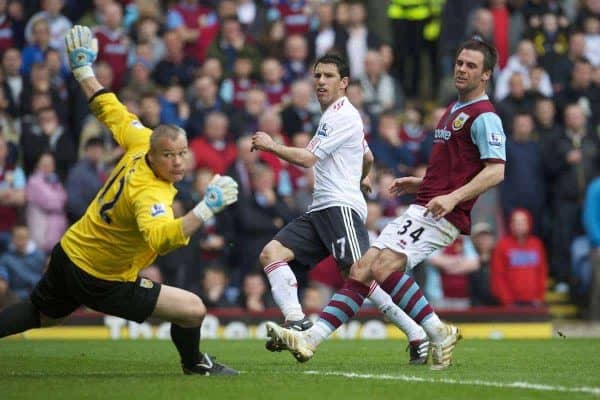 Maxi's Liverpool debut came in a 1-1 away draw to Stoke City in the Premier League, replacing Philipp Degen as a 78th-minute substitute.
Continuing as a sub for Liverpool's next game, a 2-0 win over Tottenham Hotspur, Maxi had to wait another week for his full debut—a drab 0-0 draw away to Wolves.
Maxi continued this peripheral role throughout the season, and arguably beyond that.
But, as a player Benitez, Roy Hodgson, Kenny Dalglish and Brendan Rodgers could all depend on at the drop of a hat, Maxi was a rare dependable stalwart in his one and a half seasons at Merseyside.
That Maxi maintained a consistency despite this role is a marker of his quality.
Furthermore there were, of course, his goals.
Maxi played a prominent role in Liverpool's surge to the 2011/12 League Cup Final, with a goal in the 2-0 quarter-final victory over Chelsea.
Then there was the exceptional spell where the Argentine netted seven times in three games, including consecutive hat-tricks against Birmingham City and, most outstanding, away to Fulham in a 5-2 victory.
In 73 games for Liverpool, Maxi scored 17 goals — a hugely useful utility player, and a committed professional.
A Cult Hero
On this day in 2010, #LFC signed Maxi Rodriguez from Atletico Madrid pic.twitter.com/GFJlyuu9Nd

— Billy Liddell (@Liddellpool) January 12, 2015
When Maxi left for Newell's Old Boys in the summer of 2012, the move was met with a mixed array of feelings from Liverpool fans.
The winger penned an emotional open letter on the announcement of his departure, declaring that "I am returning home with a suitcase full of great memories, good friends within the team and also within this great family that works every day in the club."
Maxi's mention of home underlined the sentiment behind this move: as with many ageing South American stars, the dream end to a player's career is with the club where it all began.

For Maxi this was Old Boys, where he had spent three seasons in the first team after breaking through from the youth ranks.
That he is still producing the goods in the Primera Division, and for Argentina in the 2014 World Cup, at 34 years old underlines why this departure was a shock, and a footballing disappointment, for the Reds.
As Maxi's letter continues, his love for the club that he lifted in dark periods from 2010 to 2012 goes some length to match this cherished Argentine outfit.
"Before signing for LFC, I just saw the club as one of the greatest institutions in football. After my time here I can confirm that this is not just a great club but also a great family.

"You can NOT imagine what a great honour it was for me when the Kop sang, 'Maxi, Maxi Rodríguez runs down the wing for me da da da da dada…'"
In Maxi, Liverpool found a rare, unanimously shared cult hero—a player who, despite not necessarily having the impact of fellow signings from Spain such as Xabi Alonso or Fernando Torres, is held in a similar regard.
With an endearing passion and a consistent quality, Maxi became a true fans' favourite.
Five years on, if Liverpool do dip into the free transfer market, either in January or in the summer, Liverpool fans should be wary not to scoff — there may be another Maxi Rodriguez waiting to shine.
What is your favourite memory of Maxi Rodriguez's short time with Liverpool? Let us know in the comments below.