Liverpool's new 3-4-2-1 formation has seen an improvement in form under Brendan Rodgers but still needs a returning Daniel Sturridge, writes Jack Lusby.

The news that Liverpool fans have been waiting for throughout a frustrating 2014/15 so far arrived this week, with the return of star striker Daniel Sturridge to first-team training.
After a four-month spell on the sidelines with various injuries, Sturridge's return comes at a crucial point for the Reds—particularly with a lack of transfer activity at this point yielding supporter animosity.
Do you think about me now and then do you think about me now and then… I'm coming home again. #home

— Daniel Sturridge (@DanielSturridge) January 8, 2015
Sturridge arrived on Merseyside during a rare positive spell for the Reds, with results picking up along with the calibre of performances on show.
This is largely down to a change in formation, with manager Brendan Rodgers switching from a colourless 4-2-3-1 formation to a 3-4-2-1 which has revitalised many of his players' form.
Fortunately for all, this formation—at its requisite playing style—is tailored to Sturridge's game, and the 25-year-old can be the missing piece.
How the 3-4-2-1 Works

The main improvement in this tactical switch has been from an attacking standpoint, as Rodgers himself—perhaps whilst self-aggrandising—noted after Liverpool's 3-1 League Cup win over AFC Bournemouth in December:
"When you have got the players to play in the way we want to work you can see the issues and the problems we can cause opponents. We had that ability to break forward with speed and on the counterattack for probably the first time [this season]. That was clear. That tactical element is critical to how we work."
This starts from the back, and in particular with the newly fostered centre-back stalwarts Mamadou Sakho and Emre Can.
Beyond their defensive duties, Sakho and Can are charged with creating from deep, feeding balls through to the wing-backs or into central positions.

The wing-backs in this system are trusted with the most intense duty, in predominantly supporting the attack, but also contributing defensively whenever needed—these players require a robust engine and diligent work rate.
A two-pronged attacking midfield sits behind the lone striker, taking possession from the formation's two central midfielders and either supplying through balls to the striker or interchanging as part of a fluid system.
The lone striker is key, as his movement set the tone for the whole system, and is best-placed to damage the opposition defence.
As Rodgers said, the formation is aimed at "trying to get the players in position who can make us effective," and the 3-4-2-1 has thrived as it plays to the strengths of several key players.
Key Men in the 3-4-2-1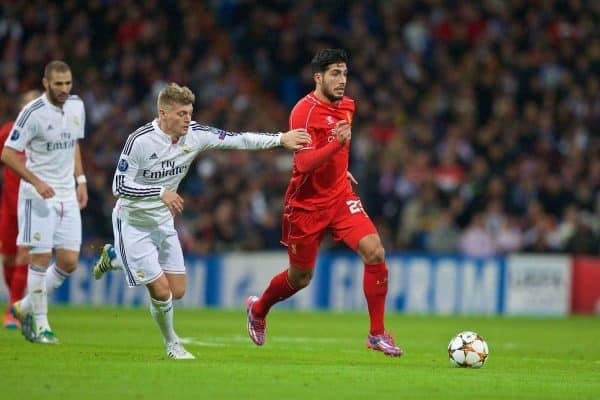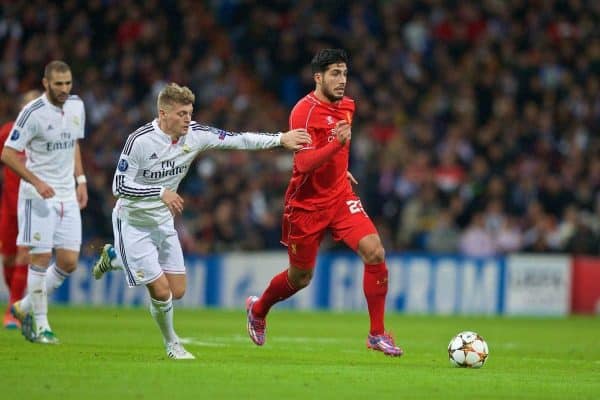 As mentioned, Sakho and Can are crucial to this system, and their creative output has a profound effect on Liverpool's attack.
Since their instalment in the 3-4-2-1, both have created a chance every other game, as opposed to Dejan Lovren's average of 0.06 per game for this season.
One of the pair's primary outlets has been Lazar Markovic in the wing-back role; the Serbian's runs from the deep, after receiving the ball from the wide centre-backs, can penetrate opposition lines and provide attacking impetus.
Central to further impetus is the formation's nucleus, Philippe Coutinho, who operates in an advanced, free role.
As previously detailed, Coutinho has been boosted by this formational change. In the 3-4-2-1, Coutinho has made 2.33 chances on average per game, compared to the 0.42 when in his previous wide role.

Beyond Coutinho, by far and away the most central figure in this system, as mentioned, is the lone striker—up to this point, that man has been Raheem Sterling.
Coutinho's creativity feeds off the movement and pace of Sterling as the lone striker.
Sterling's involvement, and the emphasis on his movement, has clearly aided Liverpool's attacking output—prior to the formation switch, Liverpool registered an average of 9.5 shots per game, and 14.5 per game post-switch.
With Sterling's play inspiring the success of this system, where does this leave Sturridge?
Sturridge's Role

Sturridge is set to return as early as next week's FA Cup Fourth Round tie at home to Bolton Wanderers and, while this will likely be a mere substitutes' appearance, Rodgers will be hoping to get the England man into his first-team line-up as soon as medically possible.
Sturridge's role in the 3-4-2-1 is clear: on his return, the striker will replace converted forward Sterling in the lone attacking position.
As detailed, Sterling's movement and pace have been key to this formation's success, and Sturridge boasts similar attributes.
Furthermore, Sturridge will bring to what is already a thriving system is its cutting edge, something that Liverpool have lacked in this system, despite their upturn in attempts on goal.
Few would doubt Sturridge's ability to finish one of Sterling's many chances to embarrass David de Gea in the loss to United; Fabio Borini's hapless attempt on goal after rounding Costel Pantilimon on Saturday would likely have found the back of the net were Sturridge in his place.
While Sterling has done well in Sturridge's stead, his future is not as a centre-forward.
In this system, the 20-year-old could take up on of the attacking midfield or wing-back roles.
Potential Lineup Once Sturridge Returns

Prior to one of Sturridge's previous, ill-fated comebacks this season, Sterling detailed his importance, saying "He gives us that threat in the box and he scores goals."
An able deputy, Sterling will hold no grudges on the return of Liverpool's star striker, and Rodgers' 3-4-2-1 will flourish as a result.
Slot Daniel Sturridge into Liverpool's already impressive 3-4-2-1 formation, and Brendan Rodgers will likely see his side near the devastating attacking play that he so cherishes.
Statistics via Squawka.
Should Liverpool stick with the 3-4-2-1 on the return of Daniel Sturridge? Let us know in the comments below.