Emile Heskey's recent trips to Anfield have seen him providing analysis for the club's in-house television channel, but the former Liverpool striker will aim to spoil friend Steven Gerrard's FA Cup dream when he returns again this weekend.
Ex-England international Heskey, 37, came back to English football when he made a surprise switch to Neil Lennon's Bolton in December and he will head back to his old stomping ground on Merseyside for a fourth-round tie this Saturday.
Heskey enjoyed a four-year spell with Liverpool following his £11 million move from Leicester in 2000 and played alongside the likes of Gerrard, Michael Owen and Jamie Carragher in the team which won the FA Cup in 2001.
Heskey's hopes of playing in the tournament again appeared slim when he was working for LFCTV earlier this season after a two-year stint in Australia but, now the fulcrum of Wanderers' attack, he will aim to spring a shock as a visiting player at Anfield.
"It's a wonderful thing to go back," said Heskey.
"I'm 37, I'm not a young lad; to go back and play at Anfield is a great thing. It wasn't long ago, a few months ago, when I was doing LFCTV so to actually be going back there and putting my boots on and playing against Liverpool is wonderful.
"I've thought about it. The fans were wonderful to me while I was there. I'll hopefully get a good reception and play my heart out."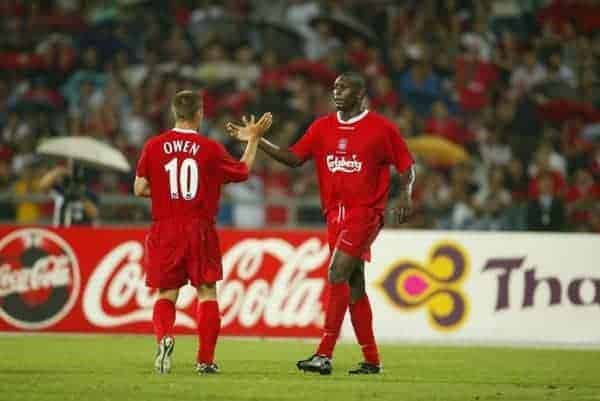 Should Lennon's men pull off an upset, it would dash the dream ending which many Liverpool fans have in mind for Gerrard.
The former England captain will leave for MLS side Los Angeles Galaxy at the end of the season and the FA Cup final, which falls on his 35th birthday, could represent his last chance to win silverware as a Liverpool player.
Heskey was among those who raised an eyebrow when his former colleague's departure was announced.
"I believe he's probably leaving maybe a year or so too soon," he added.
"But he's probably weighed up the options, looked at everything and thinks right now is about the right time."
Heskey is well placed to advise Gerrard on life in a different league having swapped England for Australia when he joined the Newcastle Jets in 2012.
There was no sense that he was winding down in the southern hemisphere, though, as Heskey always harboured hopes of coming back to these shores.
"It was wonderful; they took to me really well," he said of his time in Australia.
"They love their football over there, there's a lot of European people over there.
"I actually loved the city of Newcastle. It's more for bringing up families, as opposed to a full-on city like Sydney, but it was great.
"I knew that I had the ability to come back and play for a team (in England) if I wanted to. It was six months before I actually got the opportunity to do that but I always tried to keep myself in decent enough shape to actually jump in somewhere."
PA