Fabio Borini and Rickie Lambert ensured victory at Aston Villa, but neither suit Liverpool's system like Daniel Sturridge, writes Jack Lusby.
In what was, overall, a relative stroll to victory at Villa Park on Saturday, Liverpool's Brendan Rodgers had his peripheral attacking figures to thank for the defining moments, with Fabio Borini and Rickie Lambert notching two all-important goals.
A 2-0 away victory, a thriving performance and another clean sheet stands as one more step in the right direction for a Reds side that has so struggled this season.
Borini and Lambert shared the spoils with a pair of fine finishes, which belied their jarring with Rodgers' system.
They will rightly take the plaudits for their goals, but with a tough run of fixtures coming up, their overall contribution to the side will likely be found wanting.
To achieve a high-profile, devastating sheen, Liverpool will need to turn to their soon-fit striker, Daniel Sturridge.
Fabio Borini
For every positive with Borini, there is seemingly a negative attached.
Namely, Borini is regularly praised for his movement and industry, with Rodgers often the first to note this, as he did in October after an impressive contribution in the Capital One Cup against Swansea City:
"His pace, movement and work rate gave them problems…He's very determined and he showed that in the game…Playing up there you need to have that mobility. You've got to have that willingness to take risks in the right areas and work your socks off. Fabio did that."
At Villa Park, Borini was a persistent outlet, perhaps vindicating Rodgers' decision to start the Italian.
But there is effective running and running for the sake of it, and at times against Villa, Borini bordered on the latter.
https://twitter.com/MostarLFC/status/556474279919751169
While his goal was well taken, and the timing of Borini's run on that occasion was commendable, this needs to be matched with a consistency and awareness throughout the game.
On 66 minutes, Raheem Sterling found Jordan Henderson in a dangerous position near the Villa by-line, and the captain sent a dangerous ball across the face of goal.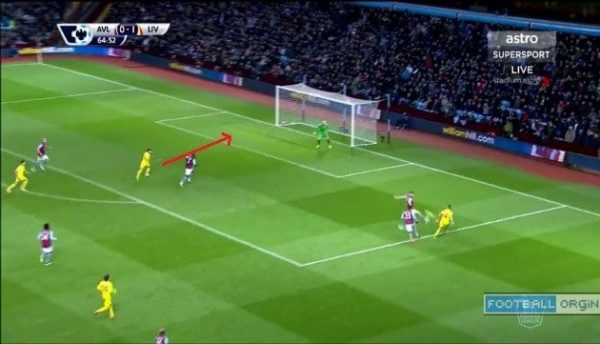 Goalkeeper Brad Guzan easily collected the cross, with Borini making a run to the far post—a striker with sharper movement, like Sturridge, would invariably head towards the near post.
Another example of Borini's lack of awareness was his failure to square the ball across to an onrushing Philippe Coutinho when fed through by Henderson on 57 minutes.
Instead, Villa centre-back Jores Okore easily shepherded the striker out of harm's way.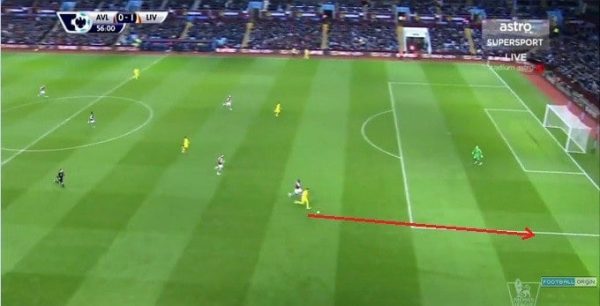 Sturridge was criticised for such single-mindedness in his early days with the club, but a hugely fruitful partnership with Luis Suarez last season seemingly ended this—the striker is now happy to provide as much as he is to finish.
Borini's faults serve to underline Sturridge's merits and, for different reasons, the introduction of Lambert on 72 minutes went a step further.
Rickie Lambert
Lambert entered the action with the game precariously poised, an entirely different proposition to the dominant first half.
After the interval, Villa were arguably the more threatening side, with Christian Benteke growing in stature, and new signing Carles Gil providing a cultured touch just behind the striker.
Rodgers needed to level the playing field and, while it seemed a bizarre move at the time with fellow substitutes Adam Lallana and Jordon Ibe more suiting Liverpool's style, Lambert proved to be the right option.
Lambert made just 10 touches, six passes and one tackle, but his physical presence was enough to occupy Villa's defence.
Happily, Lambert finished the game off with an expertly taken goal on 79 minutes:
Lambert goal https://t.co/jOGMu3R6YO

— Anfield Online (@anfieldonline) January 17, 2015
This was by far not a poor performance by Lambert—the England striker likely did exactly what was asked of him, challenging the Villa defence physically, and even went a step further with his goal.
But this is exactly the role Lambert is to play: a plan B, a situation equaliser, a physical match.
Introducing Daniel Sturridge
A series of assessments from Rodgers after the game outlined a rational view of Lambert and Borini's roles at the club, as well as pointing to a bright, optimistic second half to the season.
Firstly, the manager declared: "Lambert gives his all, and from the bench he can come on and make a difference."
Lambert and Borini are squad players, and their overall jarring with Liverpool's evolving, successful system outlines why—neither can be built around, neither can comfortably contributed to the fluid play that Rodgers is looking to stimulate, for one reason or the other.
This was followed by praise for his flourishing system at Liverpool:
"We are performing at a good level, defensively we are strong and playing some good football. We have to keep improving… It's a real young exciting team. You see some of the football we played today, and maybe we could have had one or two more goals."
This clearly involves Sturridge in a focal role, as Rodgers outlined: "Just having him on field to begin with will be critical to the team because I think his threat is obvious."
"It's the only way we will get him back up to speed."
Rodgers will be thankful that Borini and Lambert were able to provide the finishing touch to his thriving system against Villa, particularly as this will serve as a confidence boost for the pair.
With Liverpool still competing on four fronts this season, these squad players will be invaluable.
But it is clear that their all-round game isn't near suitable to the system that is being implemented, and Rodgers has clearly identified this.
The return of Daniel Sturridge to fitness, to the side and to goals can't come sooner.
What role should Fabio Borini and Rickie Lambert play for Liverpool? Let us know in the comments below.