After Arsenal turned Liverpool over 4-1 at the Emirates Stadium on Saturday, Jack Lusby believes wing-back is a weakness that needs addressing.

Liverpool were embarrassed in a 4-1 defeat to top-four rivals Arsenal at the Emirates Stadium on Saturday, in a game which should have proved to manager Brendan Rodgers that his side's deficiencies of late primarily lie in the wing-back roles.
Rodgers lined his side up in their now-typical 3-4-2-1 formation, with a Kolo Toure replacing the suspended Martin Skrtel at centre-back, and Jordan Henderson switching to right wing-back to accommodate the return of Lucas Leiva and attacking midfielder Lazar Markovic.
Goals from Hector Bellerin, Mesut Ozil, Alexis Sanchez and Olivier Giroud ensured all three points for the Gunners, while Henderson converted a consolation penalty after Sterling was fouled in the box.
To make matters worse, Emre Can was given a red card, and will now miss Liverpool's next game.
Arsenal highlighted wing-back as a problem area for the Reds, and Rodgers must now work out a way to address this.
First-Half Misery

For what was such a significant clash for both sides you wouldn't have guessed it in the first half, with Arsenal pummelling the Reds with a highly efficient pressing game.
In the centre of midfield Lucas and Joe Allen were near non-existent and, somewhat sacrificed for the return of the arguably more physical Lucas, Henderson was shunted into periphery.
Here, at wing-back, Liverpool lost the game in the first half.
Henderson's performance was indicative of this, with a paltry, absent display for the first 45 offering little in terms of a threat in an unnatural role.
Jordan Henderson has completed just 68.4% of his passes so far in this game. Floundering at RWB.

— Jack Lusby (@jacklusby_) April 4, 2015
It was left wing-back Alberto Moreno, however, who was the one most exposed in the first half, most prominently by the barnstorming Bellerin, who embarrassed his elder compatriot with his consistent, surging runs from right-back.
This manifested itself miserably with Bellerin's opening goal; the 20-year-old cut inside, past a mute Moreno, to curl past Simon Mignolet.
Moreno made just one tackle and one interception in his 90-minute display, highlighting his disappointing defensive display by matching this output with two fouls.
Alberto Moreno has touched the ball just 18 times (less than any #LFC outfielder), completed 76.9% of his passes and made two fouls. Poor.

— Jack Lusby (@jacklusby_) April 4, 2015
Wing-back is often described as a thankless task, with the balance between defensive and attacking contribution very difficult to find—the biting point is much slimmer than in a full-back role—and Moreno is an example of a player who is much more comfortable in the opposition's half.
The 22-year-old made two key passes, for example—the second most of any Liverpool player.
But in a wing-back role, Moreno must be a growing concern for Rodgers, as he was mercilessly exploited at the Emirates.
Liverpool's 4-1-4-1

With the Reds down 3-0 at half-time, Rodgers addressed the situation with an interesting formation change.
By opting to introduce Daniel Sturridge, and surprisingly withdrawing the reasonably effective Markovic, Rodgers prompted a switch to an augmented 4-1-4-1 formation, with Sterling and Philippe Coutinho supporting the striker, Henderson moving into a more central position alongside Allen, and Can and Moreno becoming full-backs in a back four.
After the break—and pre-Can's red card—Liverpool did look slightly improved in this system.
Henderson improved markedly, gaining a foothold on the game, enhancing his passing accuracy slightly (72.2 percent at full-time) and using his persistent running to help support Liverpool's attack.

Sterling's shadow-striker role saw him drive at Arsenal's defence with more of an effect, and it was his run that led to Liverpool's lifeline penalty award.
Perhaps most importantly, Moreno was no longer quite so exposed, and Can's switch to a right-back role saw him support much more effectively than Henderson had at right wing-back.
Rodgers' relinquishing of the wing-back system that had proved devastating at times this season is perhaps a telling one: has the 3-4-2-1 hit the end of the road, and if so how does Rodgers address this now?
How Can Rodgers Address This Issue?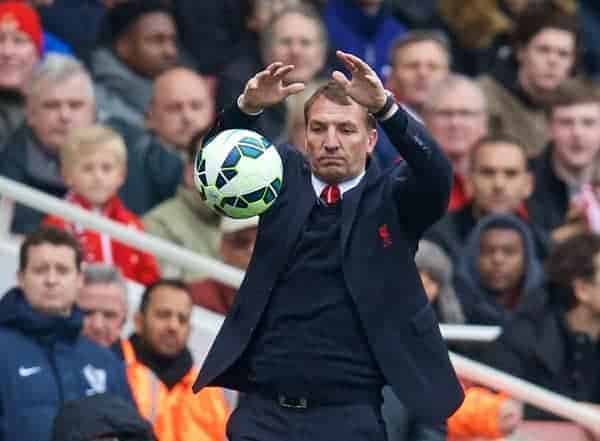 During his ill-advised interview in midweek, Sterling complained about his being misused in a wing-back role in recent games, claiming he was being "sacrificed to play in a more defensive position," after "[training] every day to play up front."
It's becoming increasingly likely that most of Sterling's teammates would be feeling this way, too, after how easily Liverpool's wing-backs were exposed and ignored during Saturday's loss.
There are two conclusions that Rodgers could perhaps draw from this: that, for the short-term, wing-backs aren't going to work, and for the long-term, if he wishes to continue with this system Liverpool will need to sign distinguished players for these positions.
Rodgers on top four: It will be very very difficult now. It was a game we needed to take something from. Very disappointing.

— This Is Anfield (@thisisanfield) April 4, 2015
After somewhat giving up on his hopes of a top-four finish after the Emirates loss, Rodgers must now turn his attention to Wednesday night's FA Cup quarter-final replay clash away to Blackburn Rovers.
With Can now joining Skrtel on the suspension list, a move to a back-four defensive system may be wise.
After all, with Toure struggling on Saturday, would a back three of him, Mamadou Sakho and either of Dejan Lovren or Glen Johnson fare well against Rovers' physical attack?
It's doubtful.
Embarrassed at the Emirates, now may be the right time for Rodgers to address what is a consistent problem: will the wing-back system work for any longer?
Statistics via WhoScored.
How does Brendan Rodgers approach his growing problem at wing-back? Let us know in the comments below.