There's been many tributes penned to Steven Gerrard this month, James Nalton writes his in recognition of the phenomenal Liverpool captain.

As someone who usually writes about the other side of football (tactical analysis which no-one reads, or that player you haven't heard of who won't sign for your team), writing about Steven Gerrard, in an article which people might actually read, is non-standard-unchartered territory.
Everyone's written their tribute to the player. The official site even have a dedicated sub-domain mourning his departure, as well as the now obligatory unnecessary hashtag #ThanksStevie.
The goals have been compiled in glorious high definition, and the images set to maximum emotion in Photoshop's filter gallery, so what more can be said?

When watching one of the aforementioned HD videos, Gerrard's performances reminded me of Ronaldo: a one-off, supreme athlete who also happens to be really good at football, as well as having a unique temperament.
Ronaldo was dubbed "Il Fenomeno" during his time at Internazionale, thanks to his unbelievable ability to leave an opposition behind on his way to goal.
During his stint at Barcelona, prior to joining Inter, former Argentina and Real Madrid forward Jorge Valdano said "he's not a man, he's a herd."
Brazilian based football journalist Tim Vickery commented on the other side of Ronaldo's game when he said: "He would slow down at exactly the right time, keep his head still and pick his spot with the calm of an engineer making calculations."
Ángel Cappa described him as "A rhino with talent", and Spanish based journalist Sid Lowe echoed this theme when he wrote that Ronaldo was "Powerful and skillful, beautiful and bestial."
The same superlatives could be used when talking about Gerrard.
Refining the Legend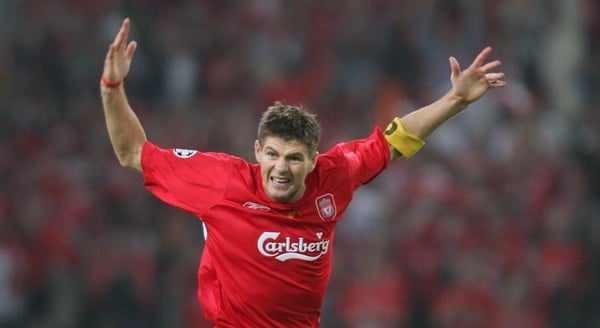 In his prime he had a speed and and drive which made him unstoppable, but thanks to Gary McAllister and Rafa Benitez, he learnt to stop himself at exactly the right times.
Sometimes the aggression would boil over, but when channelled into football it would transform Gerrard into an all round footballing phenomenon. His aggression was managed rather than eliminated, and we've seen with Wayne Rooney what happens when natural aggression is removed altogether.
Gerrard's best years at Liverpool came when he was playing outside of his favoured position. He was at his most effective when operating in areas which made the most of his supreme ability, even if they didn't fit the common idea of Steven Gerrard: central midfielder.
Gerrard could do everything, and often did, but he was at his peak when concentrating on just a few aspects of his game. Under Rafa Benitez he played from the right of midfield, before moving forward to play behind a striker. His goal tally in all competitions reached double figures in each season under the Spaniard, and he broke the 20-goal mark three times.
A very sad day if true…! The sheer amount of joy that man has brought so many #LFC fans over this past decade #Gerrard #Phenomenon #Legend

— Anfield Talk (@Anfield_Talk) January 1, 2015
Benitez knew that to get the best from his player, whilst also maintaining the the tactical rigidity he strived for, he would have to let Gerrard loose higher up the pitch.
He became one of the best finishers in the Liverpool squad, and remains so right until his last game for the club. His recent goal against Chelsea showed intelligent movement in the box to lose his man before heading home. It looked easy, but losing a marker in that manner requires a good amount of footballing nous which not all players have.
Il Fenomeno – La Phenomenon
The definition of the word phenomenon is: "a remarkable person or thing." When applied to the likes of Gerrard and Ronaldo the term almost suggests that they are both a person, and a thing.
https://www.youtube.com/watch?v=DVpdPe65pPg
As stories are told and embellished throughout future generations, these players will become almost mythical. They are legends in two senses of the word, and even now, some of their goals are unbelievable when you watch them back.
The player says goodbye, but the legend will stay forever. Thank you Steven Gerrard. #LFC #SG8 ?… https://t.co/m77fx79I6l

— Luis Alberto Romero (@10_luisalberto) May 16, 2015
The raw physicality of their peak years is unmatched even by the current greats of the game. Cristiano Ronaldo looks like he's been created by someone for an idealistic game of FIFA, carved in a football marketing gymnasium, rather than forged on a football field. [td_ad_box spot_id="custom_ad_3″]
The likes of Lionel Messi and Neymar are almost otherworldly in their skill and inventiveness, but can lack that extreme physical power to go with their exquisite touch. You probably won't see Messi "accidentally" taking out the king of the flailing elbow, Marouane Fellaini, for example.
Gerrard and Ronaldo's purpose was to step onto the pitch, any pitch, and win the football match for their team. The intensity in their build-up play and the composure at the final moment, when time would almost stand still, meant that all eyes would be on them when they took to the field.
At their peak they were unstoppable, and whilst the Brazilian might be more decorated (though he never won the Champions League), Gerrard became a legend playing for his hometown club, and catapulted it to the most unlikely repetitions of former glories.
He was a Scouser on the world stage. La Phenomenon.