Next up to take the Liverpool lifetime XI is Paddock season ticket holder Dan Holland.

Lifetime XI challenge rules: Pick a team of players that you've seen play in your lifetime.
Bruce Grobbelaar – GK
Eccentric as he may have been, there was no doubting his ability. We have in spells had some great goalkeepers since but all have tended to fade away towards the end of their Anfield career, Westerveld, Dudek and Reina for example.
Rob Jones – RB
Not sure how he would fit in today's team with full backs expected to influence the game further up the field but in his day he was without doubt one of the best full backs around – so solid defensively and had injuries not put pay to his career he would have without doubt been Liverpool and England's first choice right back for a number of years.
Jamie Carragher – CB
This mans leadership, courage and footballing brain has been missed without a shadow of a doubt. Not the best 'footballer' by any means but his determination and reading of the game makes him one of the first names to come to mind.
Alan Hansen – CB
I was lucky to catch the end of Jockey's career and even in the twilight you could see the quality the man possessed. His speed across the ground and ability to carry the ball out of defence sometimes overshadowed what a great defender he was too.
Steve Nicol – LB
A fantastic player who would definitely still feature in the majority of Premier League sides as his attacking ability was just as good as his defensive. I remember him scoring hat tricks and braces on many occasions.
Xabi Alonso – CM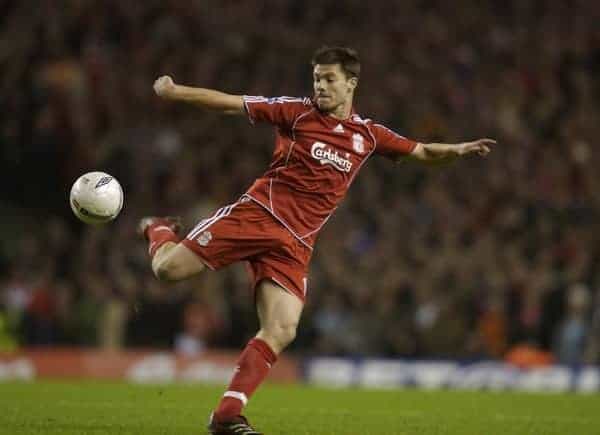 I believe we have missed this player as much as we have Suarez for very different reasons. His control of the midfield and his ability to pass the ball were sublime and both Real Madrid and Bayern Munich have profited from having him in their team.
Steven Gerrard – CM

Nothing needs saying. Does it?
John Barnes – CM
Ideally I would have Digger on the wing but I need three striking berths and lets be honest the boy looked equally at home in the centre of midfield as he slowed down. What we wouldn't give for his dead ball ability now!
Luis Suarez – CF

He may have only been here for two years but has left a lasting impression on all Liverpool fans. The scorer of some unimaginably good goals, his ability to beat a man and animal instincts made this man unmark able and is one of the top three players in the world currently.
Robbie Fowler – CF
Whilst Gerrard may be the best I've ever seen, God remains my hero. Still the best and most natural goal scorer I have seen play the game. His strikes were so true and accurate very few hit the back of the net most hit the sides giving keepers no chance.
Ian Rush – CF
Again it was the end of Rushie's career I witnessed but one look at his record and you can't deny the man a place in the team.
Subs: Pepe Reina, Sami Hyypia, Ronnie Whelan, Peter Beardsley, Michael Owen, Steve McMahon, John Arne Riise.
Previous XIs: Jeff Goulding / Neil Poole / Liverpudlian