With the 2014/15 season done and dusted, we take a look back at how the form of each Liverpool player fluctuated throughout the campaign. First up is wantaway forward Raheem Sterling.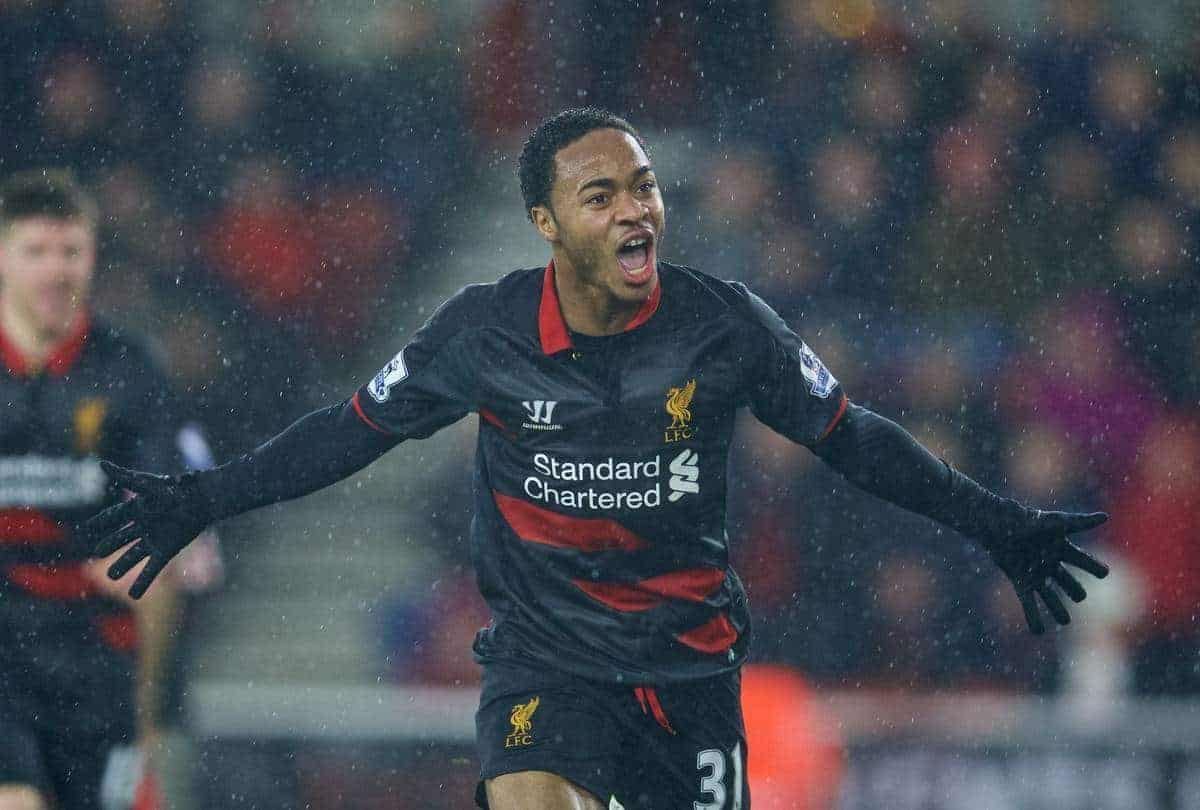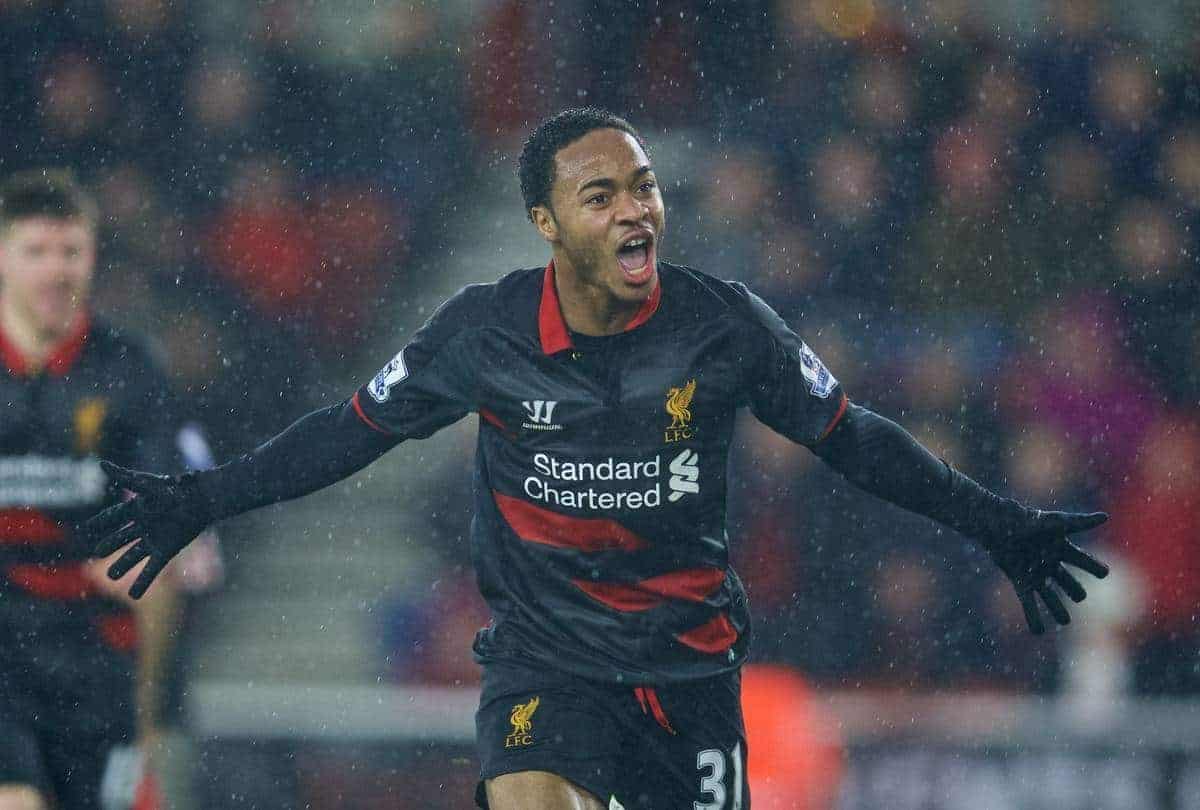 Sterling certainly isn't Mr Popular among the Reds faithful right now, with his future heavily in doubt and his recent behaviour towards the club simply not good enough.
The 20-year-old has had so much off-pitch coverage in the last month or two that it's actually quite easy to forget how his season panned out.
The England star had a year of ups and downs, but on plenty of occasions he once again showed why he is regarded as one of Europe's most exciting young talents.
RAHEEM STERLING – 2014/15
Started: 49, Unused sub: 1, On as a sub: 3
Goals: 11 (7 league, 1 FA Cup, 3 League Cup)
Average TIA player rating: 6.46 (out of 10)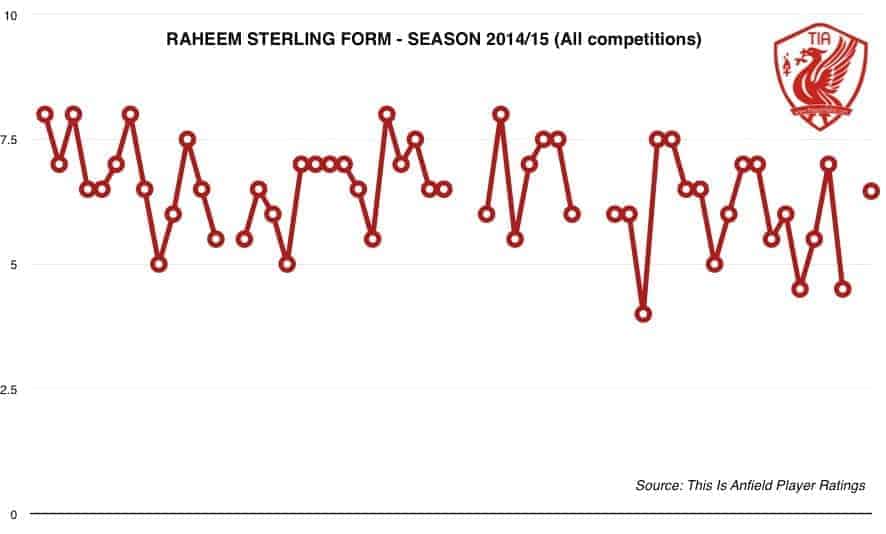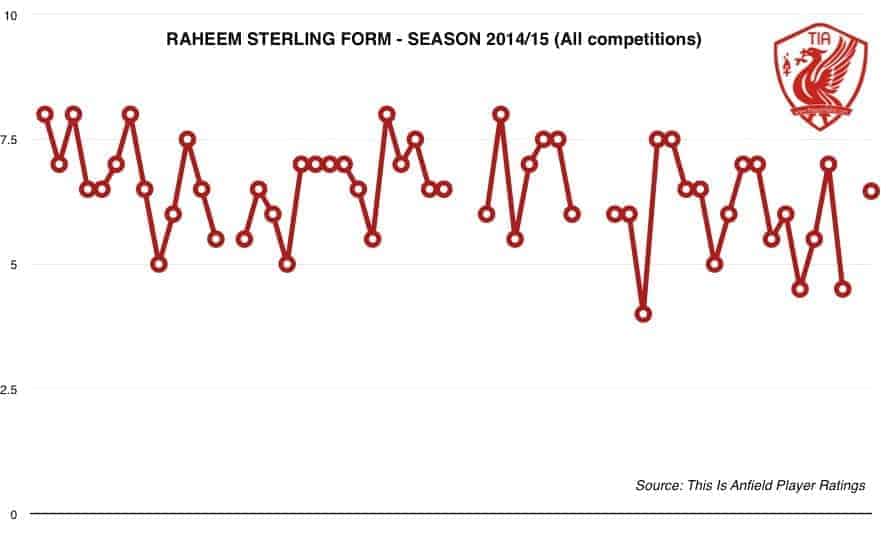 Promising early signs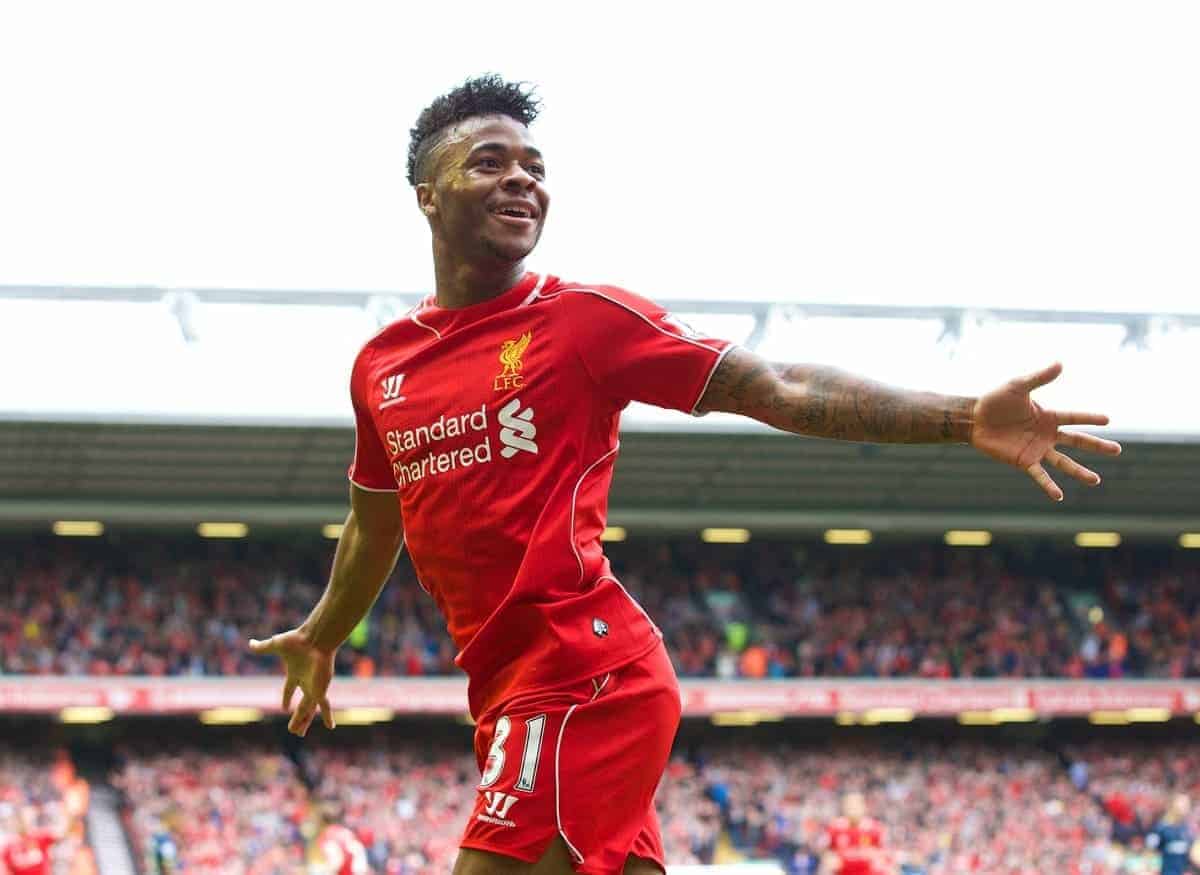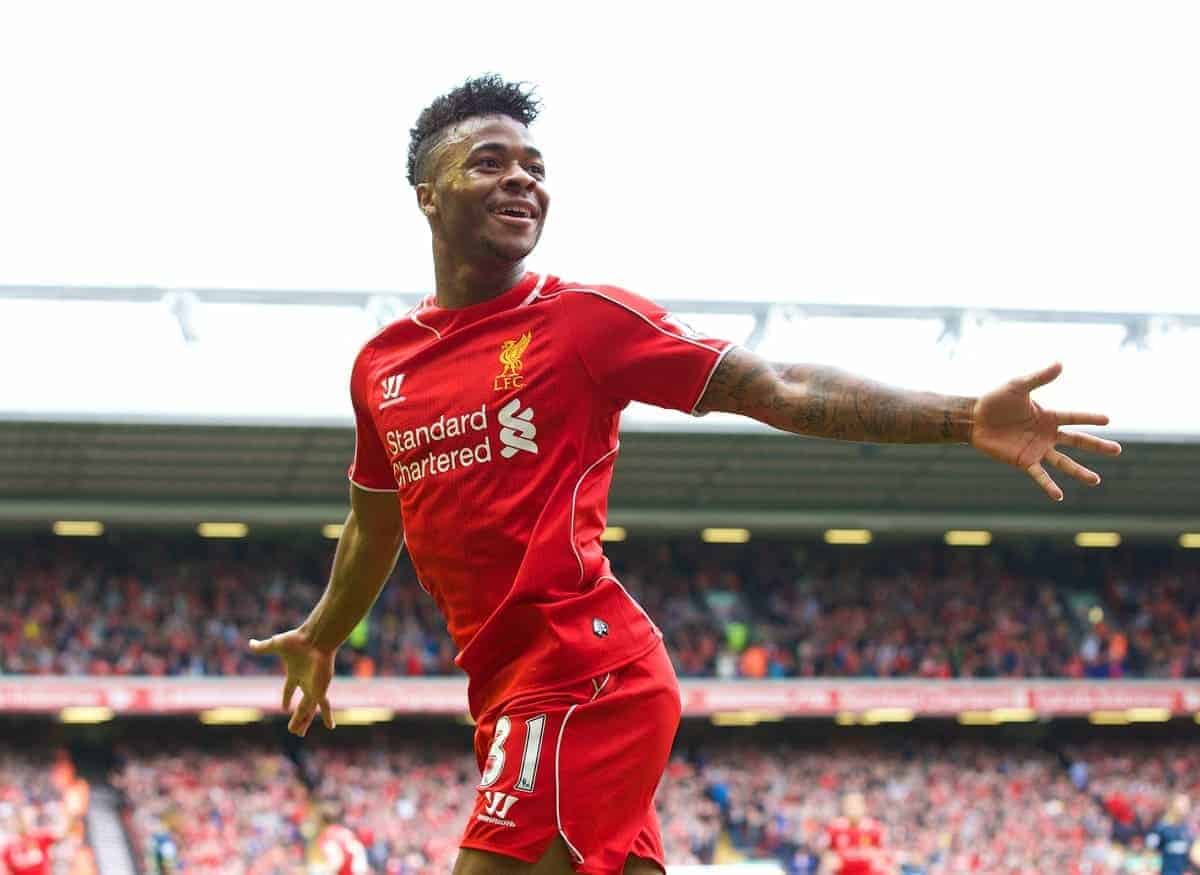 With Luis Suarez leaving to join Barcelona, there was much interest to see how Liverpool's players would perform without the brilliant Uruguayan alongside them. Sterling was one of those under the most scrutiny.
His season got off to the perfect start, as a well-taken goal at home to Southampton, the Reds' first Premier League strike of the season, helped Brendan Rodgers' side to a 2-1 win on the opening weekend.
The young attacker then performed superbly away to Tottenham two weeks later, scoring his team's opener in an emphatic 3-0 win, in a central role behind the strikers in a 4-4-2 diamond.
Barring a highly impressive showing in the 1-1 Merseyside derby draw with Everton at Anfield in late September, Sterling's form dipped noticeably though, and he failed to score in 14 successive Premier League games.
It coincided with a terrible run of form from Liverpool in general, and it wasn't long before Rodgers had a complete change of heart with his system. It benefitted Sterling greatly.
Lone striker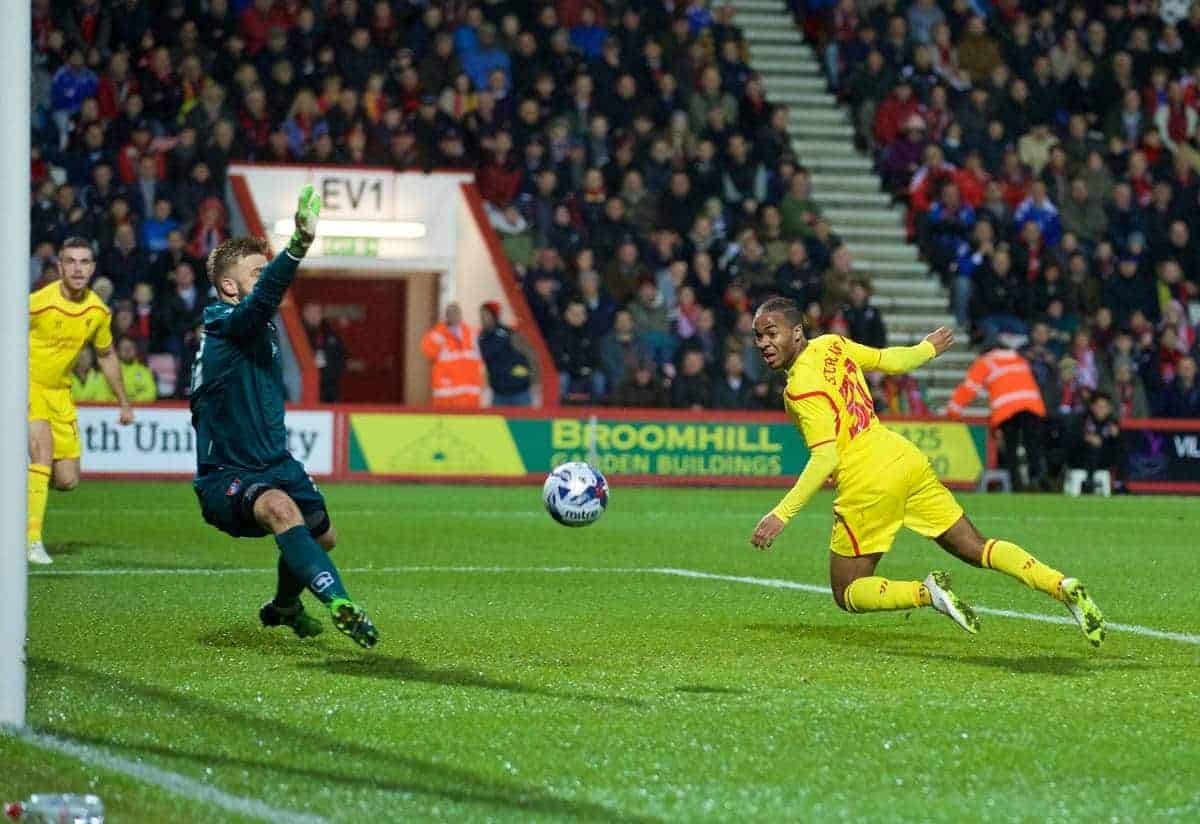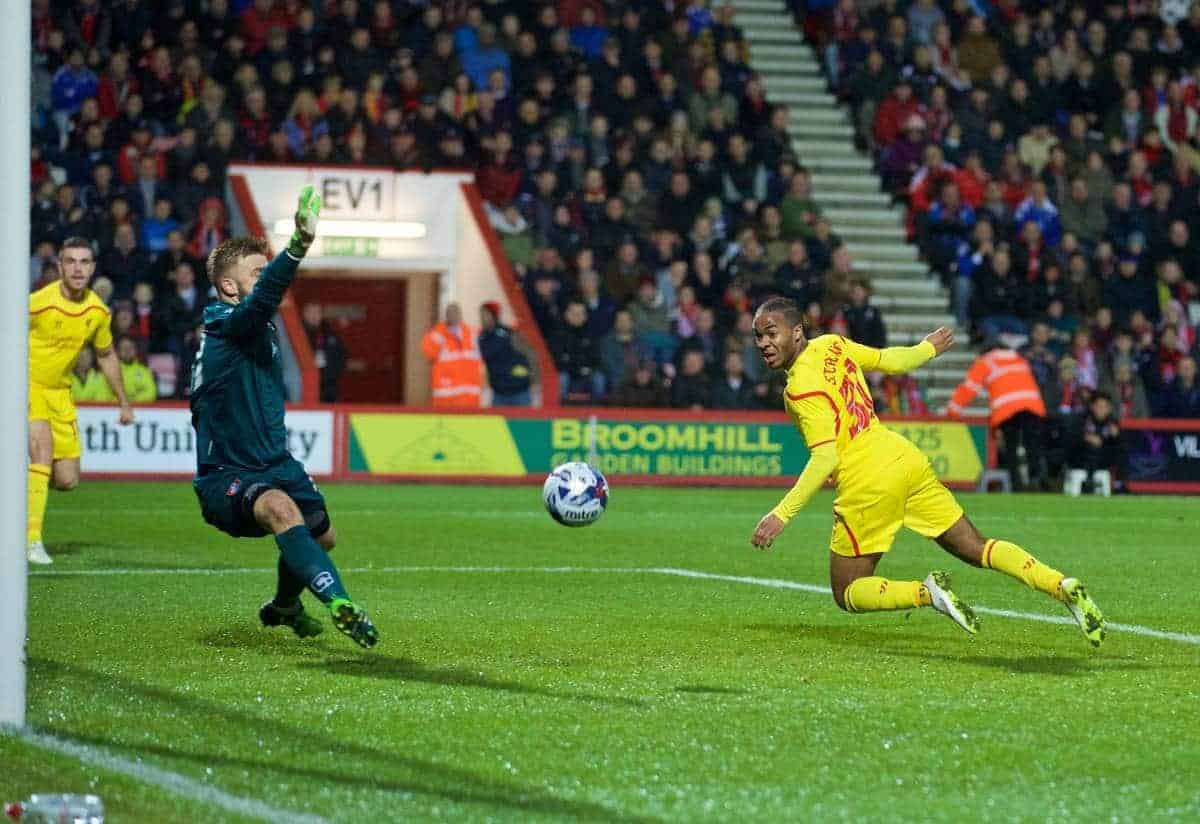 The showdown with bitter rivals Man United in December saw Rodgers opt for a rarely-used 3-4-2-1 formation, with Sterling surprisingly tasked with occupying the lone striker's role.
It was a damning indictment of the form of Mario Balotelli, Rickie Lambert and Fabio Borini, given the Englishman's lack of experience in the role.
He had either been used out wide in 4-2-3-1 and 4-3-3 systems or, as mentioned, at the tip of a diamond prior to the Old Trafford clash, so this was something very new.
The 3-0 defeat to Louis van Gaal's side was a painful one for the Reds, despite actually dominating a chunk of the game, and Sterling had to take a fair bit of responsibility for the loss. Time and time again he found himself in a great goalscoring position, but his finishing let him down and David de Gea was unstoppable in the United goal.
Although some claimed the decision to play Sterling had backfired at the time, he had shown what a threat he could be with his electrifying pace and clever movement.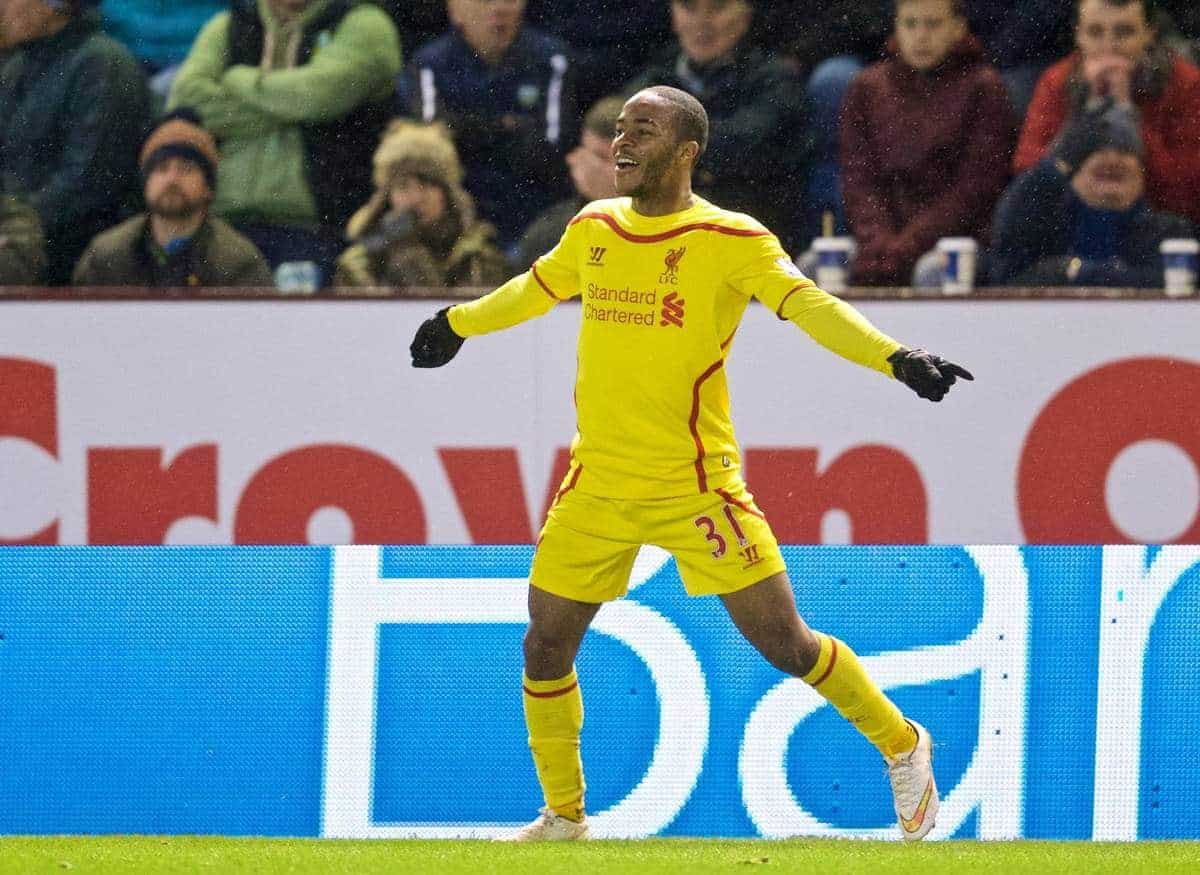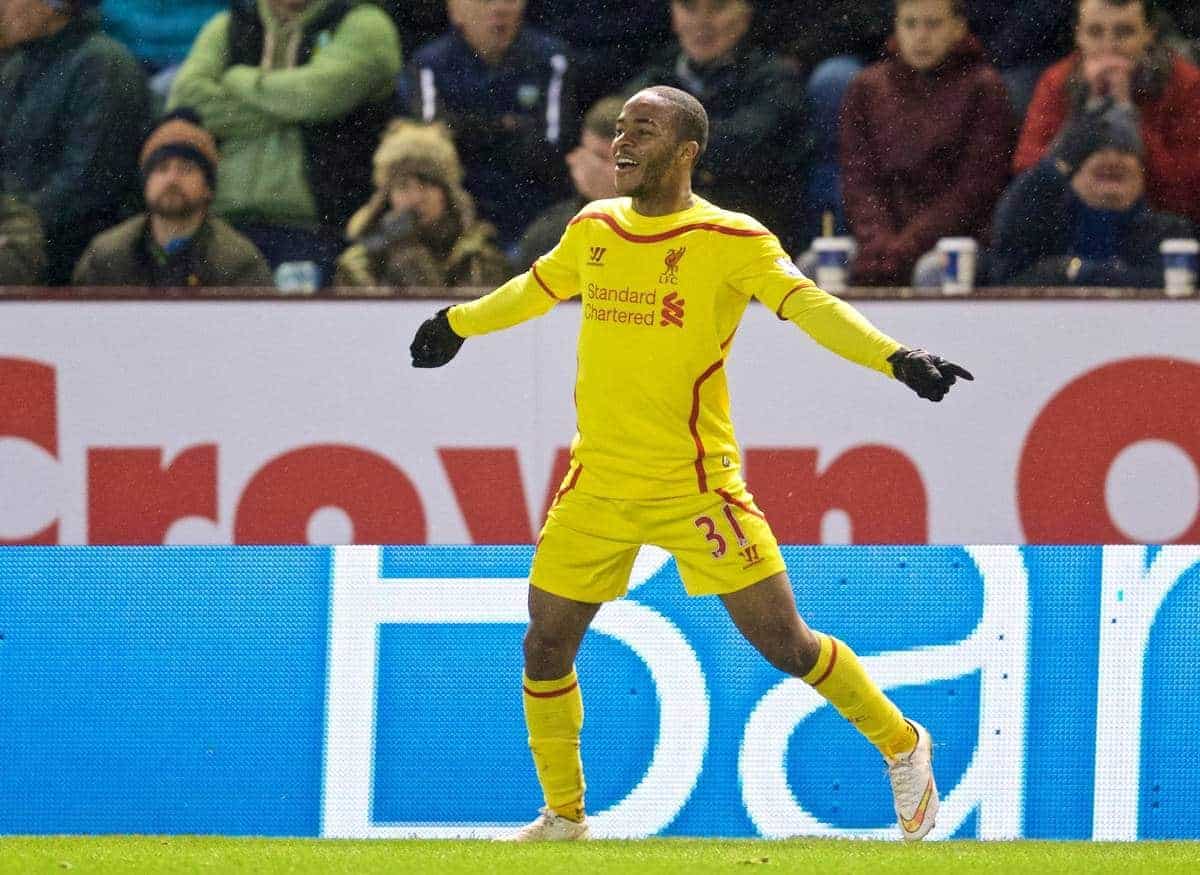 For the next three months or so, Sterling did extremely well in general, and he proved to be a match-winner for Rodgers' men on a number of occasions.
Two good goals at Bournemouth in the League Cup and a clinical effort away to Burnley saw the former QPR youngster finish 2014 in style, and a brilliant solo effort at home to Chelsea in the League Cup semi-final showed that his eye-catching form was continuing into 2015.
It was Sterling's best goal of the season, and the pace, balance and emphatic end product on display perfectly highlighted his potential.
Another nerveless finish against West Ham in January proved to be another good day at the office, and was one of many lovely pieces of link-up play between Sterling and Philippe Coutinho throughout the season.
His late equaliser in the FA Cup at Bolton in February not only kept the Reds in the competition, but also showed that he was becoming something of a talisman; producing key moments of quality at vital times.
Sterling's match-clinching strike away to Southampton later that month proved to be his last really telling contribution of the campaign, however, and his form and focus nosedived rather spectacularly in the final three months.
Shadow of his former self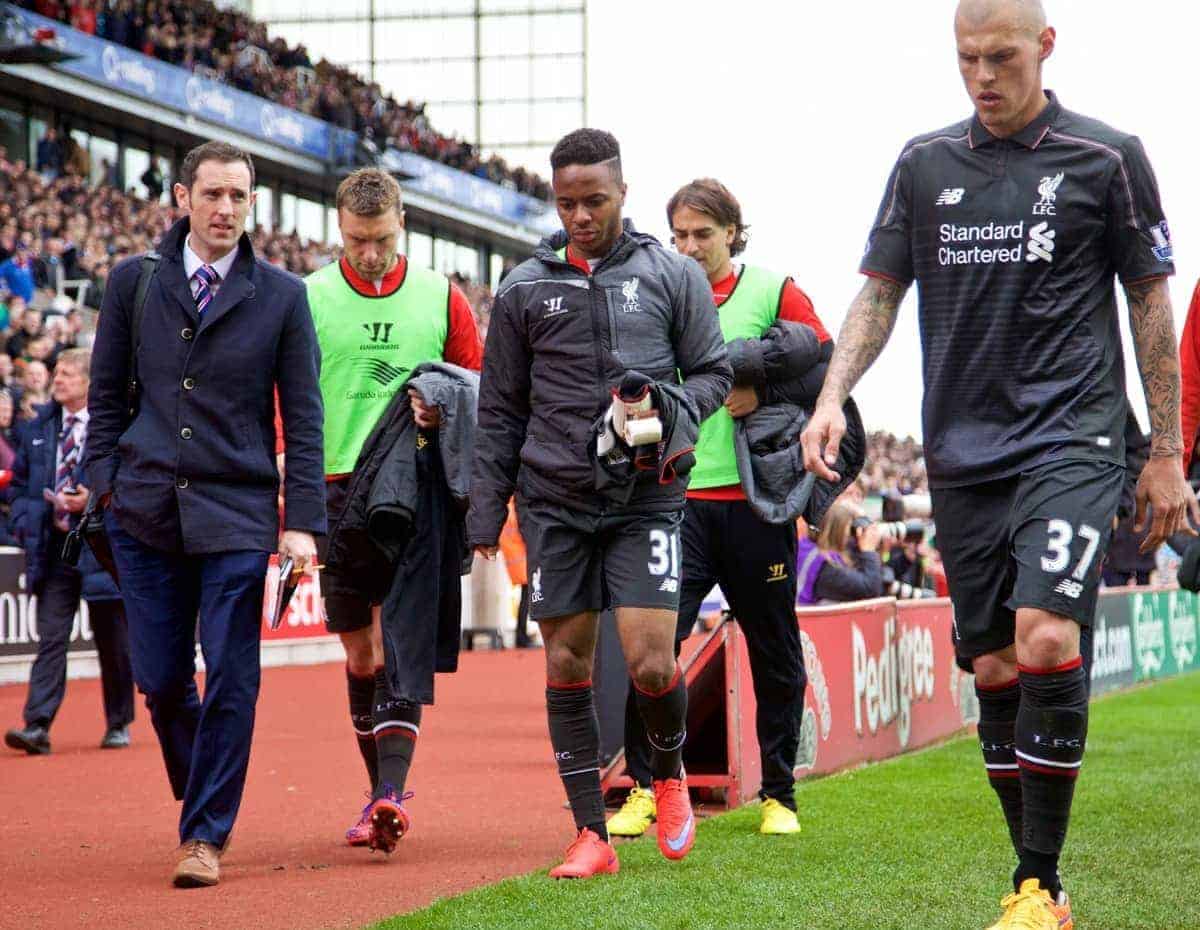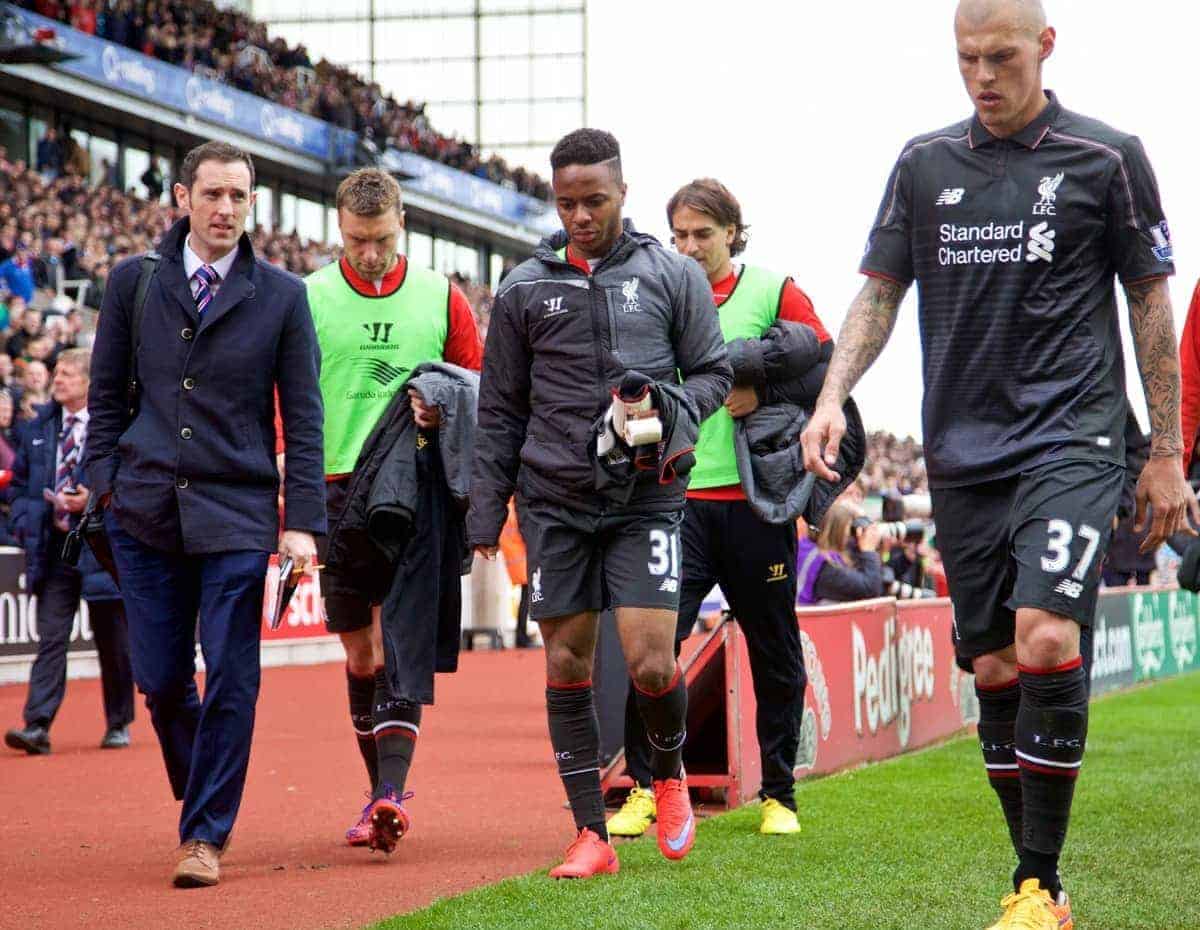 An abysmal showing in the Europa League away to Besiktas was Sterling's worst display of 2014/15, with a combination of laziness, poor quality and general lack of interest alarmingly evident.
The 3-4-2-1 had been ditched on the whole because teams were starting to suss it out, and Sterling was once again being used in various roles.
He, like virtually every other Liverpool player, failed to perform in the vital back-to-back clashes with United and Arsenal in late March and early April, as their top-four hopes completely disintegrated.
Sterling was given the thankless task of playing at right wing-back against United, which reportedly did not go down well with him, and it wasn't long before controversy was on the horizon.

A few days before the Arsenal game, Sterling went behind Liverpool's back and conducted an ill-judged interview with the BBC, in which he made it clear that the Reds' lack of trophy-winning pedigree meant he wanted a move away from Anfield.
The interview backfired hugely, and barring one terrific goal at home to Newcastle, Sterling was bordering on a waste of space at times between that point and the end of the season.
The levels of animosity towards the 20-year-old grew by the week, and his attitude and form on the pitch simply weren't the same as they had been a few months earlier.
His performance against Aston Villa in the FA Cup semi-final at Wembley summed up his descent into mediocrity, and once again cast doubts over how much he really cared. [td_ad_box spot_id="custom_ad_3″]
Overall assessment and future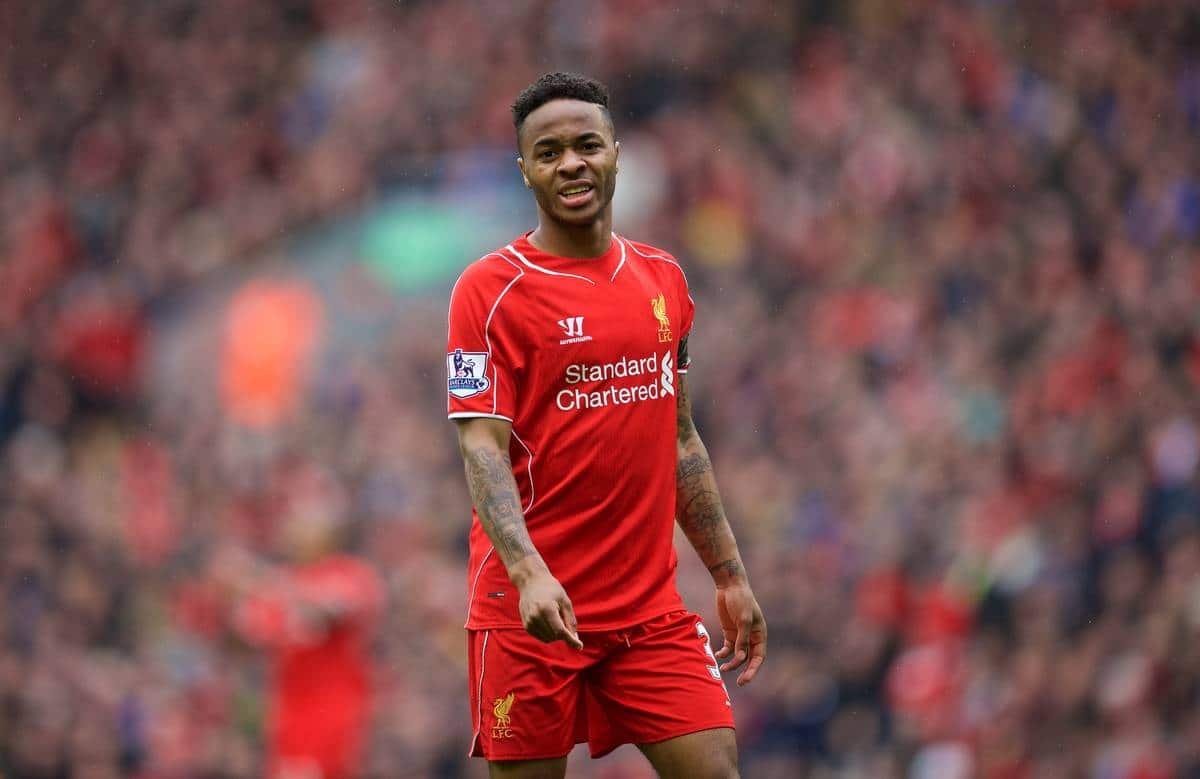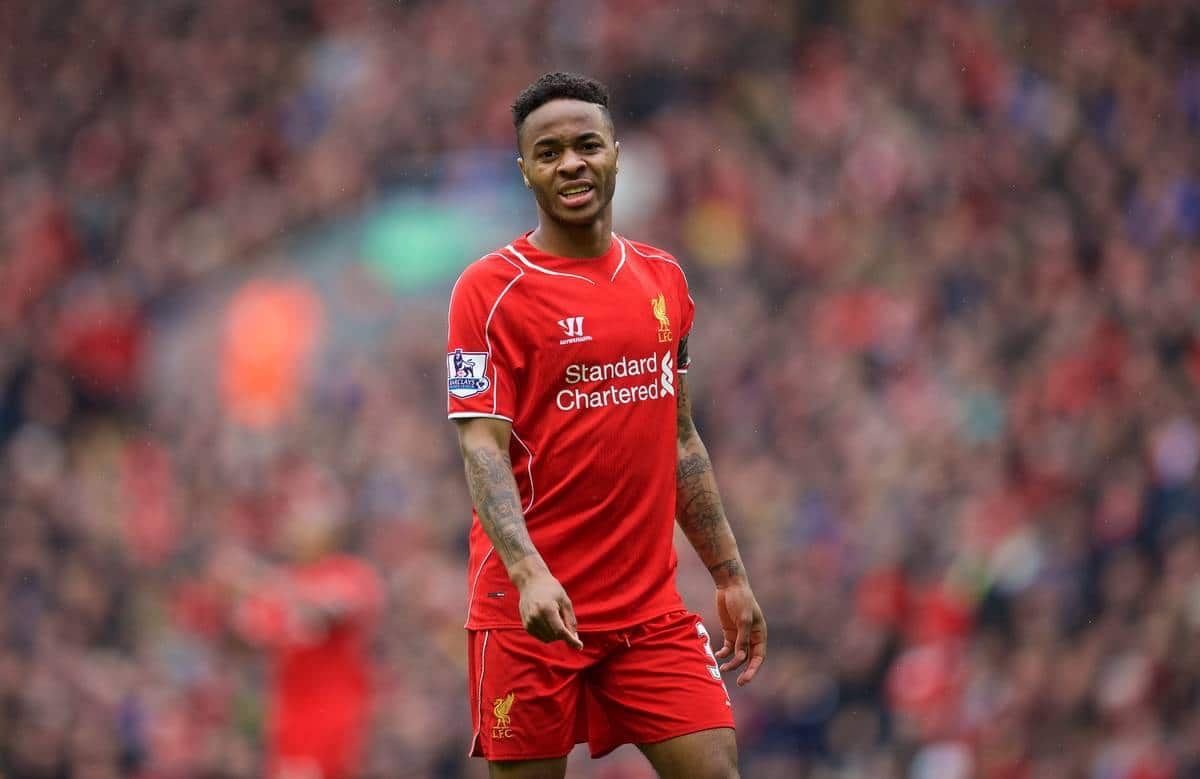 On the whole, Sterling's season was a very adequate one. In fact, it looked as though it would be a very impressive one at one stage.
He performed admirably as a lone striker during a run of games in which Liverpool produced win after win, and barring Coutinho, he was invariably his side's biggest attacking threat.
The last few months has left a bad taste for various reasons though, and it's now hard to see him still being a Reds player next season.
Regardless of where is plying his trade in 2015/16, Sterling still has plenty of growing up to do as a man and as a footballer.
He is a player of enormous potential, but his finishing, decision-making and final ball all remain very raw and unpredictable. 11 goals and eight assists is a respectable return, however.
If Sterling was being wise he would continue developing on Merseyside, where he is guaranteed regular football, but you can't help but feel he has played his last game for Liverpool.
[interaction id="555afc14dd6f6a88443d140d"]
NEXT PLAYER REVIEW: MIGNOLET