Brendan Rodgers' Liverpool left it late to defeat League Cup opponents Carlisle United on Wednesday night, with many negatives to discuss.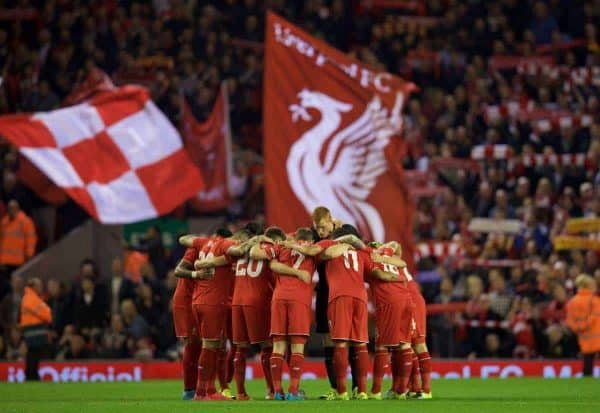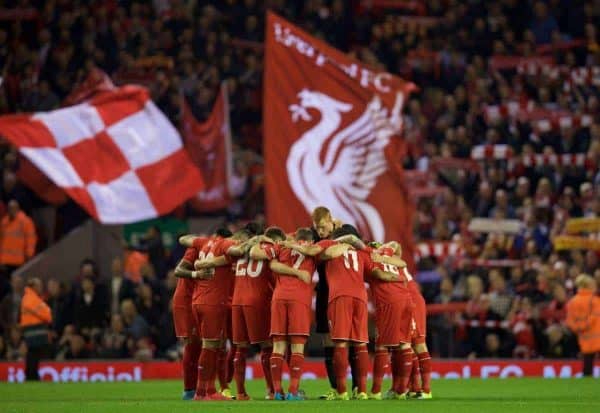 When Derek Asamoah converted Carlisle United's equaliser 35 minutes into Wednesday night's League Cup clash away at Anfield, a sense of inevitability seeped in for Liverpool supporters—this was to be another long night for Brendan Rodgers' side.
Though Adam Bogdan's penalty-shootout heroics saw the Reds through to the fourth round of this lowly domestic competition, there is little to be positive about after this display.
Here are five talking points from Liverpool's latest deflating result.
Danny Ings Deserves Credit For Positive Display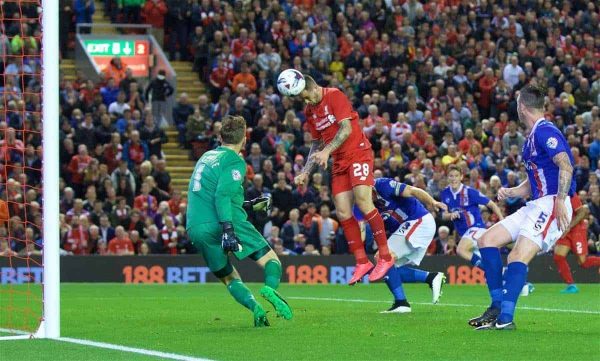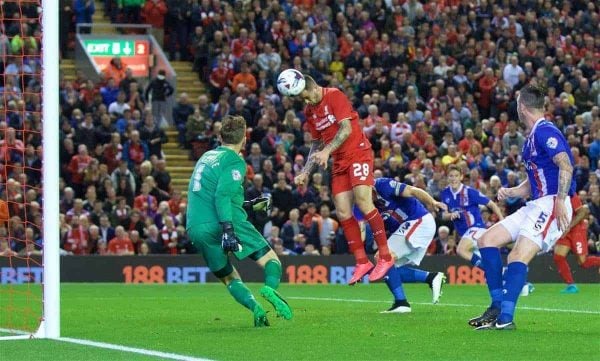 Few Liverpool players deserve credit for their recent performances in red, but goalscorer Danny Ings is going from strength to strength after his summer move from Burnley—and swiftly becoming a fans' favourite against this backdrop of collective misery.
With £32.5 million Christian Benteke so far struggling to fully adapt to the style of play implemented by Rodgers on Merseyside, Ings' quick transition has been welcome.
Full of intelligent runs, strong buildup play and persistence in pressing the opposition off the ball, Ings is every bit the archetypal Rodgers striker.
With an end product that has seen him score two goals in his last two games, too, he is a considerable upgrade on Fabio Borini—the forward he ostensibly replaced this summer.
Spearheading attacks with intensity in the opening stages, Ings fully deserved his 24th-minute strike.
Adam Bogdan's Heroics Prove the Difference

Prior to his first competitive appearance for Liverpool, Bogdan spoke of his desire to cement his place as the Reds' first-choice goalkeeper:
"If I play then it's a chance to get a game under my belt and show what I can do. That's what we're all here for—to enjoy playing for Liverpool.

I didn't sign for Liverpool to sit around on the bench or be happy being the No. 2 'keeper. Like everyone else, I'm here to compete for a place in the team."
While the former Bolton Wanderers stopper's claims to the No. 1 jersey may seem a little farfetched at this stage, Bogdan's heroics in Wednesday night's penalty shootout will have gone to great lengths to enamour him with the Anfield faithful.
Despite conceding once in normal time, Bogdan enjoyed a quiet game overall, before stepping up to save three out of five of Carlisle's penalty attempts—sealing a much-needed victory for Rodgers.
Rodgers may owe his summer signing more than a Boot Room shandy after this characterful performance.
Injury Problems Continue to Pile Up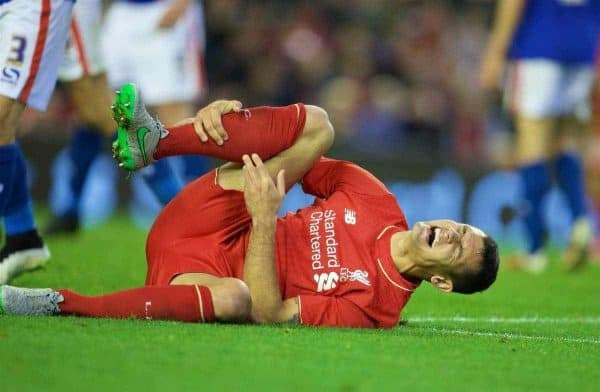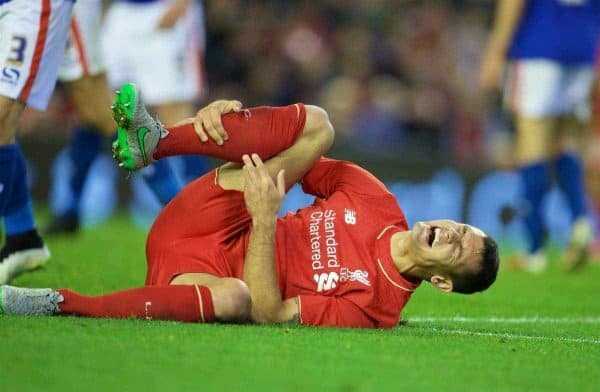 When Dejan Lovren collapsed to the ground following an attempted header towards the end of extra time, it seemed like an innocuous symptom of fatigue.
But as the Croatian was stretchered off with his leg in a splint, this latest injury instead highlighted a growing concern for Rodgers amid his Liverpool strife.
Along with Lovren, Brazilian midfielder Roberto Firmino was also forced off in the first half, joining Jordan Henderson and Christian Benteke on the treatment bench at a point in which the Reds manager needs all of the options he can get.
Potentially without three of his key players and a defensive backup, Rodgers also faces the challenge of a fired-up Aston Villa side at Anfield on Saturday.
After fielding a near full-strength side in this deflating victory, just how Rodgers deploys his ranks against Tim Sherwood's Villans remains a tactical mystery—overplaying the likes of Emre Can and Alberto Moreno could see Liverpool's injury list continue to pile up.
No Plan B Sees Liverpool Suffer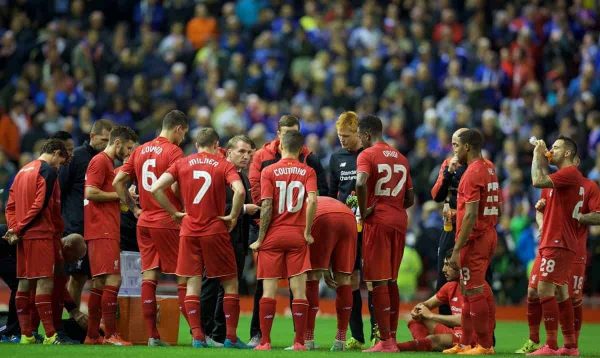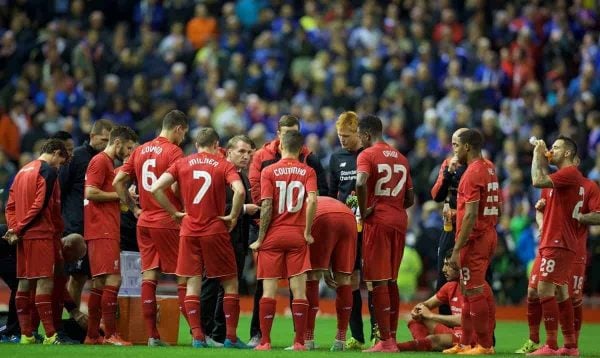 How do you successfully navigate a low defensive block? Seemingly, not by firing shot after shot after shot at goal from outside the penalty area.
Carlisle goalkeeper Mark Gillespie endured a busy night between the sticks at Anfield, but the 23-year-old was never truly challenged as Rodgers' side failed to break through a well-organised Cumbrians defence—who often stationed nine men within their own penalty area.
Not even the introduction of Philippe Coutinho on 64 minutes saw Liverpool break the deadlock, with the Brazilian unable to recreate his long-range heroics from last season's FA Cup victory over Bolton.
But Liverpool continue to pull the trigger from range, and Keith Curle's men happily threw themselves in the way.
Though a lack of a plan B can largely be attributed to the absence of Benteke, Rodgers' lack of tactical ingenuity saw Liverpool grind to halt as Carlisle sought out the sanctity of a shootout.
Time Running Out for Brendan Rodgers

Can a penalty-shootout win over Carlisle, who have conceded the most goals (17 in eight games) in League Two this season, be considered cause for reprieve for Rodgers?
With Carlo Ancelotti having possibly been sounded out to take over from the Northern Irishman as Liverpool manager, it could be suggested that a defeat at Anfield on Wednesday night would have sounded the death knell for Rodgers.
But this result is little better than a defeat—despite the manic celebrations of Bogdan, Moreno, Can and Co. on the Hungarian's winning penalty save.
This was a performance that, after a bright half-hour, dissolved into the uninspired mess that supporters have become so miserably accustomed to in recent months.
Chants of "sacked in the morning" rang out throughout the evening, though whether this stemmed from the away end or in more disdainful corners of Anfield was difficult to tell—Rodgers' stock among Liverpool supporters is at an all-time low.
Though Liverpool advanced to a fourth-round clash at home to AFC Bournemouth, whether Rodgers is the man to lead them on is another matter entirely.
[interaction id="56031da5c70ac51c03852d7c"]