After another insipid performance from Liverpool in Saturday's 3-1 loss to Manchester United, Jack Lusby questions Brendan Rodgers' position.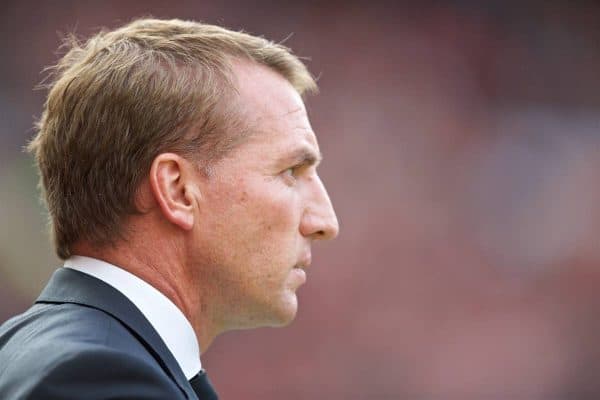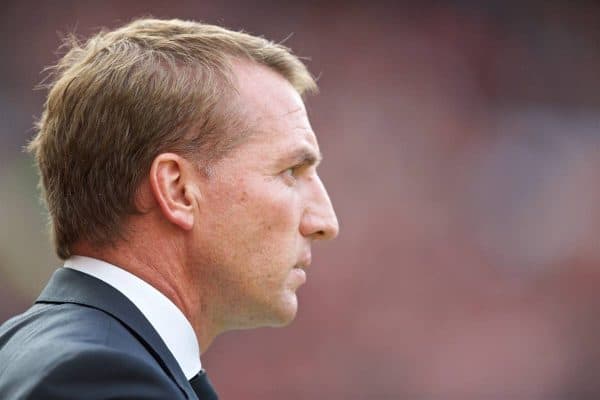 After a 3-1 loss away to top-four rivals Manchester United on Saturday, Liverpool manager Brendan Rodgers will likely be forced to bat away questions surrounding his future on Merseyside.
But are they valid questions?
Goals from Daley Blind, Ander Herrera and Anthony Martial gave Louis van Gaal a priceless victory at Old Trafford, cancelling out Christian Benteke's awe-inspiring overhead kick.
However, it was the manner in which the Reds limped to defeat that should be the cause for concern for supporters and the club's owners, Fenway Sports Group.
Rodgers got this completely wrong, and this damning result will see pressure mounting at Anfield.
The Setup

Liverpool's starting lineup was screaming for a return to the 4-4-2 diamond formation that had proved so successful previously.
With Lucas Leiva operating as a midfield anchor, the energetic James Milner and Emre Can the shuttling diamond flanks and Roberto Firmino in his natural No. 10 role behind Benteke and Danny Ings, this Reds selection looked to be primed for a fluid, attacking approach at Old Trafford.
But, of course, that wasn't to be.
Kicking off in a turgid 4-5-1, Liverpool were clear in their intentions from the start—despite this effectively representing a must-win clash in the race for the top four, all Rodgers wanted was a point.
Ings and Firmino were deployed in confused wing-back roles on the left and right flank respectively, while Benteke was once again isolated as the lone centre-forward.
Looking to nullify United's attacking game, this cynical setup was designed to frustrate—and it did.
But perhaps not those whom Rodgers intended.
Danny Ings & Roberto Firmino's touches vs. #mufc. Can't help but feel sorry for them. #LFC pic.twitter.com/JiyRPAtC0l

— Jack Lusby (@jacklusby_) September 12, 2015
Ings worked tirelessly on the left flank, supporting the floundering Joe Gomez as well as looking to link up with Benteke whenever possible, but in replacing the suspended Philippe Coutinho the 23-year-old was tasked with way too many responsibilities.
Was he not signed as a striker?
Similarly, Firmino's defensive, off-ball efforts were commendable, but was this not the £29 million signing poised to reinvigorate Liverpool's attack this season?
As United eventually capitalised on the opportunities handed to them by an error-ridden defensive core of Simon Mignolet, Martin Skrtel, Dejan Lovren and Lucas Leiva, Liverpool had no answer.
Going behind to Blind's embarrassingly unimpeded 49th-minute strike, Rodgers needed to respond positively.
Unfortunately, his work on the touchline was as inept as it was on the training ground.
The Substitutions

Sixty-five minutes in: Firmino off, Jordon Ibe on.
Nine minutes later: Ings off, Divock Origi on.
Eighty-eight minutes on the clock: Lucas off, Alberto Moreno on.
The monotony of Rodgers' tactical switches represented a manager devoid of a genuine grasp on proceedings.
Liverpool needed positivity after going behind, and a change in the system that was so blatantly sullying Benteke's productivity. Instead, two of the brightest attacking talents were withdrawn and a like-for-like duo introduced.
Only with two minutes to go did Rodgers make a genuinely pragmatic change, with Moreno replacing the ineffective Lucas—but this was too late to change the game.
Instead, both Origi and Ibe were forced to take up the thankless, wing-back-cum-winger roles that Ings and Firmino endured, and Benteke was confined to isolation once again.
Asking a 20-year-old debutant and a 19-year-old clearly drained of confidence to influence a result at 2-0 down in one of the most daunting atmospheres possible was incredibly naive, and this showed when Origi and Ibe mustered just 23 touches of the ball between them.
Here are Divock Origi & Jordon Ibe's 23 touches vs. #mufc. Nowhere near where they should have been deployed. #LFC pic.twitter.com/HOzWMVzOsd

— Jack Lusby (@jacklusby_) September 12, 2015
Like Ings and Firmino, these were predominantly in wide, defensive areas.
This ridiculously flawed setup is mutating into an even more inept system by the game: key issues in defence, midfield and attack are being ignored, with a lack of initiative from Rodgers extremely worrying.
After three seasons at the helm on Merseyside, there is still no discernible vision being implemented by the manager.
Lack of Vision?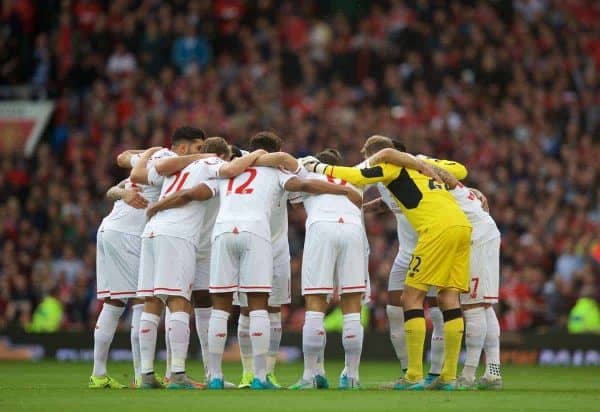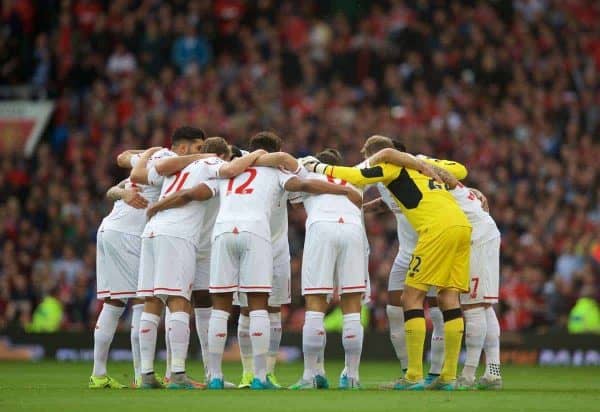 "He's a forward-thinking coach at the forefront of a generation of young managers and will bring to Liverpool attacking, relentless football," Liverpool chairman Tom Werner said on Rodgers' appointment in 2012.
The manager himself outlined his ambitions, saying he wanted to "retain the values of the club."
"For me [the attraction], is to defend the principles of this great club, offensive football with tactical discipline, and to retain the values of the club," he said.
"That was the attraction, the history of the club."
The manager's mission statement was clear: to restore Liverpool to their former glory, by way of an attractive, attacking style of play.
Three years and close to £300 million spent and Liverpool remain far removed from their storied, offensive ideals.
This is a manager who joined the club with such optimism and promise; one who inspired an unexpected title challenge in 2013/14, and had proven his Premier League pedigree with Swansea City.
It was a considerable punt by FSG, but one which promised considerable reward.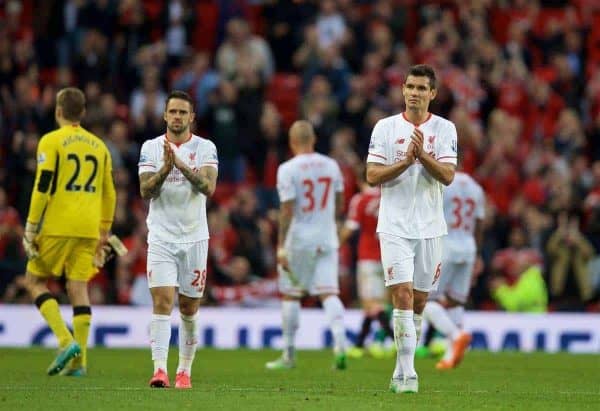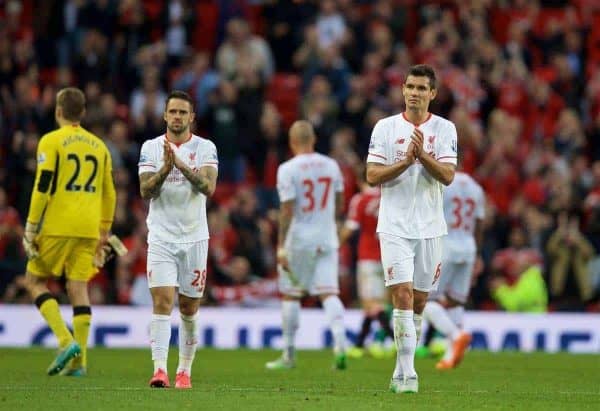 Unfortunately, the Reds are floundering under Rodgers, and at present their attacking failures should be the least of his worries, with Skrtel and Lovren representing one of the least compatible centre-back partnerships in the club's history.
These are basic errors that are being overlooked, with mistakes repeated ad nauseum.
At Old Trafford on Saturday, Liverpool set up to play a brand of negative football that put the efforts of Gerard Houllier and Roy Hodgson to shame, and with this resulting in a 3-1 loss to their most bitter of rivals, this is unforgivable.
Rodgers is seemingly drained of the optimism and audacity that made him such an attractive proposition back in 2012 and Liverpool such an enjoyable side to follow in 2013/14, and while early wins over Stoke City and AFC Bournemouth this season papered over the cracks, the problems are becoming abundantly clear.
Banging his head against the wall isn't producing results, and precocious talents such as Ings, Firmino, Origi and Ibe are suffering as a result.
A ruthlessness and pragmatism must be restored for Liverpool to recapture their attacking verve.
Rodgers is running out of time to prove he is the right man to do so.
MAN UNITED 3-1 LIVERPOOL POST-MATCH COVERAGE