Despite Neymar's comments on Liverpool midfielder Philippe Coutinho suiting a move to Barcelona, the No. 10 is not yet ready.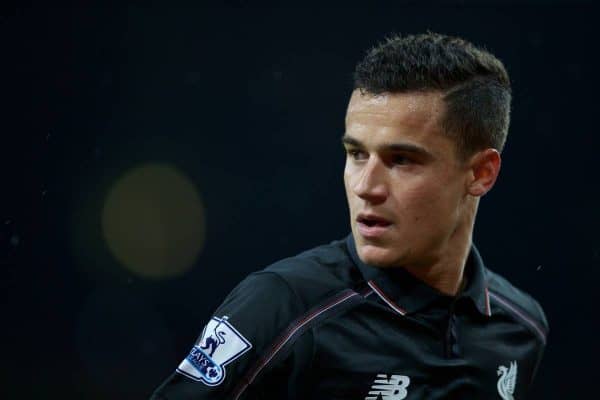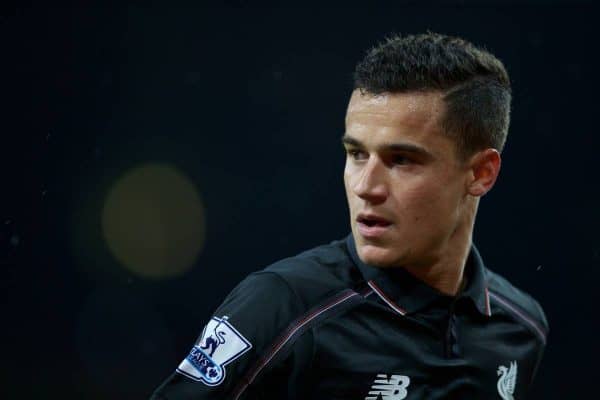 Barcelona forward Neymar has named Coutinho as one of a host of players that would provide a flourish to Luis Enrique's current squad.
But, despite his compatriot's praise, the Liverpool No. 10 is not yet ready for a move to Catalonia.
"I think there are many players with great qualities that could be playing for Barcelona," Neymar told reporters.
"One of them is [Philippe] Coutinho. He is a great player and his style suits Barcelona."
This process is unavoidable and points towards a familiar, arduous journey for Liverpool supporters, but Coutinho would be wise to avoid the switch to the Nou Camp at present.

In many ways, Neymar's praise is apt: Coutinho is Liverpool's best player.
Since joining from Inter Milan in a deal worth £8.5 million back in 2013, the Brazilian has developed into a top-level Premier League talent, and has been lionised by both Steven Gerrard and Luis Suarez, as the former Reds captain recently revealed:
"Before Luis Suarez left Liverpool's training ground for the last time he spoke to me about Philippe Coutinho. 'Make sure you look after him,' Luis said of Philippe.

"That told me how much Suarez rated Coutinho as a player. I knew they were close, because all the South Americans and Spaniards loved Luis.

But it struck a chord with me when Luis singled out Philippe as our most special young talent.

"It echoed my own view."
Having risen to the forefront of Brendan Rodgers' first-team squad alongside Gerrard and Suarez, Coutinho's game has developed rapidly from his humble beginnings as a 20-year-old with much to prove on Merseyside.
His tenacity, versatility, flair, creativity and new-found finishing ability make him a well-rounded player primed for elite competition.
The way in which he tore apart the Arsenal defence in August's 0-0 draw at the Emirates Stadium is a marker of his talent, with only the fingertips of Petr Cech keeping the Brazilian from consigning Arsene Wenger's side—and the helpless Hector Bellerin in particular—to an embarrassing defeat.
But, as Sunday's 1-1 draw at home to Norwich City proved, he still has major deficiencies within his game.
Understandably, he can be found to drift out of games, lacking a certain level of tactical intelligence under pressure, as well as falling foul to a detrimental selfishness at times—with his 10 shots on goal at Anfield the prime example of this.
This poses the question of whether he could truly cope with the demands of life in Barcelona.
Pressure at Barcelona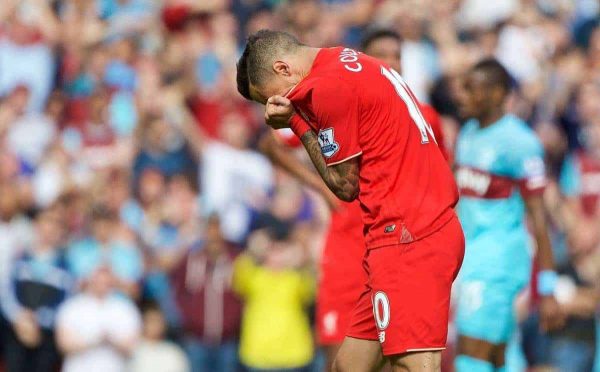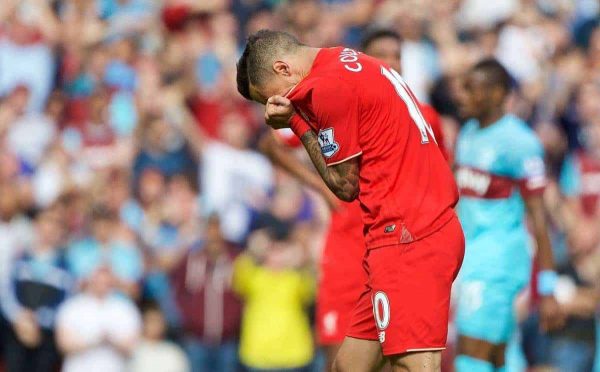 Disappointingly unlike at Liverpool, success is essential at Barcelona.
Challenging in La Liga, the Copa Del Rey and the Champions League is expected by club and supporters alike, with a star-studded squad featuring Neymar, Suarez and Lionel Messi built to contend at the top level of European football.
Performing at a high level is expected every week, in order to remain in the battle for success on the domestic stage and in Europe.
Following a shock 1-0 defeat away to Granada in La Liga in April of last year, for example, supporters hurled a chorus of abuse at the Barcelona squad on their return to the Nou Camp later in the evening.
It is a hugely demanding environment and, as such, competition within the Barcelona squad is much higher than under Rodgers at Liverpool.
Though Coutinho may be primed as successor to Andres Iniesta, he would immediately find himself vying with the world-class Arda Turan for a spot in Luis Enrique's first-team squad.

The quality is there with Coutinho, but whether the consistency is is another matter entirely.
Of course, it could go either way: useful examples can be found in compatriots Douglas Costa, who is thriving at Bayern Munich this season, and Keirrison, who so notoriously flopped in Catalonia upon his move from Palmeiras in 2009.
There is no guarantee of individual success.
However, there is an argument—proposed by Suarez himself—that there is less pressure on the individual in Barcelona, given the level of quality throughout the squad:
"Today I do not feel as much pressure as I felt in other teams.

"There are other players that stand out more than me and not everything depends on me. That allows me to be more calm.

"At Liverpool, even without anyone demanding it of me, I forced myself to do things to help the team to work.

"When there was a bad game I was always criticised. I took it internally and it hurt me."
Coutinho finds himself in a similar situation to Suarez a year ago, with this move to Catalonia seemingly inevitable.
Inevitability

With Neymar having begun Barcelona's customary tapping-up process, there is a supreme element of inevitability surrounding Coutinho's La Liga move.
If Barcelona want a player, it is rare that they don't get him, and in many ways, Coutinho deserves the move at this stage, given his quality.
The prospect of the Brazilian operating in Iniesta's No. 8 role, feeding the interchanging front line of Neymar, Suarez and Messi is mouthwatering, and Coutinho could help inspire Barcelona to another era of European dominance.
As such, he may feel a move will benefit his career at this stage.
This is particularly pertinent given his current lack of wage parity among the rest of Rodgers' key players—despite signing a new contract in February—with his earnings at a basic £70,000 a week, compared to the likes of Jordan Henderson (£100,000 a week), Mamadou Sakho (£100,000 a week) and Daniel Sturridge (up to £150,000 a week).
It would take a seismic shift in fortunes to lift a club ranked 55th in Europe to the level that Coutinho's quality and potential deserves—and, miserably, the onus falls upon the Brazilian, as Liverpool's best player, to do so.
This could now become another Suarez-like situation, in which Liverpool cannot force a player operating above their station to stay and waste their career in the Premier League doldrum of a top-six battle.
However, Coutinho is not quite there yet, and Rodgers will no doubt argue down the line that his development is best served at an environment such as Anfield—where Coutinho is adored.
But that creeping sense of inevitability will not dissolve.
[interaction id="56013bac77aa6c1a0345002c"]