Ahead of Aston Villa's visit to Anfield on Saturday (3pm kick off BST), we get the view from the away end to discuss Christian Benteke, Villa's Anfield record, Brendan Rodgers, and more.

We speak to Rory Skehan of 7500toholte.
Q. Villa are without a win since the opening day, that being at new boys Bournemouth – is your form as bad as that suggests, or is the fact your only losing games by narrow margins more indicative?
It's really a little bit of both. Tim Sherwood has repeatedly said that we've deserved more than the four points we have, which is true – but at the end of the day, points are what matters, and we've continually thrown them away.
We've had some good spells of play, but can never seem to put a full 90 minutes together. We show signs of being a really good side, but both Sherwood and the players haven't quite fully developed the consistency needed to start pushing up the table.
Q. Christian Benteke – your thoughts first on his departure, and then on whether you see him fitting in at Liverpool?

Losing Benteke was obviously a huge loss to Villa – he was crucial to keeping us in the league the past couple of years. That said, I think the majority of Villa fans understood his desire to play at a higher level, and we don't blame him at all for moving on. He deserves to be playing in Europe, not fighting relegation.
It is a bit frustrating to see how he's being used at Liverpool, however.
At Villa, he was our best player on the pitch, and we played to his strengths, getting balls in the box at every opportunity. Liverpool and Rodgers aren't as keen to put in crosses. Regardless of style, he's going to score goals – he's too talented not to.
Q. You've not lost at Anfield since 2010 – a worry stat for Brendan Rodgers – do you fancy your chances again on Saturday?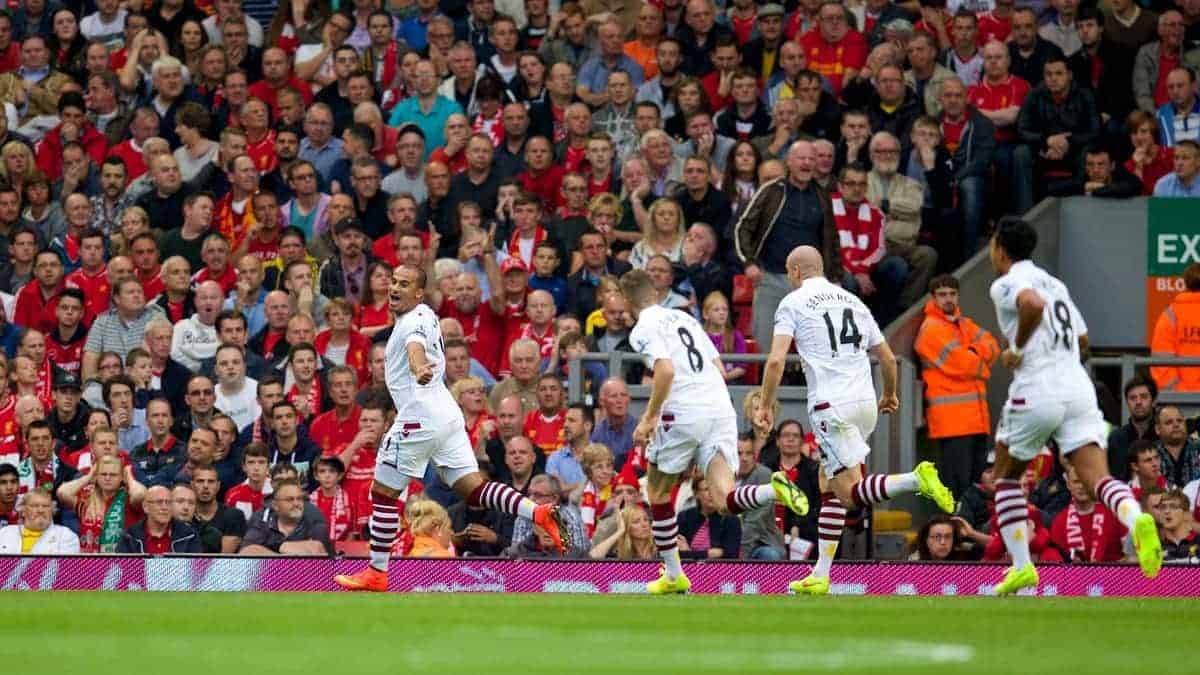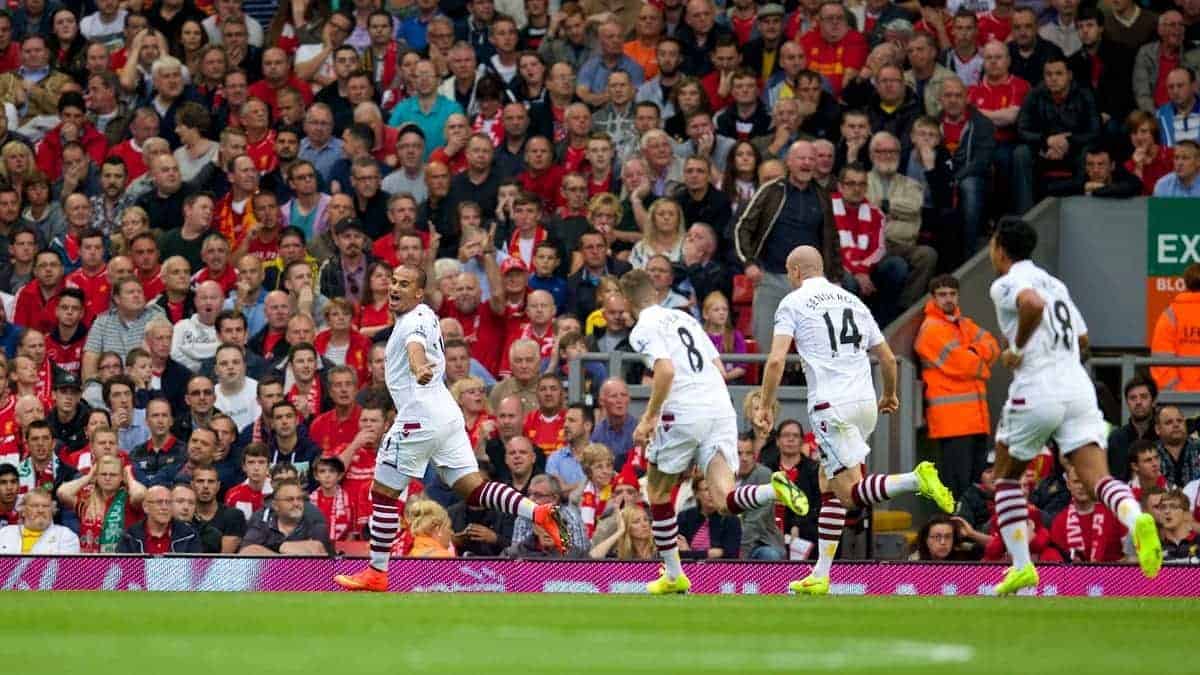 I'd say we have a decent chance to come out with at least a point, if not all three. We haven't been in great form, but a midweek win over Birmingham City may have changed the momentum in our favor a bit.
Liverpool will also be missing Lovren, Henderson, and Benteke (three pretty big blows in my opinion), are coming off 120 minutes and a close call against a League 2 side, and are under a lot of pressure.
I won't go as far as predicting a win, but I think it's a good thing to be playing Liverpool now, during this uneasy spell, instead of later, when they get things figured out.
Q. What's your thoughts on Tactics Tim?

It's complicated. He was fantastic for us at the end of last season, keeping us up and taking us to Wembley, providing Villa with some much needed excitement after the disastrous Paul Lambert era. He was also put in a difficult position this summer, having to basically rebuild the squad after losing Benteke and Delph, our two most influential players.
This season, however, he's proven that tactically, he really struggles. He's made a number of head-scratching substitutions in games, which have directly cost us at the very least 4 or 5 points. He's been under a bit of pressure lately, but he'll be given time to sort things out, and a result on Saturday would go a long way in easing that pressure.
Q. And your thoughts on Liverpool, from an outsiders perspective?
Recent struggles aside, I have no doubt they'll turn it around eventually. Whether Rodgers is there when it happens or not…well, I'll get to that in a second. Kind of like Benteke, the squad is too talented not to start getting results.
Q. And what about Rodgers? Do you think he's the subject of what John Motson bizarrely claims is some sort of conspiracy?!

I've never been a big fan of Rodgers. The talent has always been there, the results simply haven't followed. There never seems to be a plan B when things aren't working. His title-challenging side with Suarez was incredibly fun to watch, but since then, it's all seemed to go downhill really.
This is an outsider's opinion, but I don't see him managing Liverpool at the start of next season.
Q. What's your aims for the rest of the season for Villa?
At this point, really to just steady the ship and climb away from another relegation battle. We'd all love to push on towards the top-half, but a safe, comfortable finish is the number one priority this season.
Q. Finally, predicted finish for both sides please…
15th for Villa, 7th for Liverpool