Alberto Moreno's rise to the fore under Jurgen Klopp continued with a strong performance vs. Swansea City on Sunday, reaffirming his blossoming quality.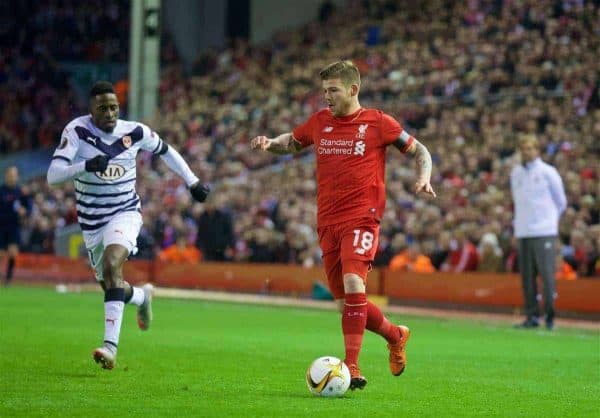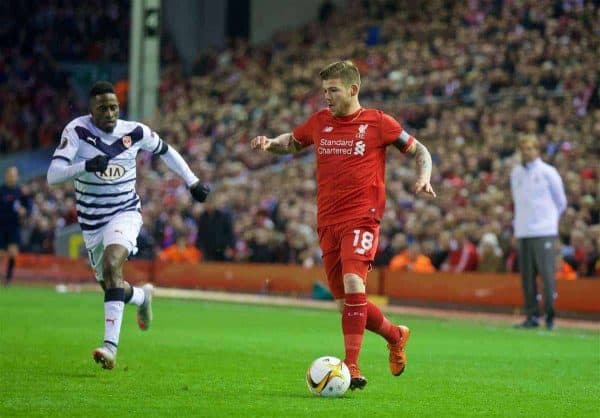 After Liverpool's 1-0 win at home to Swansea City on Sunday evening, in which Klopp saw his side hold on despite a late surge from the Swans in search of an equaliser, the German singled out Moreno for praise.
"Alberto Moreno [took] 20 knocks, everywhere on his body, and was limping from the pitch into the dressing room," he told reporters at Anfield.
"I asked him 'where is the pain?' and he said 'everywhere.'
"That's how it feels in this moment, but tomorrow morning we will be back in the race."
Klopp has found something of a kindred spirit in Moreno: an aggressive, whole-hearted full-back willing to put his body on the line to secure victory, and it is no surprise that he is impressed.
This recognition is completely valid, as Moreno has improved vastly following Klopp's arrival.
Klopp and Moreno

While the nuances of Brendan Rodgers vs. transfer committee are much-discussed, and whether Moreno was a signing the Ulsterman wholly endorsed is up for debate, but one salient factor is clear: Rodgers did not explicitly trust the Spaniard.
This saw Moreno dropped in favour of Joe Gomez for the first five games of the Premier League season, playing just 58 minutes over four substitute appearances.
When he was reintroduced, it came largely due to a change in formation from the former Liverpool manager, with Moreno the only suitable left wing-back for Rodgers' 3-4-1-2.
He continued to play this role until Rodgers' dismissal, but a change in manager brought a change in fortunes.
"I had this inner anger, a rage almost. I felt I was playing well, training well. He told me that I was training well but I couldn't see why I wasn't getting a chance at the beginning of the season," Moreno said of Rodgers following Klopp's appointment.
"I don't know why I've improved to tell you the truth, it is hard to explain. I just get the impression [from Klopp] that he really feels the game."

Moreno has started in all but one of Liverpool's games under Klopp so far, with the 23-year-old an unused substitute in October's 1-0 League Cup win at home to Bournemouth.
Crucially, Moreno has been used exclusively as a left-back, with Klopp reverting to a back four.
Most notably, Moreno's improvement under Klopp has come in the defensive sector—an area that was regularly highlighted as a weakness in his first season at Liverpool in 2014/15.
Prior to Klopp's arrival, Moreno had averaged 1.32 interceptions and 2.12 successful tackles per 90 minutes in the league this season, winning 47 percent of his attempted tackles.
But following the German's appointment, Moreno has so far averaged 3.17 interceptions and 3.5 successful tackles per 90, winning 54 percent of his attempted tackles.
To extend this overview of his defensive improvement, Moreno is yet to make a defensive error under Klopp, while his mistake in August's 3-0 win at home to West Ham United underlined his lack of confidence under Rodgers.
With Klopp's influence, Moreno is sharper, more focussed and on his toes throughout; finally, Liverpool have a truly worthy left-back.
Liverpool's Full-Back Options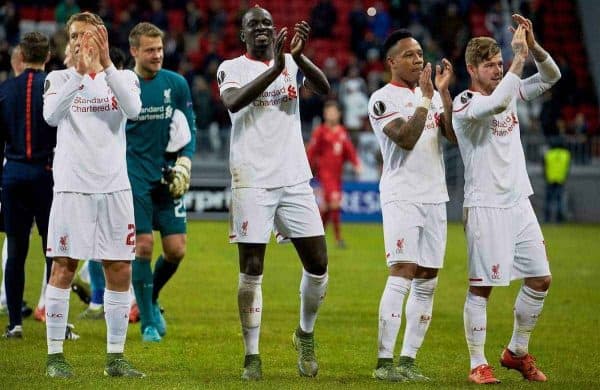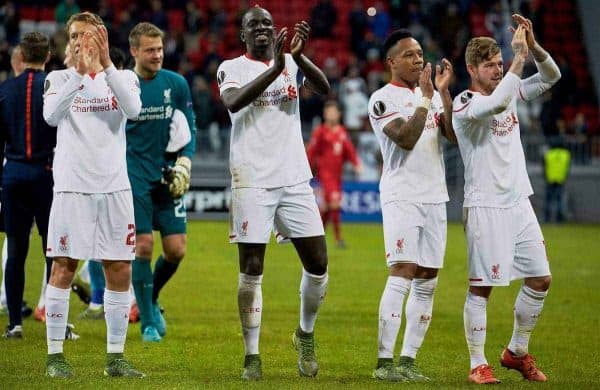 The double signing of Moreno and Javier Manquillo in the summer of 2014 looked set to solve Liverpool's long-standing issues at full-back, with the young Spaniards possessing the balance of attacking verve (Moreno) and defensive discipline (Manquillo) required to reinforce the Reds' defence.
But with Manquillo's two-season loan terminated at the end of 2014/15, Rodgers was back to square one; doubting Moreno's ability and lacking in a stable option at right-back.
Liverpool countered this with the £12.5 million acquisition of Nathaniel Clyne—a surefire success, given his performances for Southampton.
Now, in Moreno and Clyne, Klopp has that perfect balance once again.
Both are young, energetic full-backs, comfortable at both ends of the pitch and both relentless, tenacious defenders who will bite into tackles and kick off attacks from high up the field.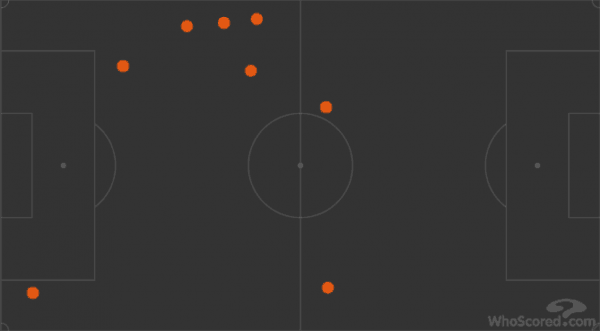 Sunday's performance against Swansea was the perfect example of this well-balanced quality.
[quote_box_right]Moreno & Clyne vs. Swansea
Touches – 78 / 64
Tackles – 6 / 1
Interceptions – 5 / 3
Dribbles – 2 / 1
Key Passes – 3 / 2
Passing Accuracy 87.5% / 88%[/quote_box_right]
In this pairing, Liverpool supporters will no doubt see shades of Fabio Aurelio and Alvaro Arbeloa—Liverpool's last great full-back partnership—and given Moreno (23) and Clyne's (24) young years, this is extremely encouraging.
The Aurelio-Arbeloa tandem dissolved due to injuries and overtures from Real Madrid respectively, but as Klopp looks to lead his side to the top end of European football, this must be avoided.
This is a pairing that Klopp can build around, but for him to do so, he must find cover at both left- and right-back.
A Lack of Cover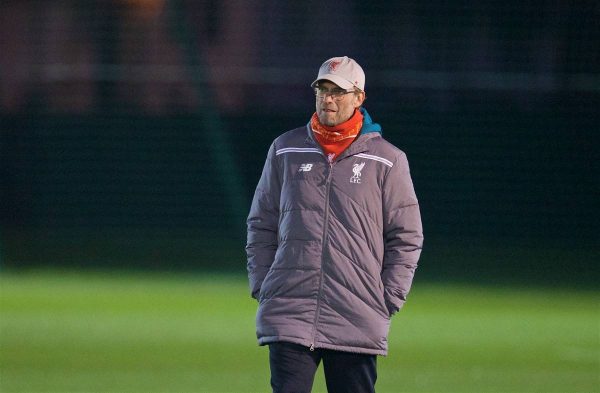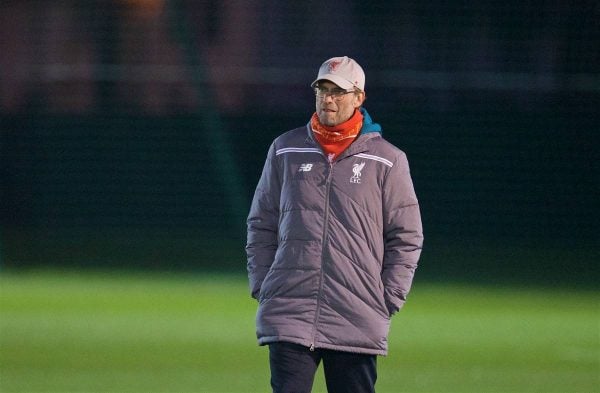 While Klopp's stressing of Moreno's "20 knocks" at Anfield on Sunday was more a representation of the left-back's resilience and his side's growing mental fortitude, there is an overriding concern that the Spaniard is his only trustworthy option at left-back.
With Jose Enrique and Brad Smith the pretenders to the crown at this stage, any injury to Moreno would leave Klopp's defence extremely fragile.
With Madrid reportedly interested in a January move for Moreno, too, this issue is magnified.
Moreover, though Clyne has proven to be a remarkably fit, dependable option at right-back throughout his time in the Premier League with both Southampton and Liverpool, Klopp's lack of options in reserve is similarly worrying.
Emre Can and Connor Randall are the most suitable deputies on the right-hand side of defence, and neither can profess to be as proficient as Clyne.
Both Can and Clyne are one yellow card away from a one-match suspension in the Premier League, leaving Klopp with the very real concern of fielding an untested Randall in the top flight in the near future.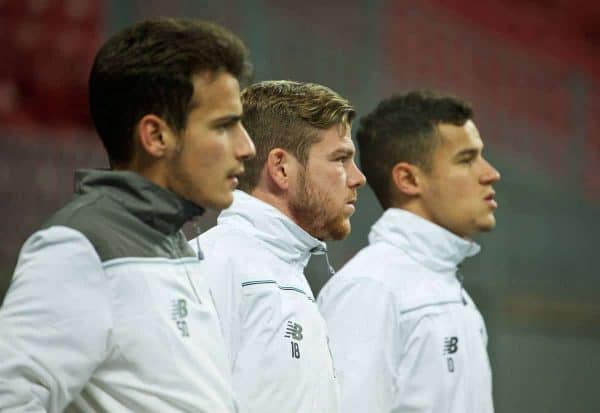 As the 48-year-old has frequently stressed following his arrival, this is a situation he was fully aware of when he arrived: this is a Liverpool squad with real quality, but with very little in terms of defensive depth.
He will be content to work with what he has until the January transfer market opens, but beyond that stage he would be wise to look for cover for his first-choice full-backs.
In Moreno and Clyne, Klopp has the makings of a great partnership, perfectly suited to his intensive regime on Merseyside.
But they will still need backup in order to maintain their form and consistency.