A dominant Jordon Ibe continued his strong run of form under Jurgen Klopp with the only goal in Liverpool's 1-0 win away to Rubin Kazan.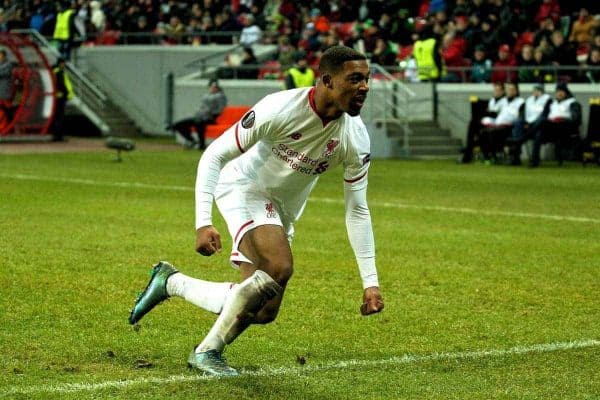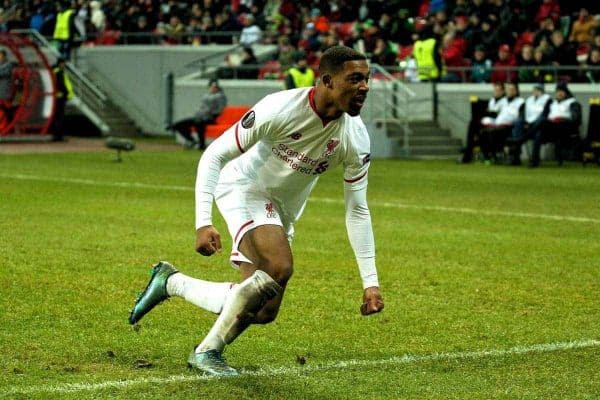 With Liverpool flooding the attacking third throughout Thursday night's Europa League clash, Klopp needed someone to grab the game by the scruff of the neck and drag his side to victory.
At the Kazan Arena, reshaped and questionably turfed especially for this clash, this player turned out to be Ibe.
Capping a strong individual performance with the only goal in the Reds' 1-0 win over Rubin, Ibe marked a growing maturity in Klopp's attacking line.
This was the night a 19-year-old Ibe came of age as a Liverpool player.
Jordon Ibe vs. Rubin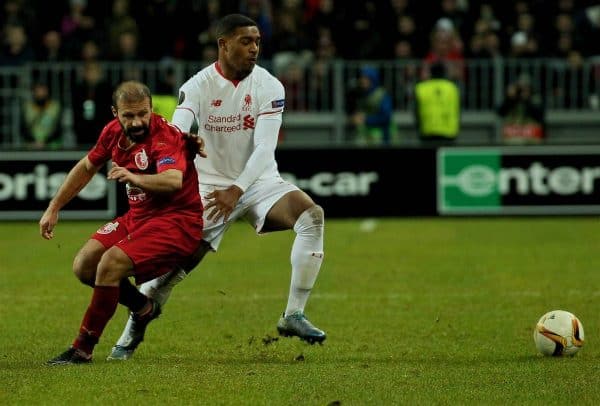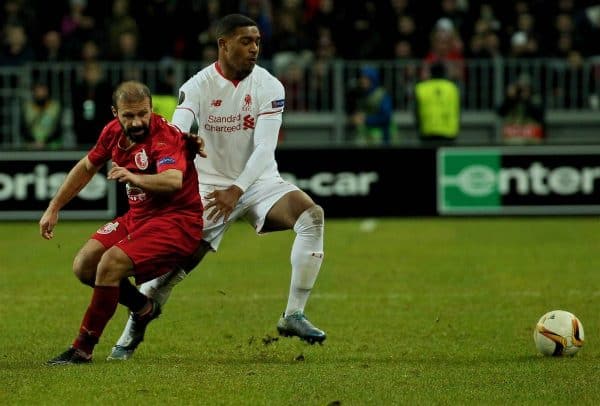 Deployed on the right-hand side of the attacking midfield in Klopp's 4-2-3-1 formation, Ibe excelled.
Supporting lone striker Christian Benteke alongside Roberto Firmino as No. 10 and James Milner on the opposite flank, Ibe played a key role in Liverpool's overwhelming attacking approach.
Running the touchline with pace, Ibe intertwined with the rampaging Nathaniel Clyne to pin back left-back Elmir Nabiullin and wide man Gokdeniz Karadeniz.
Ibe and Clyne showed signs of a strong chemistry throughout pre-season, and this continued in Russia, with the pair dovetailing to offer Firmino and Emre Can a useful outlet in stretching play on the attack.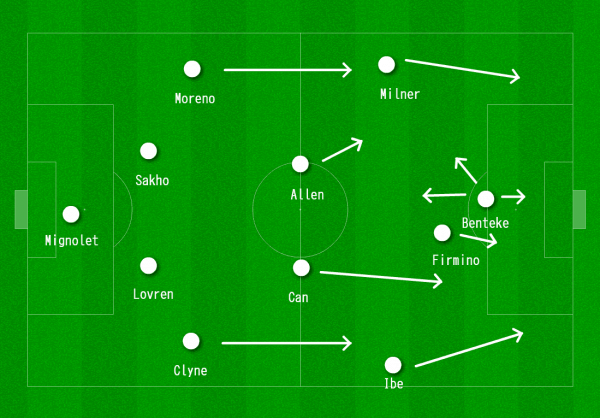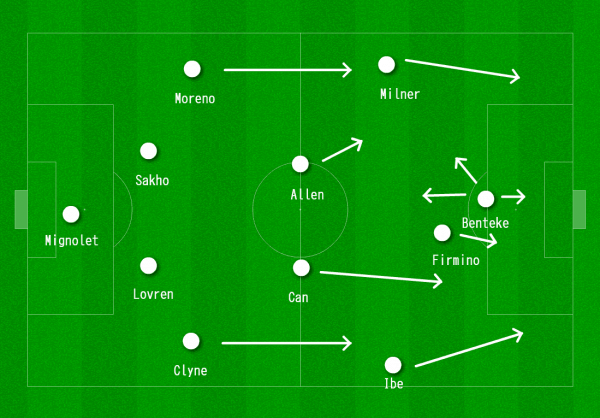 The former Wycombe Wanderers star completed a phenomenal 11 dribbles, utilising his pace and bullish strength to force his way beyond fellow youngster Nabiullin towards either to byline or the edge of the box.
It was this variety in movement that made Ibe so effective, as proven by his 52nd-minute strike.
The England U21s international drifted inside to receive the ball from the impressive Firmino, before driving towards the penalty area and placing a low shot beyond Sergei Ryzhikov and into the bottom corner from 20 yards—Ibe's first goal in a competitive game for Liverpool.
Ibe was by far and away Liverpool's standout performer on the night, and this is a remarkable change from the player supporters had become accustomed to.
A New Player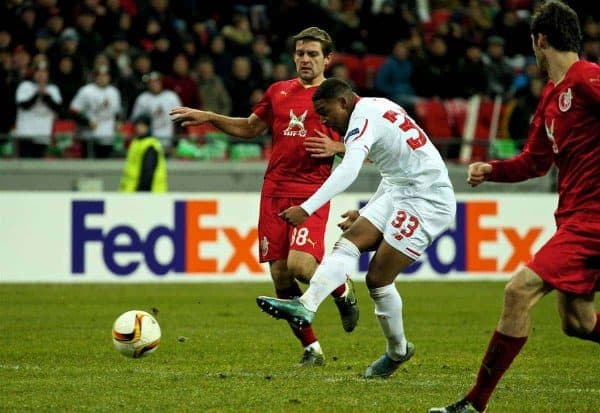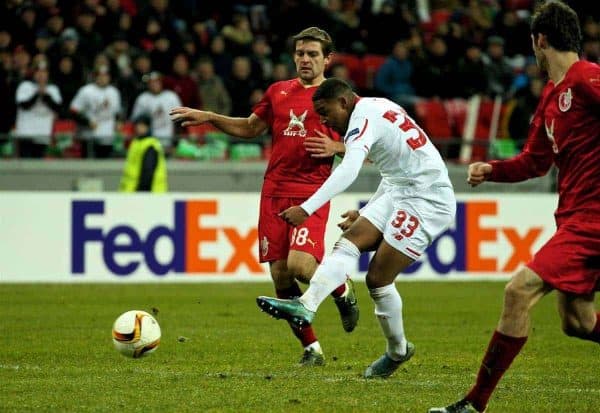 Contrast this performance with those produced by Ibe in the earlier parts of the season under Brendan Rodgers, and the 19-year-old is, as he suggested prior to this victory, looking like a new player.
"With the new manager, everything is fresh," he said. "I feel like a new player and it's for me to keep improving and trying to stand out in training.
[quote_box_right]Ibe vs. FC Sion in Numbers:
90 minutes
54 touches
32 passes
81.3% passing accuracy
2 accurate crosses
1 key pass
2 successful dribbles
9 losses of possession[/quote_box_right]
"I feel good—the whole team are feeling great and fresh."
In his five appearances prior to Rodgers' sacking at the beginning of April, Ibe looked jaded and was unable to impose himself, with a miserable performance as a wing-back in Liverpool's 1-1 draw with FC Sion in the Europa League compounding his poor form.
At Anfield that night, Ibe made just two successful dribbles and lost the ball a total of nine times, failing to influence the game despite making more touches (54) than any other attacker.
[quote_box_right]Ibe vs. Rubin Kazan in Numbers:
90 minutes
80 touches
48 passes
89.6% passing accuracy
3 accurate crosses
2 key passes
11 successful dribbles
4 losses of possession
1 goal[/quote_box_right]
But Klopp, who embraced Ibe passionately on the final whistle, has breathed new life into the winger—not least by deploying him in his natural position.
Ibe now looks stronger, sharper and more confident, happy to take risks and build on his mistakes, instead of shrinking into the periphery.
This was a mature attacking performance, characteristic of Klopp's new-look Liverpool—brave, bold and powerful—with his goal securing the Reds their first European away victory since 2012, and highlighting the key role he can play as the German looks to progress.
This could continue on Sunday, as Liverpool take on Crystal Palace at Anfield.
Ready to Start?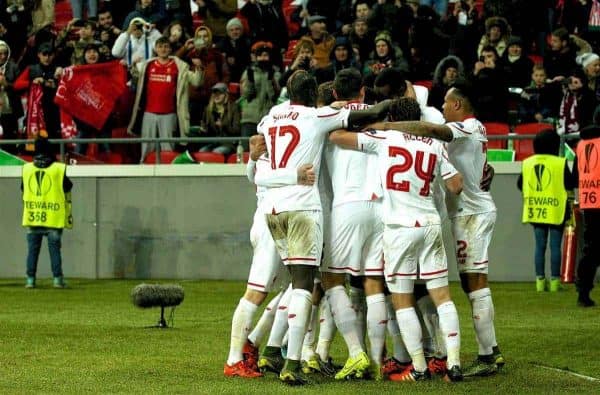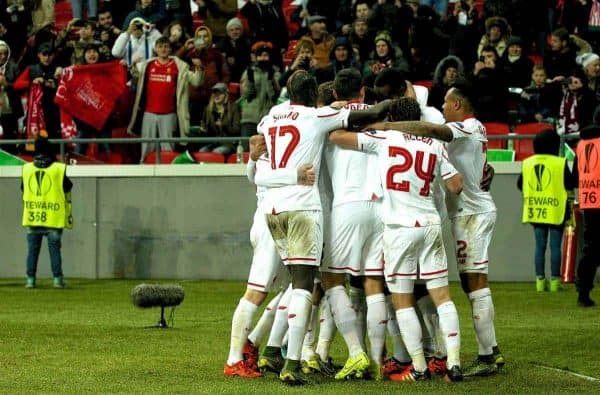 Whereas previously Ibe has looked somewhat tacked on to the Liverpool attack, at the Kazan Arena he was a focal point in Klopp's forward line, terrorising Nabiullin and Karadeniz throughout.
It has taken a change of manager to free him of the "next Raheem Sterling" tag and strip him back to his fundamental qualities: pace, power and positive attacking play.
Ironically this could see him follow in Sterling's footsteps and secure a first-team place.
With Milner in poor form once again on Thursday and clutching his hamstring as he was withdrawn on the hour mark, there could be a slot opening in Klopp's starting lineup in the Premier League.
[pull_quote_right]He is a good lad and a big talent, a very skilled player.
He has a really good base and he feels good at this moment but he has to work on things and he has a lot to learn.
If he is prepared for this then everything will be good.
– Jurgen Klopp on Ibe[/pull_quote_right]
Ibe would need to compete with Firmino, Adam Lallana and Philippe Coutinho, but with the latter pair starting on the bench after suffering knocks in Saturday's 3-1 win over Chelsea, it could be that the 19-year-old is preferred.
Though it did come against lowly opposition, Ibe's performance at Rubin proved he is capable of shining in Liverpool's attack.
After notching his first goal in a Reds shirt, he should continue to grow in confidence, too.
While Klopp boasts an embarrassment of riches in his attacking-midfield ranks in Firmino, Lallana and Coutinho, Ibe represents a unique proposition as the only orthodox winger in the Liverpool squad.
Now that Ibe has established himself as a capable performer in the Liverpool first team, this will give the German an invaluable option moving forward.
He still has a lot to learn, but Ibe reached a new level of maturity at the Kazan Arena.
RUBIN KAZAN 0-1 LIVERPOOL