Liverpool may not exactly be flying high in the Premier League, but when you put things into context we should be feeling positive about the season.

It's late November and after 13 Premier League matches Liverpool sit ninth in the table with a goal difference of just plus two.
On paper, that looks a fairly insipid start to the campaign by the Reds, especially as Jurgen Klopp has been in charge for over a third of those games.
This so-called 'bad' start that many have focussed on really could be far worse though, and Liverpool actually find themselves in a very threatening position heading towards Christmas.
Sticky start overcome

When the fixtures were released back in June, there was a collective groan from Liverpool fans when they saw their first three months of matches.
Every single away game up until Man City last Saturday was genuinely tough, with Stoke City the easiest on the opening weekend of the season.
Philippe Coutinho's late goal nicked an undeserved win at the Britannia Stadium, and in Liverpool's five other away games, against 2014/15's top five, they picked up a very respectable nine points.
Only Man United got the better of them, and the two wins at Chelsea and Man City were among the Reds' most emphatic of recent times.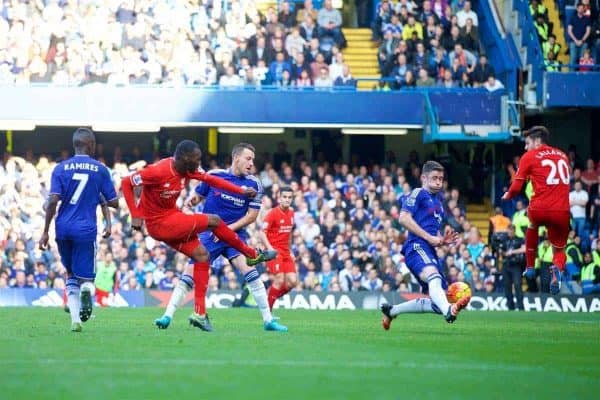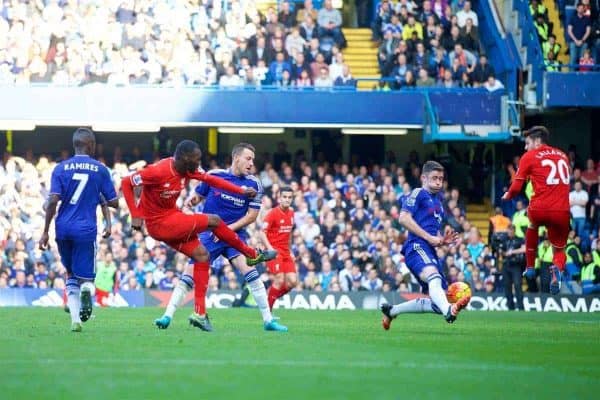 Admittedly, the Reds' home form has not been nearly as impressive, with several hugely frustrating afternoons endured at Anfield.
West Ham and Crystal Palace both earned deserved victories on Merseyside, while Norwich City and Southampton came away with a share of the spoils.
If careless points continue to be dropped on Merseyside, Liverpool's chances of challenging this season can be waved goodbye.
The hope is that Anfield will become a fortress again under Klopp; something that most former managers have struggled to do in the Premier League era.
Past comparisons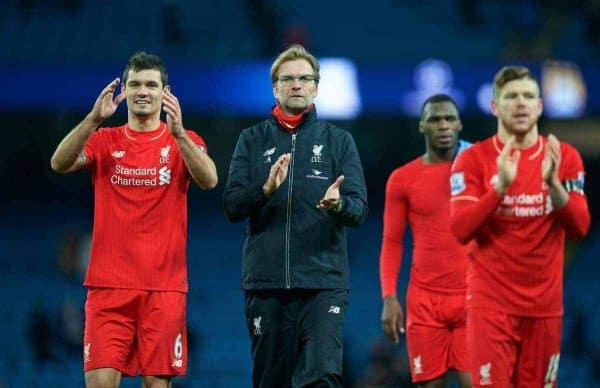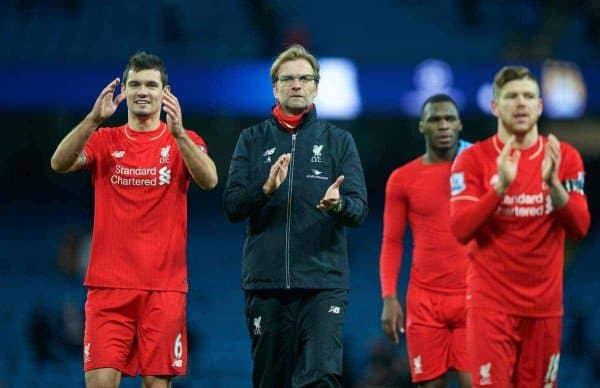 One of the most encouraging things to take from Liverpool's points tally so far this season is comparing it to years gone by.
20 points from 13 matches certainly isn't much to get too carried away about, but as mentioned, that hugely difficult start should be taken into account.
The table below looks at how the Reds have done in their first 13 games since 2009/10, and how many away matches against their six toughest rivals they have faced in that time.
Table: Liverpool after 13 Premier League games in last six PL seasons
(NB: – The top six refers to Chelsea, Man City, Man United, Arsenal, Tottenham and Everton)
[table id=133 /]
The above information shows just how difficult Liverpool's first third of the season has been in 2015/16, with their six most gruelling away games already done and dusted.
Only 2011/12 is remotely comparable in that respect, and the Reds are only four points worse off than they were at this stage in 2013/14, when they finished second.
It's well worth mentioning that their five biggest rivals for the title and top four – Man City (3), Man United (2), Chelsea (2), Arsenal (1) and Spurs (2) – have faced nowhere near that amount of difficult away games yet.
To still be in the mix after this fairly hideous start can only bode well. Many of us would have expected far worse when we saw those fixtures for the first time in the summer.
Season-defining run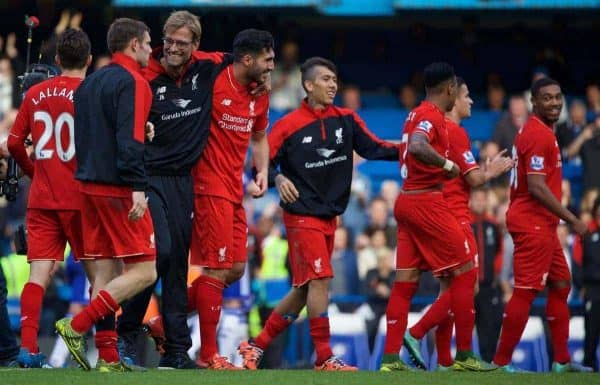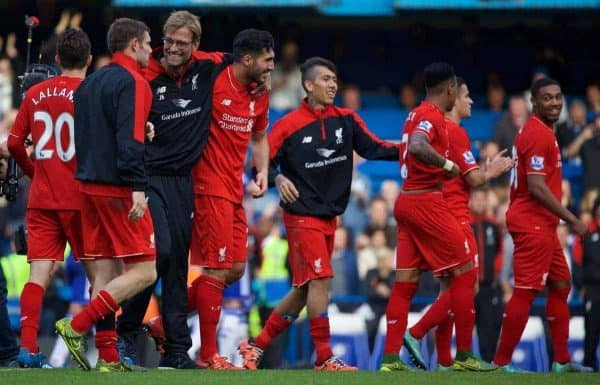 With Klopp's impact becoming more and more evident by the week, and a kind upcoming run of matches, Sunday's home game against struggling Swansea City represents the start of a very winnable spell in the league.
The Reds don't face one of the Premier League's heavyweight sides until Arsenal come to Anfield on 13th January, with seven league games to play until then.
Win the next 7

Swan(H)
New(A)
Brom(H)
Wat(A)
Lei(H)
Sun(A)
W.Ham(A)

Sign Karius/Horn, Ilkay & Sane in Jan.

Win title in May.

Easy as.

— King Kaizer II (@LFC_forevaa) November 23, 2015
It would, of course, be both arrogant and unrealistic to brush Liverpool's next seven opponents aside and expect maximum points, but it should certainly be seen as a genuine chance to fly up the league table.
A minimum of 15 points from the 21 available should be the aim.
Realistic expectations

Klopp's men are only eight points off top spot, and six off Arsenal in fourth, and there is absolutely no reason why that gap cannot be bridged between now and the showdown with the Gunners.
Considering how lifeless Liverpool looked when Brendan Rodgers was sacked, it seems almost ridiculous to now be talking about a possible title challenge.
Liverpool will likely lack the consistency and firepower to stay in touch at the top until May, but it is not completely unfeasible.
The Premier League is not remotely strong at the moment, and there is not one outstanding team in it. Points are being dropped left, right and centre.
The Reds' eye-catching win at the Etihad on Saturday will have made many sit up and take notice, and their rivals will be extremely wary of them, even if they're too stubborn to admit it.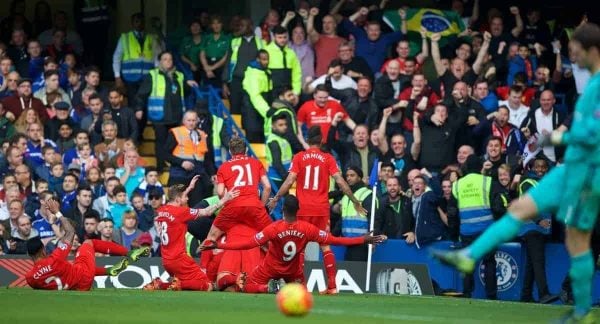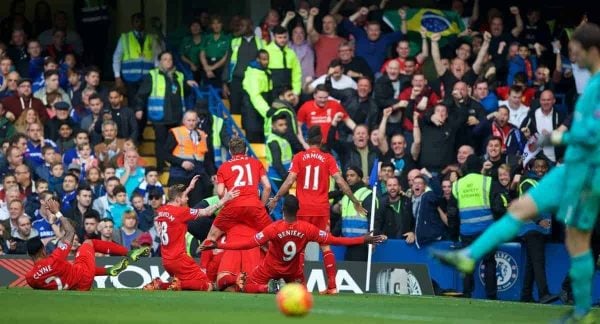 Fourth place should now be seen as the absolute minimum, regardless of the respective threat that City, United, Arsenal and Spurs pose. Chelsea are not down and out either, it should be stressed.
We as Liverpool fans have probably been guilty of being knee-jerk in the past when it comes to over-hyping the Reds, but there are genuine reasons to be feeling positive right now.
The impact Klopp has made has been enormous, and if they can go to grounds like Stamford Bridge and the Etihad and win handsomely, they are capable of beating anyone.
Improving results at Anfield is imperative, as is gaining close to maximum points in their next seven matches, but both are more than do-able.
Dare we dream?
> Where does 4-1 win at Man City rank among Liverpool's best Premier League victories?
> Adam Lallana: Improving under Klopp but still with work to do
> Moulding more players into match winners like Coutinho is not beyond Klopp
[interaction id="565352b041f2d0122ba57589″]