Liverpool must follow up Saturday's 4-1 win over Manchester City with a strong run of results, with Jurgen Klopp's side needing momentum.

After securing a significant, morale-boosting victory away to City on Saturday evening, Liverpool can now look to their upcoming fixtures with confidence, and a sense of optimism.
Defeating the Premier League's title favourites serves as a statement of intent from the Reds and their new manager, with Klopp stamping his authority on Merseyside in his first two months in charge.
But while it should represent a marker for the club's success this season, this win must be followed up with a sustained run of victories, starting at home to Bordeaux and Swansea City.
Building momentum will be key for Klopp in 2015/16.
Momentum

Momentum can play a central role to the preservation of form in football: as confidence increases and the expectation of opponents mounts, wins become inevitable and losses unthinkable.
To use a pertinent example, the phenomenal goalscoring run of Leicester City's Jamie Vardy this season underlines the benefits of momentum.
Vardy is a centre-forward of clear quality, and his work utilising the Foxes' opposition analysis has paid dividends when it comes to converting chances this season.
Nevertheless, the 28-year-old was one of the unlikeliest candidates to break Ruud van Nistelrooy's 10-game consecutive goalscoring streak this season; Vardy is no Sergio Aguero.
But with the belief that comes from momentum, the England international is set to etch his name in Premier League history.
The same can be said in terms of a collective effort, with Liverpool's impressive unbeaten runs in the last three seasons—particularly in the league in 2013/14—coming as a result of the psychological mindset induced by the momentum of results.
Momentum breeds confidence and confidence breeds success; from the pitch to the stands.
But, with Liverpool averaging a game every 3.8 days between Thursday's clash with Bordeaux and a trip to take on West Ham United on January 2, the concept of the collective effort is paramount.
Squad Management Required?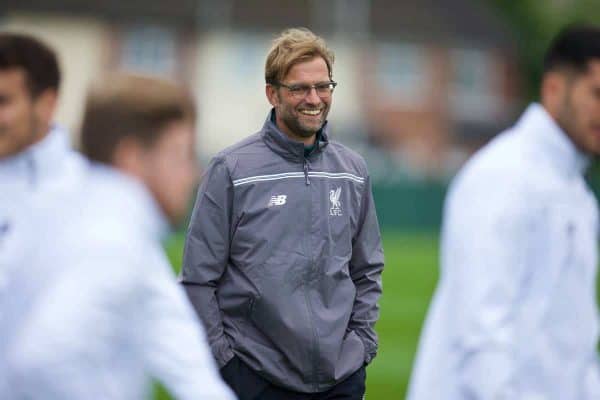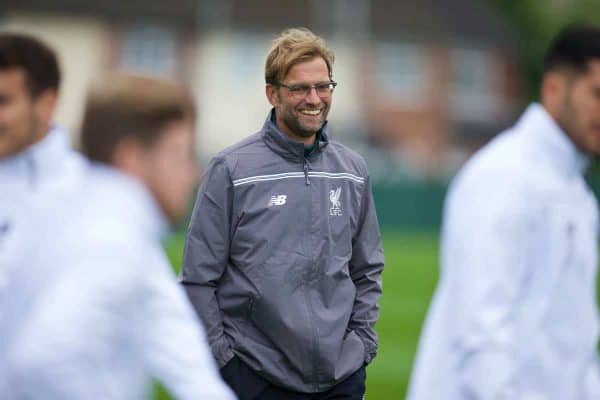 Saturdays' win at the Etihad Stadium highlighted an interesting growth in Klopp's tactical mind.
With both Daniel Sturridge and Christian Benteke fit and available for selection, the German instead opted to field Roberto Firmino as his starting centre-forward, leaving £44.5 million worth of talent in reserve.
"He trained 10-12 days with us without interruption, the same as Coutinho," he told This is Anfield after the victory.
"That is the reason we played like this with the formation like this – we tried to put on the pitch as many players who trained together."
With Firmino and Coutinho both remaining at Melwood throughout the international break, and both scoring in a behind-closed-doors friendly win over Wolves, Klopp was well placed to assess their conditioning.
The Brazilian duo, left out of Dunga's national selection, thrived against City.
Conversely, Sturridge had trained for just four days before Saturday, while Benteke had spent the break on duty with Belgium.

Liverpool were quick out of the blocks at the Etihad, with Klopp's sharpest selection outrunning and outgunning Manuel Pellegrini's Citizens.
The German had recognised the value of rotation, and this must continue following this victory, with the three games prior to the international break further proof of its merits.
Five players—Simon Mignolet, Nathaniel Clyne, Mamadou Sakho, Alberto Moreno and Emre Can—started in the 3-1 win away to Chelsea, the 1-0 win at Rubin Kazan and the 2-1 defeat to Crystal Palace; with the quintet starting three games in nine days.
An unrested Can's lethargic performance in the loss to Palace underlines the importance of rotation—and Klopp may well have taken this from that Anfield defeat.
The games come thick and fast for Liverpool as they head into the festive period, and Klopp must continue to rotate his side in Europa League and cup clashes, employing peripheral figures such as Joe Allen, Joao Carlos Teixeira and Divock Origi, as well as the best of his talented youth.
Failing to rotate efficiently prior to the international break highlights the flaws in this approach to Klopp, and now facing a similar run of games—in Europe then in the league at Anfield—he must continue to do so to maintain fitness, along with a psychological momentum.
Manage to do this, and Liverpool can benefit from a favourable run of games this winter.
Liverpool's 'Easy' Winter

During their upcoming 10-game, 38-day run, Liverpool take in clashes with Swansea, Newcastle United, West Bromwich Albion, Watford, Sunderland and West Ham—all games they should be winning comfortably on paper.
Meanwhile, though Bordeaux, Southampton, FC Sion (away) and Leicester represent tougher opposition, Klopp should be confident in the abilities of his squad even in these encounters.
Feasibly, this run could see Liverpool secure progress to the next round in the Europa League, advance to a cup semi-final and add the full 21 points to their tally in the Premier League, setting Klopp's side up for a strong 2016.
This winter period is significantly more comfortable than those of City, Manchester United, Arsenal, Chelsea and Tottenham Hotspur, and could see the Reds advance strongly towards the top four.
The benefits of momentum should see Liverpool through this run of 'easy' fixtures, but Klopp must heed the warnings of defeat to Palace and continue to prove his ability to learn from mistakes and rectify them quickly.
A wave of positivity kicked off at Stamford Bridge, only to be mercilessly quelled against Alan Pardew's Eagles.
In order to avoid repeating this, and to build crucial momentum after Saturday's win away to City, Liverpool must secure victory against Bordeaux and Swansea—to kick off a confident run this winter.
To do so, Klopp must continue to employ a rotational approach.