Liverpool boss Jurgen Klopp insisted he never considered his team potential Barclays Premier League champions this season after seeing them fall short at Newcastle.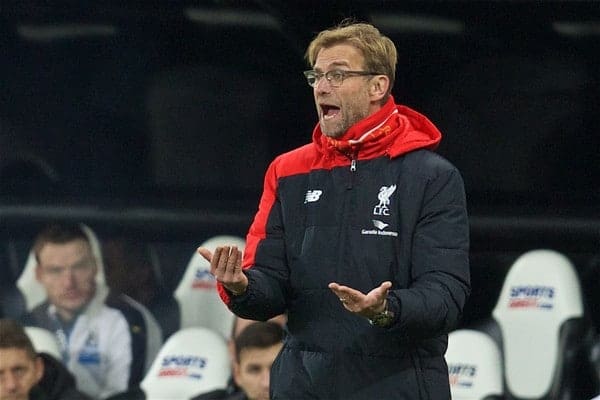 The Reds headed for St James' Park in blistering form having powered their way into the Capital One Cup semi-finals with a 6-1 demolition of Southampton on Wednesday evening, but left on the wrong end of a 2-0 scoreline as the Magpies found their feet once again.
However, while pundits – and indeed, Newcastle head coach Steve McClaren – may have been talking up his team's chances of getting involved in the title race, Klopp was adamant he had never even considered it.
The German said: "Everybody on your side of the table maybe [said that]. I didn't hear anybody on this side of the table talking about it. I have no problem with anything you might talk about, but please don't ask me now about this.
"I didn't say before we were title contenders, so why I should say now that we're not? So I'm sorry.
"We played this game today and at this moment I'm trying to understand why. We've got to try and understand why, but I won't answer that question, because it's not mine.
"If in professional football you don't feel defeats, you don't feel a loss, then something is really wrong. We feel this defeat. We know for today it's deserved, but it hurts, like it should do."
Liverpool enjoyed plenty of possession, but were unable to turn it into goals with Christian Benteke and substitute Daniel Sturridge both passing up good opportunities and Alberto Moreno seeing a fine strike ruled out for offside.

But Newcastle, who were vastly improved, took the lead when Martin Skrtel unwittingly diverted Georginio Wijnaldum's 69th-minute shot over keeper Simon Mignolet, and the Dutchman wrapped up the win with a cool finish four minutes into stoppage time.
Head coach McClaren said: "The last goal probably summed up the game. We said before the game the hardest-working players in that system that we play are Wijnaldum and [Moussa] Sissoko. They way they combined in the end proved that they were the catalyst to what was a great result.
"They can run, box to box, so powerful and Gini can score goals, and it was a perfect combination and good summing-up."