The Premier League is living up to all the clichés this season – any team is capable of beating any other. Neil Poole explains how Liverpool's defeat to Newcastle is a timely reminder that we are by no means exempt and very much part of this league's make-up.
It won't be until the stroke of midnight tonight when we hit 8th December 2015 that Jurgen Klopp will have been Liverpool manager for two calendar months. It's feels like he's been around an awful lot longer… for all the right reasons! Seeing Klopp in the Liverpool dugout in an ever-changing range of club merchandise already feels like a well-worn and familiar comfort blanket from childhood.
However, in the wake of the enjoyable tonkings of Manchester City and Southampton, and closing menacingly in on the top four, the talk has not been of weeks and months, but of quantum leaps in Liverpool's development. Our progress seemingly defies the laws of physics.
Unfortunately, all it has taken is to turn one gravity boot to 'two' and the other to 'zero' to pull us down to planet earth and find our feet stuck-fast to the concrete concourses of St James' Park. Do I really have to stare at topless Geordies celebrating only their third league win of the season?
The past week has seen the excited chatter of possible Premier League title wins from all quarters. I've seen it in the Liverpool Echo, I've heard Jordon Ibe mention it in a Sky interview, I've seen it on Soccer Saturday. I've had a quick look on social media and seen it there, and on blogs too.
I'm not a fascist. Think what you want. I don't begrudge any fan thinking we can win the league and this article is by no means a stick to beat the people waving that particular flag. Neither is it a scathing criticism of Liverpool that the wheels have fallen off and it's all gone to shit. We'll be fine.
But, come on, admit it! It had crossed your mind we might actually get beaten by Newcastle hadn't it? If your answer is yes, then like me, Klopp's post-match words will resonate strongly:
"For us on this side of the table, it's always important to be in the middle and not going nuts when you win and then getting crazy when you lose. It's not a reality check, it's only a bad game."
It's the "it's not a reality check" part of this quote, which I think is bang on. Hand on heart, a defeat to a Newcastle side facing a relegation battle was far less of a shock to me than battering Southampton 6-1. Consequently, I was over the moon about the Southampton win and merely shaking my head and shrugging my shoulders at the habitual disappointment of a loss against an inferior side.
The result doesn't have to be a spanner in the works of any given fan's particular way of thinking. Personally, I think the same of Liverpool's chances after the Newcastle defeat as I did after the Southampton win.
This is to say, if we can play most of the rest of the season with Sturridge and Coutinho we'll finish in the top four. As Klopp says, the defeat isn't a reality check if you've been walking the middle ground somewhere between elated optimism and suicidal pessimism.
It's this very idea of operating in the middle ground which is why I haven't been convinced by the calls that we can win the league. The main argument it seems is that we can win the Premier League because it's shit and there's no consistency.
There is more than a kernel of truth in that theory. It's cool by me if you want to look at that kernel and see popcorn and go and wait for the romance to begin. However, you'll have to excuse me for holding the very same kernel suspiciously between finger and thumb.
To me, it looks like a bum nut, which as we all know is just a smaller component of a larger turd: If this league is shit/the most exciting in the world (take your pick) then as one of the twenty teams, we take at least 5% of the blame/praise.
And we're not immune from it either.
Liverpool Football Club is not some sort of omniscient severed head floating above, detached from the league it observes below. It may be that all the 'we're Scouse not English' mantras have gone to our head, but like it or lump it we are intrinsically interwoven into the fabric of English football and the Premier League. What we do makes it a bit shit/exciting too.
Yes, there have been the numerically big wins against City and Southampton, progress in the Europa League and the League Cup, and vastly improved performances on the pitch. But in a bid to walk the middle ground this needs to be weighed up with the reality that this season we have only beaten Stoke and Manchester City of the current top ten. Of the other teams in that group we've been beaten by Manchester United, West Ham and Crystal Palace and drew against Arsenal.
It needs to be balanced against the fact that had we beaten Newcastle on Sunday it would have been the first time we had won more than two league games on the row since February/March. In that run, we managed to win five on the bounce, beginning with victory against Spurs and ending with a win over Swansea.
It needs to be balanced against poor home form and a tendency for too many players in this side to begin believing their own hype after a couple of good games.
Again, none of this is news. And I don't highlight them to denigrate this team. It just shows what Klopp faces and what he has to fix. I'd love him to, but I don't see him being able to iron out all these problems this season. It's just the way it is. It's the way we are. It's the way this league is.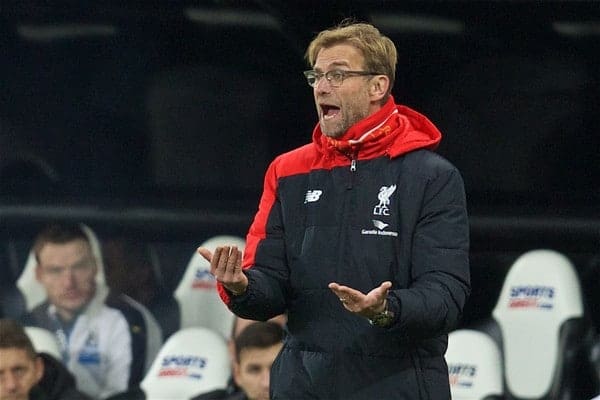 Our defeat against a side in the bottom three will be filed in the same draw this weekend as 14th-placed Chelsea being beaten by Bournemouth, title favourites Man City being comfortably beaten by mid-table Stoke, newly-promoted Leicester going back (yes, back) to the top of the league and the free flowing cavalier which is Man United refusing point blank to score any more goals at home… ever again.
I'm confident we'll win the league with Klopp one day. However, it won't happen until we stop contributing to the madness and the inconsistency of the Premier League, but instead rise above it.
Routine, expected victories bring home titles.
But you knew that.