With Liverpool cast adrift of Champions League qualification after defeat to Man United, Jurgen Klopp must prioritise ending the club's trophy drought for the rest of the campaign.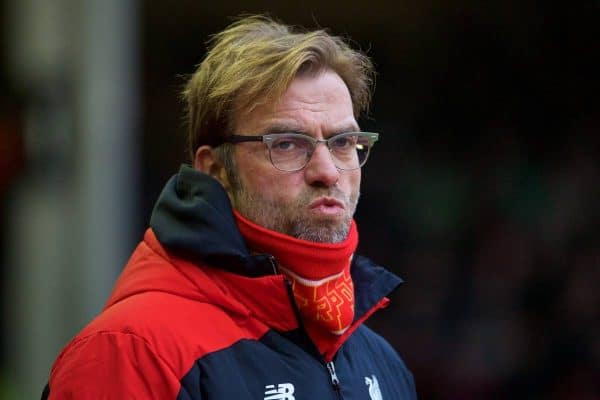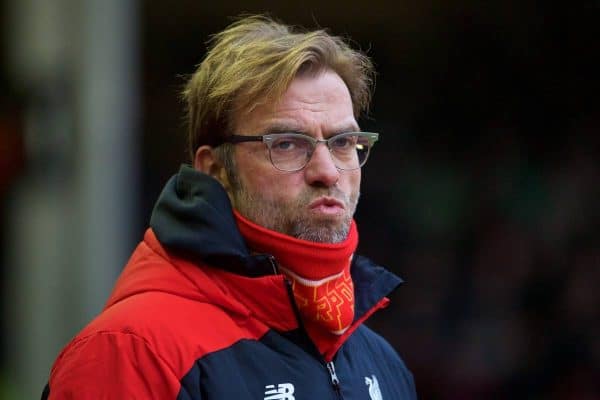 Just over half-way through the 2015/16 calendar, Liverpool's Premier League campaign is all but over at an embarrassingly early stage.
Sunday's underserved but poor defeat to United leaves the Reds languishing in ninth position – eight points behind fourth placed Tottenham – and realistic hopes of a second half of the season surge for a top four finish dashed.
With little genuine chance of grabbing fourth spot left but numerous trophies up for grabs, Klopp must now prioritise cup glory for the rest of the season.
Premier League Failure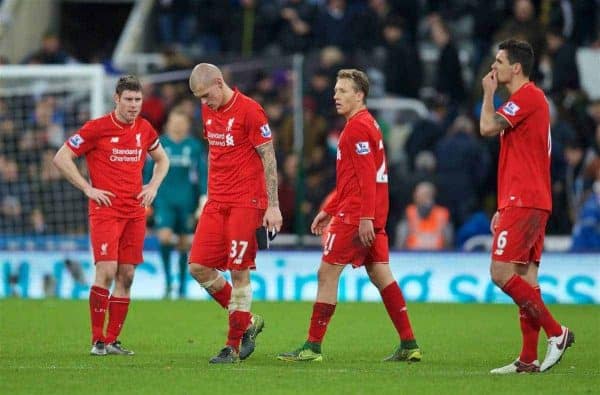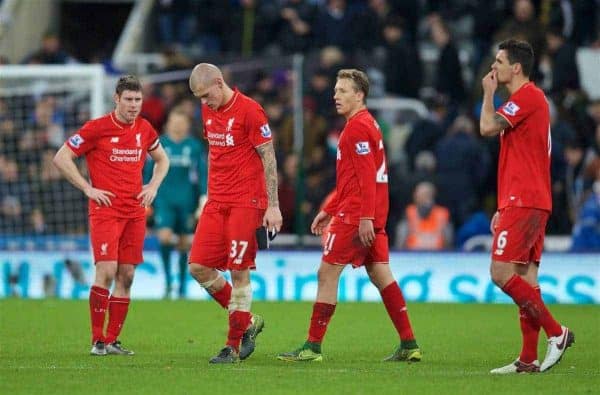 Aside from a quick start and a brief upturn upon Klopp's arrival, it's been another forgettable league campaign for the Reds.
Briefly – and crazily – discussed as title contenders after Klopp's initial impact, Liverpool sit entrenched in mid-table obscurity, sandwiched between run-of-the-mill Crystal Palace and Southampton. Sadly, it's exactly where they deserve to be.
Good performances and results have been all too rare in a league season of overwhelming disappointment.
Only the 3-1 comeback at Chelsea and 4-1 blitzing of Man City have provided moments of real positivity, with the Reds coming unstuck too often in games that should have seen routine points won.
Deficiencies at both ends of the pitch have proved Liverpool's continued undoing, with the current -3 goal difference after 22 games the second lowest posted at this point by an Anfield side.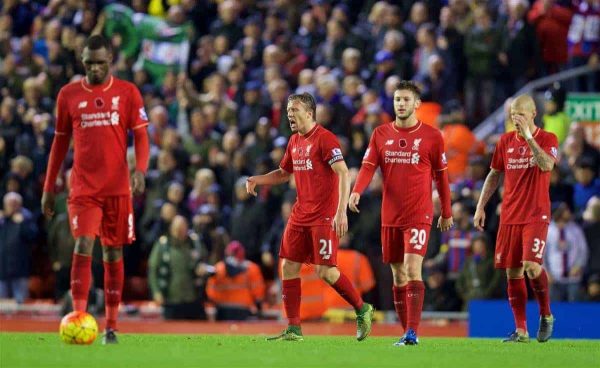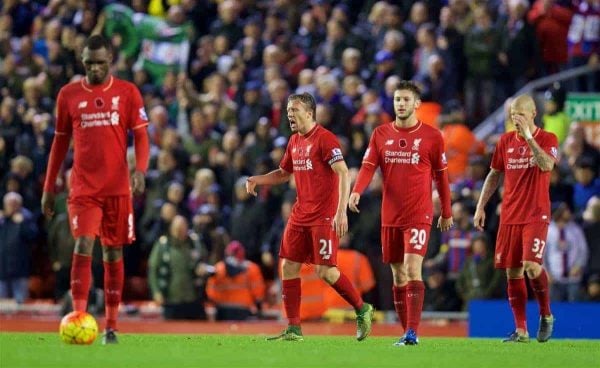 That woeful tally – made up by a pathetic 25 goals scored and an even worse 28 conceded – has seen only 31 points won – with just eight wins – despite having surpassed the midway point of the fixture list.
Defensive and offensive failure – under Brendan Rodgers and Klopp – has left Liverpool lacking the ability alongside the mentality to sustain any positive form and improve their standing.
Instead of being in the thick of the battle for fourth, Liverpool wallow in the midst of Premier League mediocrity.
The Reds look set to miss out on even securing Europa League football; though that could be a blessing in disguise allowing Klopp to focus on an improved league showing in his first full season in charge.
The league journey is practically done and dusted, but there is plenty left for Liverpool to fight for yet.
Cup Opportunities

Prior to the second league season-derailing defeat to United in as many years, Jamie Carragher was unequivocal in his view that Liverpool's most important upcoming game was not against their rivals.
That, in the Kop legend's opinion, is instead the looming League Cup second-leg with Stoke, but though hasty in that assessment – a grudge match win would have catapulted Liverpool into top four contention – he is certainly right now.
With a trip to Wembley for a shot at glory attainable with only a draw against the Potters, Klopp has a huge chance to end Liverpool's trophy drought just four months into his reign with a first success since 2011.
What a start to life on Merseyside it would be.
Before a potential trip to 'Anfield South', the Reds have to negotiate their way past Exeter in the FA Cup replay – a game Klopp previously said the youngsters who battled to a 2-2 draw at St James Park would be given another chance to seal progression in the return.
But following Sunday's loss and the need to guard against an embarrassing exit with the historic competition a chance for now all-important silverware, the 48-year-old may have to re-think his plans and deploy a stronger team.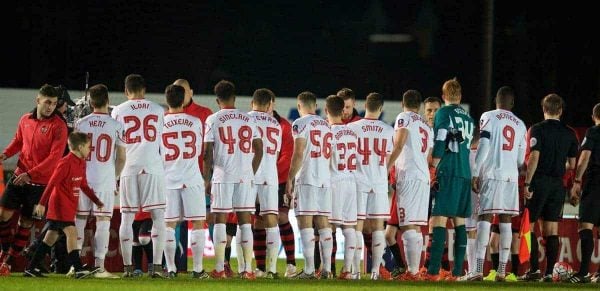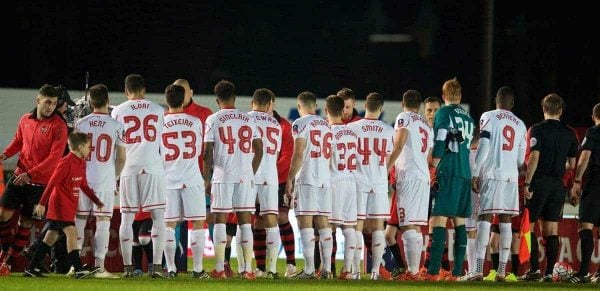 Klopp has shown his high valuation of the Europa League from the day he arrived, partly affecting league form by questionably playing almost full-strength sides on both platforms despite little rest between games.
The significance of the competition is now even greater, with it representing a difficult, but the only way of securing a Champions League return. Klopp can now afford to go all-out with league damage already done.
Overcoming Augsburg next month would place Klopp's men in the last 16, and if the luck of the draw is kind and the Reds battle to the last eight, who knows what could happen.
Liverpool have appeared better set-up to perform in one-off games, rather than in the slog of the Premier League, and with the rewards on offer, Klopp can ensure his team go all out for cup success.
Platform for Progress

Progression will continue to be a slow process with plenty of work to do for Klopp, but trophies can only help making those forward steps.
Gathering cups in May is what the Reds become famous for, and doing so again would put the club back in the attention of the football world, which would aid Klopp's transfer plans and prospects.
Claiming winners' medals in any of the competitions would also help instill a winning mentality and experience of dealing with the big stage in winner-takes-all situations the squad desperately needs – or at least those who Klopp wants to keep.
After League Cup glory in 2015, Chelsea went on to win the title three months later, while Arsenal's first silverware in nine years with the FA Cup in 2014 saw them win a second in as many seasons.
Winning one this season could provide the catalyst for further success.

Re-establishing the know-how of filling trophy cabinets is what Klopp now has to do, especially without having the lure of Champions League football through league qualification.
The least it would do is put Liverpool back in focus, rather than constantly being seen failing in cup tournaments alongside lingering in Premier League obscurity.
The league is now a distraction and must be treated as such in order to maximise the chances of securing some much needed cup success.
[interaction id="569c1eef6f21c9dc05913493″]