Liverpool assistants Zeljko Buvac and Peter Krawietz have discussed their special relationship with Jurgen Klopp.

Buvac and Klopp have been great friends and colleagues for many years now, having worked alongside one another since their days at Mainz in the early 2000s.
Speaking to Paul Joyce of the Express, 'The Brain' spoke about Klopp's likeable personality and will to win, and also how Liverpool was simply too good an offer to turn down.
"Kloppo as a player was the same as he is as a manager. His character was the same, he wants to win, you cannot help but like him," he said.
"Both of us were looking to become managers and we promised each other, 'If I am the first manager, I will take you and if you are the first manager you will take me.' He came first. It is a friendship.
"Before every training session and after every training session we talk together. Before every match and after every match we talk.
"In training I am observing and watching and if I have the feeling something needs to be changed I will speak to Kloppo. We discuss it, 'Why should this be? Why that?' But it is a decision we come to together. That is the way in training and that is the way in the match.
"If it is necessary, I get up from the bench and that is okay. I don't need to ask. Together with Peter we have six eyes. You see more than if only one man is looking."
[…]
"Liverpool is more than an interesting club that is clear. I knew that after Dortmund this was a good step as the next club. I don't think he needed a long time to think about Liverpool. You must say 'yes'.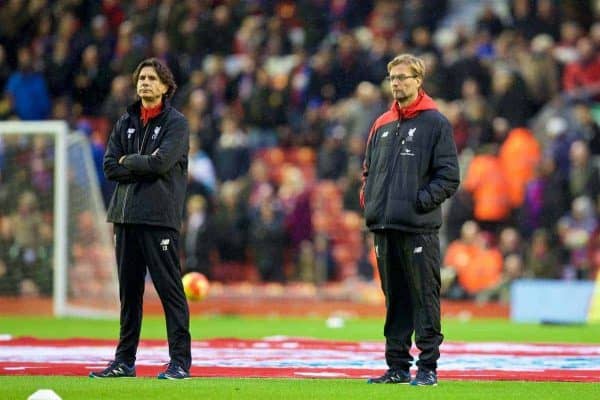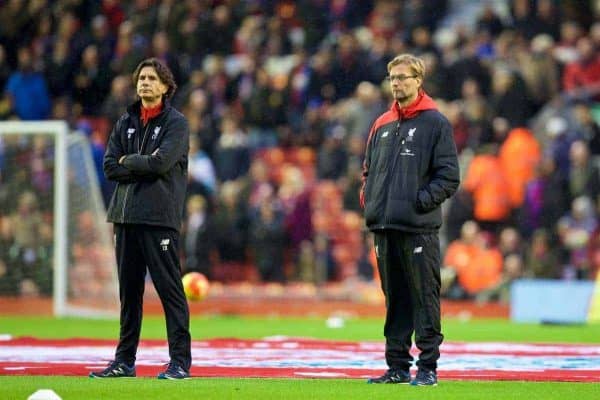 "Liverpool has big tradition and the feeling was that with hard work you can create maybe a new era, new successes. That was part of the attraction."
Meanwhile, the Reds' assistant coach Krawietz conducted an interview of his own, sitting down with the Telegraph's Chris Bascombe.
Krawietz gave an intriguing insight into what some of his job entails.
"In Mainz and Dortmund video analysis was my main task," he said.
"Here it is different because we already have a department doing all this stuff and I try to prepare – filter all the information we need and prepare meetings for the team.
"Now we have the computer in the dressing room on a match day, a projector and then the screen.
"I don't know if we were the first to do it when we started at Mainz but we like to immediately show the players what we mean. A manager can explain a situation, ask the player about it and then we can show him. You've got it there to see it. It makes it easy for players to understand.
"Hopefully it should mean you correct the faults every time. I'm making the list during the game seeing what is important for us, working out if the problem is one scene or a trend – maybe a defensive problem or spaces we are not using, or the opponent has changed their set-up.

"We use this, especially at the moment, to improve the development. It is very important to be able to react at half-time and show what we can do better. We also have the cameras outside on the training pitch to use if necessary."
Krawietz also discussed how he met Klopp, and believes it was always clear that the 48-year-old had the attributes to become a top class manager.
"I began as a student in the University of Mainz and he worked with my professor. I became part of the scouting team. That's how I met Jurgen," he added.
"When I started my work there was a situation where I presented my analysis, telling him what he should have done.
"'What? Me?' he said to me. It was very funny. It was my task to tell him what he'd done wrong. Then we had a 'discussion' – if I can put it like that – as he asked me why I suggested this. It was the first time we spoke about football I can remember. It was the start.
"I always saw the possibility of him becoming a manager. He was an important player for his team but not the best player, but he had the attitude, leadership skills and understanding of his game to know what he could and could not do. He was always thinking for the team. He was very interested in the tactics and it was clear he was an outstanding person."
It is clear to see that Klopp, Buvac and Krawietz have a special friendship as well as a hugely effective working relationship, and that can only bode well for Liverpool.
[interaction id="5698c8a76f21c9dc057b48d7"]