Following Liverpool's agonising League Cup final shootout defeat to Man City, we round up the best of the media reaction from Wembley.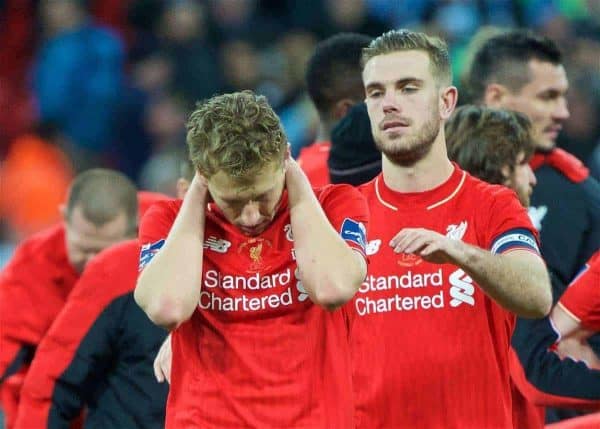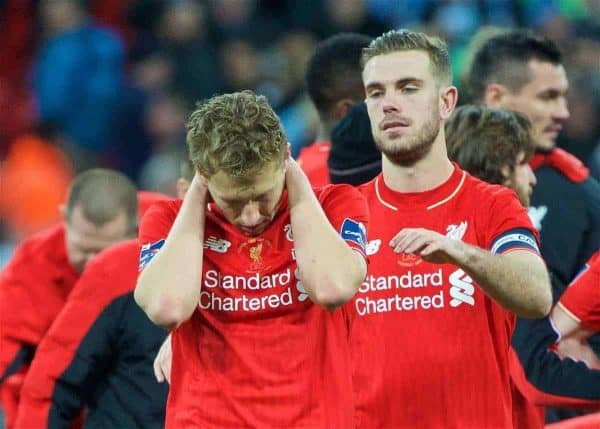 Liverpool came up short in their quest for a record ninth League Cup title, losing out on the lottery of penalties to Manuel Pellegrini's City.
Three poor spot-kicks from Adam Lallana, Philippe Coutinho and Lucas Leiva under ultimate pressure denied Jurgen Klopp a dream first trophy in charge of the Reds just four months into his Anfield career.
It was a harsh outcome after a courageous performance that threw up more positives than negatives despite defeat – the second Klopp has experienced at Wembley having lost to Bayern Munich in the Champions League final with Borussia Dortmund three years ago.
The huge disappointment following a defeat on the big stage will naturally hurt, but the pain must provide Liverpool with the inspiration to ensure better times are coming in the not too distant future.
Here is how the media reacted to the game.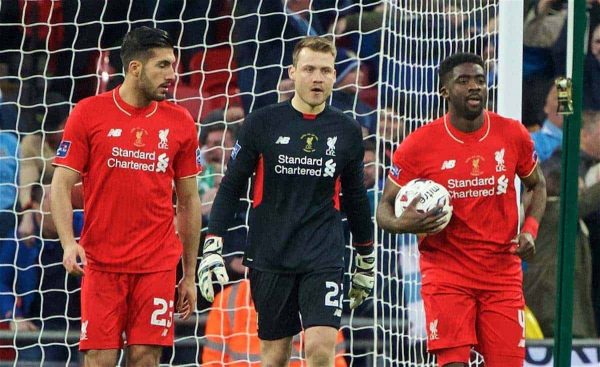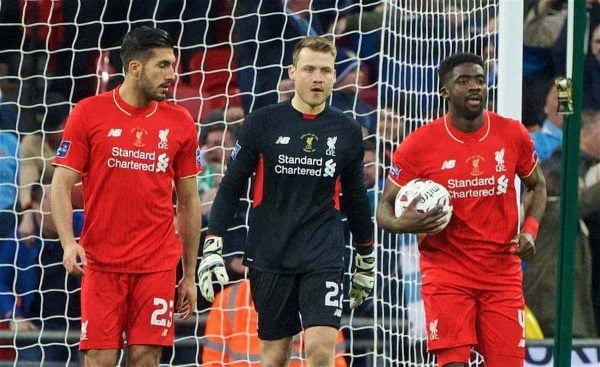 There was much focus on the mixed fortunes of Simon Mignolet, with the Belgian showing the best and worst of his game at Wembley.
The BBC's Phil McNulty wrote:
Liverpool keeper Mignolet showed the inconsistency that brings him as much criticism as praise.

The Belgian was badly at fault for letting Fernandinho's shot slip under his body but redeemed himself – and more besides – with some stunning stops from Aguero, and also dived bravely into a six-yard box scramble to clear as City threatened once more.

This, it seems, will always be life with Mignolet in goal but Liverpool manager Jurgen Klopp trusts the keeper the extent that he was recently awarded a five-year contract.

It still remains to be seen whether he is the long-term solution because he simply cannot eradicate important errors from his game.
The Telegraph's Chris Bascombe wrote that City won the "battle of the stoppers":
For Mignolet a chance to turn disaster into triumph was gone. The groan when Fernandinho's goal was replayed in front of the Liverpool supporters said it all. Mignolet has endured more lows than enjoyed the highs since moving to Liverpool. His save to deny Sergio Aguero suggested this would be one of his better days.

The 50th minute shocker undid the good work of the first half. Mignolet has stated how psychology plays an important role in his preparation. If [he] felt rejuvenated at half-time, it did not last. Wembley is like a magnifying glass. Whatever your strengths or limitations this venue gives them the full glare. Mignolet could not escape culpability.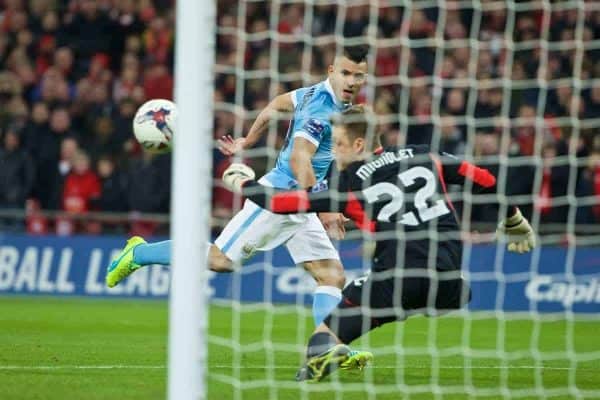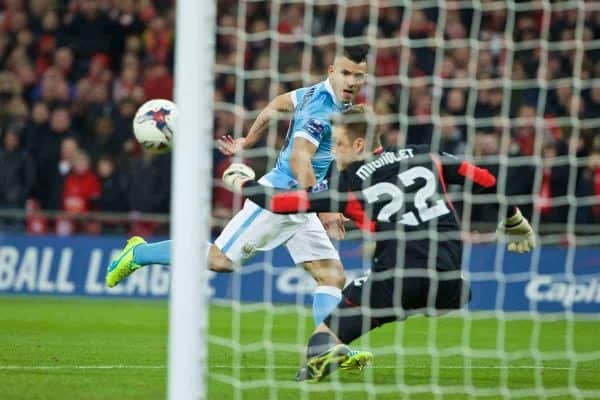 Paul Joyce of the Express said on this:
The narrative that goalkeeping inadequacies would shape the final was to be realised in one sense with the opening goal a personal calamity for Simon Mignolet.

The midfielder flashed a shot at goal from a tight angle and Mignolet inexplicably allowed the drive through his flimsy defences.

The look on the faces of Liverpool's owners, Fenway Sports Group, was said to be a picture, but the contest proved a microcosm of an Anfield career that presumably must be back in doubt.

The Belgium goalkeeper made exceptional saves before and after the aberration. He pushed an Aguero shot on to the post with his left hand in the 23rd minute before thwarting the Argentinian with an even better save in the 104th minute.

Perhaps for once Aguero was too nonchalant after Jordan Henderson had inadvertently played a ball into his path and Mignolet flicked out his left hand to produce an excellent stop.

Put plainly that is his job. His inconsistency is maddening and but for his error Liverpool would somehow have won out.
The Guardian's Daniel Taylor also noted:
Liverpool, trying to win this competition for a ninth time, had already beaten Carlisle United and Stoke City this way, but while Caballero was hoisted on to the players' shoulders, with the Wembley arch illuminated in blue and white and Daniel Sturridge reduced to tears, the final will be remembered as a personal ordeal for Simon Mignolet bearing in mind the unremarkable shot from Fernandinho that opened the scoring.

It was a wretched goal to concede and the unfortunate truth for Mignolet is that moment reminded us why many Liverpool supporters are perplexed he has been awarded a new five-year contract. Mignolet made some fine saves either side of that mistake but, unfortunately for him, they will quickly be forgotten in the context of the one he let through his arms.
The Guardian's Andy Hunter wrote:
Wembley witnessed the good and bad of the Liverpool goalkeeper in microcosm and he will look back with bitter regret at the error that contributed to his club's misery and left Jürgen Klopp with a major decision to make on his goalkeeper come the season's end.

[…]

Klopp has been steadfast in his support for the Belgium international but the goalkeeper's entire Liverpool career was encapsulated by one inconsistent afternoon at Wembley. Smart and sharp when turning Agüero's first-half shot on to his left-hand post, weak and lax when Fernandinho's angled drive somehow flew through his guard at the near post to open the scoring.

Mignolet's unreliability will have come as no surprise to those Liverpool fans who issued a collective groan when the Wembley screens replayed a shot that, though hit with brute force by the Brazilian, did not change its trajectory en route to the net despite a 6ft 4in goalkeeper standing in the way.

But there was huge praise for Lucas, who many felt turned in a man-of-the-match performance at the heart of Liverpool's defence, after surprisingly being picked ahead of Kolo Toure from the start.
Bascombe penned in his post-match analysis:
When Lucas was first used as a centre-back earlier this season there were gasps. Clearly Klopp had spotted the potential of the Brazilian in a role usually reserved for those several inches taller. [But he] may have extended his career by reinventing himself as a centre-back. He possesses the poise so lacking in others and his ability to play from the back is another facet to his game.

There could be no greater challenge than to face Sergio Aguero in [a] cup final, but Lucas was consistently in position. Aguero could not be kept out of the game, but it's doubtful he's played against a more accomplished opponent this season. Lucas did not deserve to be among those missing a penalty, but having won all their previous penalty shoot-outs in a final the law of averages finally caught up with the Merseysiders.
David Usher, for ESPN, wrote:
Selected to start in defense over Martin Skrtel, Dejan Lovren and Kolo Toure, the Brazilian justified Jurgen Klopp's faith with another fine display. He read the game impeccably, used the ball efficiently and won countless headers, despite his relative lack of height. He is no longer a "makeshift defender" – he's the real deal. It was cruel that he should be one of those to miss in the shootout, as he was the best player on the field for 120 minutes.
The Independent's Simon Hughes noted:
That Lucas's name was present at the moment of reckoning proved to be significant. He was Liverpool's best player, his defiance a feature of the narrative from the instant he soared highest to head clear a Bacary Sagna cross from the zone of uncertainty between goalkeeper and defence in the opening five minutes. Yet he also missed a penalty in the shoot-out.

The Brazilian could not have had too many visions during a childhood spent in Porto Alegre, where he was regarded as a box-to-box midfielder, of anchoring Liverpool's defence in a game of such importance.
But in his tactical assessment for the Guardian, Michael Cox felt Lucas was exposed and "given the run around" by Sergio Aguero:
Lucas's strategy for coping with Agüero was to stick tight, prevent the striker from turning, and get extremely physical. Brazil v Argentina battles are rarely timid and it was remarkable Lucas lasted the 120 minutes without a booking, considering the ferocity of some of his challenges from behind.

The Brazilian was comfortable in those situations but had little solution when Agüero was running in behind, and was repeatedly outpaced.

[…]

Agüero was determined to play up against Lucas, and having spent the opening moments in inside-left positions, now followed the Liverpool player across to the other side.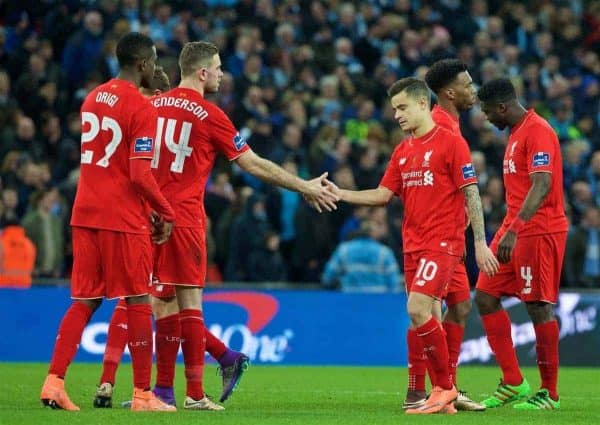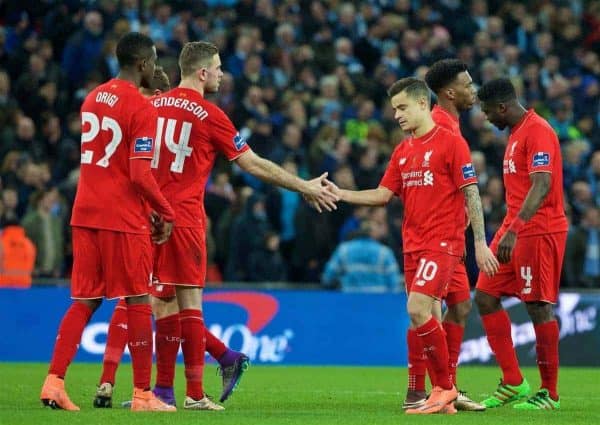 A sobering afternoon with an agonising shootout defeat, many felt the loss threw up more positives than negatives for Liverpool, and can help shape the Reds' future.
For Goal.com, Melissa Reddy said on this:
The manager himself will know that there is no solace in finishing second best, but the Merseysiders can take comfort in the fact they fought to take the match to penalties when City were in the ascendancy.

[…]

Every Liverpool player will feel every bit the loser on Sunday, but they showed evidence of why their rebuild under Klopp will have much happier times.

The German has demanded 'fighting football' from day one and while it won't immediately seem like it, his side had their gloves on at Wembley. Rewind to Liverpool's previous appearance at the national stadium, which was against Aston Villa last season, and the difference is stark.

Every Liverpool player will feel every bit the loser on Sunday, but they showed evidence of why their rebuild under Klopp will have much happier times.

The German has demanded 'fighting football' from day one and while it won't immediately seem like it, his side had their gloves on at Wembley. Rewind to Liverpool's previous appearance at the national stadium, which was against Aston Villa last season, and the difference is stark.
The Liverpool Echo's James Pearce penned:
Yet amid the fallout there was hope. "Light at the end of the tunnel," was Klopp's phrase.

Over 120 minutes Liverpool went toe to toe with the most expensively assembled team in English football and came out second best by the most narrow of margins.

The applause from the 32,000-strong travelling Kop at the end spoke volumes. It was a show of appreciation for what they had witnessed.

Of course there were flaws. It's crystal clear that this is a squad in need of some major surgery and Klopp will be granted both the time and patience he needs to mould it in his own image.

But just the fact that Liverpool made it to Wembley was a sign of the progress Klopp has overseen over the past five months. Operating with someone else's players and hampered by serious injury problems, the German has united and galvanised the club.

The Telegraph's Paul Hayward felt Klopp was given a reminder of the size of the task that faces him at Anfield:
German witnesses who know him say he was genuinely excited by the idea of returning Liverpool to the summit, and was in it for the long haul. But no coach, however wise, can know the unique challenges of the Premier League before they are upon him.

[..]

So we have not yet seen Klopp the team-builder and club-shaper because he has been too busy trying to get the best out of a squad thrown at him by the people who put it together in the John Henry years.
McNulty wrote on this:
Defeat will hurt and the German will not buy suggestions that this was something of a free hit because no-one expects him to collect trophies in a season that is largely about transition after succeeding Brendan Rodgers.

Klopp's mind does not work like that – but this was a Liverpool display that will have crystallised some issues.

[…]

Klopp is an outstanding, charismatic manager with proven credentials at Borussia Dortmund and his task is to move Liverpool forward with that higher echelon of player, with the support of owners Fenway Sports Group.
And in his post-match thoughts for the Mirror, Mike Walters praised the travelling Kop:
In the days of the old twin towers, Liverpool fans used to refer to the national stadium as Anfield South because it was their second home.

Trips to Wembley have been less frequent, and less kind, this century – but emissaries from the Kop always lend a vibrant atmosphere to the place.

And in one respect they remain unrivalled among supporters across the land: In lean times – and there have been plenty of those in 26 years since Liverpool were champions – they have never turned on their own players.

Grasping American owners, yes, but never the team.