The return to fitness of key attacking personnel presents Jurgen Klopp with a welcome array of exciting options to pick from for vital upcoming games.

Tuesday's FA Cup exit further compounded a miserable season for Liverpool, but despite elimination, huge positivity came with the returns of key attacking players.
The eye-catching comebacks of Philippe Coutinho and Daniel Sturridge, and reappearance of Divock Origi, hand Klopp quality and depth desperately lacking over recent difficult months.
Alongside the in-form Roberto Firmino, plus Christian Benteke, Adam Lallana and Jordon Ibe, numbers have been helpfully boosted at a time the Reds boss looks to salvage the campaign with League Cup and European success.
With options come selection headaches, and Klopp will have his fair share with the refreshing range of exciting selections now at his disposal.
Personnel and Set-Ups

For the first time since taking charge, Klopp has a healthy and quality attack to pick from after a hard period in which the Reds have struggled in the final third.
The German can now deploy his strongest offensive line up and also has the ability to spring a surprise, switch offensive systems and rotate – luxuries he has yet to enjoy.
Traditionally a 4-2-3-1 man, Klopp finally has the chance to install the fluid attacking system he's waited patiently to introduce.
Within it, Coutinho and Lallana could flank central figure Firmino in a creative, tenacious attacking support of lethal lone striker Sturridge, who brings a blistering cutting edge as the focal point.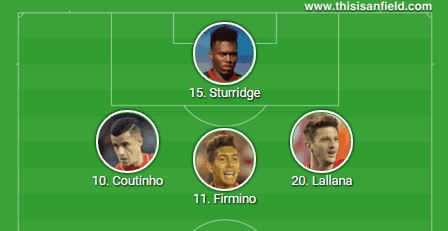 Alternatively, Klopp may reunite an interchangeable, aggressive front three as utilised in the destructions of Chelsea and Man City earlier this season.
With Firmino and Sturridge offering high-quality, mobile strikers, the Brazilian and compatriot Coutinho and Lallana offer energy, technique and quick-thinking assistance to bamboozle opposition – allowing the disruptive James Milner to fight for a midfield shirt.
A tough decision would be forthcoming with one – likely Lallana – to miss out in a three man offense, but having the energy and intelligence of the ex-Saint to call upon provides an impacting reserve, with blossoming talents Origi and Joao Carlos Teixeira also ready.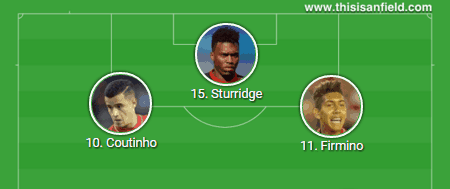 Before switching shape, Klopp could keep his favoured four man forward line, but play with a different outlook.
Liverpool have lacked genuine width and depending on the game and opposition, Ibe can supply it as a direct, pacey threat stretching opponents, in turn freeing space for fellow creators to enjoy.
Easing the creative burden with quality of Sturridge, Firmino and Coutinho, the natural focus on the more experienced football brains around Ibe could benefit the teenager.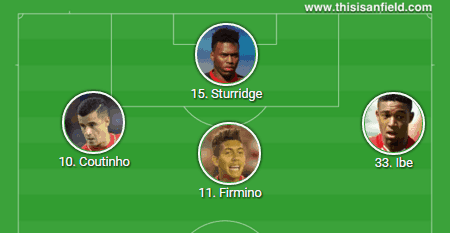 But Klopp has another option and perhaps the most exciting of all – establishing a strike partnership that could prove as devastating as Anfield's last genuine strike-force.
Strike Partnership

With ideal personnel ready and waiting, a potentially lethal strike partnership awaits Klopp's tutelage.
Liverpool have sorely missed raw attacking brilliance since the break-up of the devastating Sturridge—Luis Suarez strike-force, but a version could yet be resurrected.
Partnering Sturridge with Firmino – who boasts a real likeness to El Pistolero – could revive a destructive combination with the way the pair could complement each other.
Firmino, the aggressor on and off the ball with constant harassing, craft and intelligence to unnerve defensive lines, alongside a razor sharp Sturridge bringing a killer instinct to the forward line, could provide Klopp with a game-changing attack.
A potentially skilful, creative and determined duo with a ruthless cutting edge – allowing them to develop an understanding with the right midfield support behind could prove a genius move.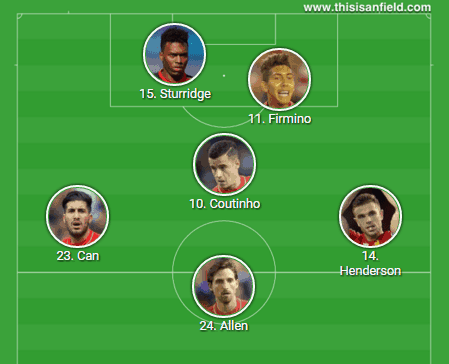 Despite yet to play a minute together, it's a prospect of mouth-watering promise that could be key to Liverpool enjoying better fortunes. But it would leave no room for Benteke.
The Belgian is a huge problem for Klopp having done little once again to show he should be a starter, despite a brighter display after Sturridge's entrance at Upton Park.
Missing numerous chances that ultimately cost the Reds progression all but condemned the £32.5million man to being a desperate 'Plan B' for the foreseeable future.
Unless a brutal injury crisis reoccurs, his chances of a first Premier League start since the 2-0 league loss at West Ham in the first 2016 fixture look increasingly remote.
Benteke's Anfield future already looks bleak and it's surely only a matter of time before Klopp moves him on, making it pointless building an attack around him.
[interaction id="56bc61023c42ab681c69934c"]
Upcoming Selections

Liverpool have some vital games looming in domestic and European competition.
In a crucial period, Klopp will need to think carefully and plan his attacking selection one step ahead.
Sturridge must be reintroduced gradually without overplaying, increasing injury risk, having instantly showed why it is absolutely vital he stays fit.
Firmino is therefore the man to lead the line against Aston Villa on Sunday, joined in attack by restoring Lallana to play with Ibe or Milner – or even all three – allowing his potential strike-partner and Coutinho to sensibly manage comebacks.
Sturridge's next start – and Coutinho's – should come in the crucial Augsburg first leg, with the Reds needing a positive result in Germany to allow for a straightforward return game just three days before the League Cup final.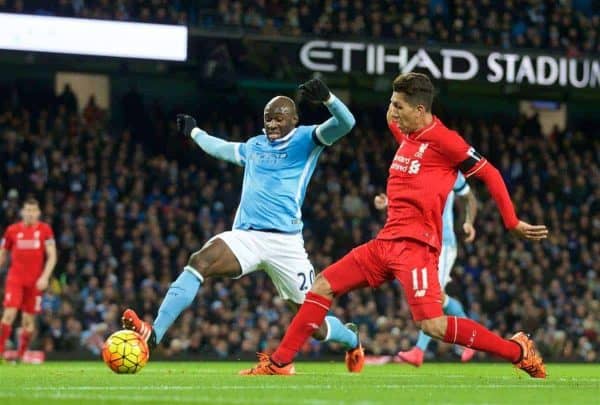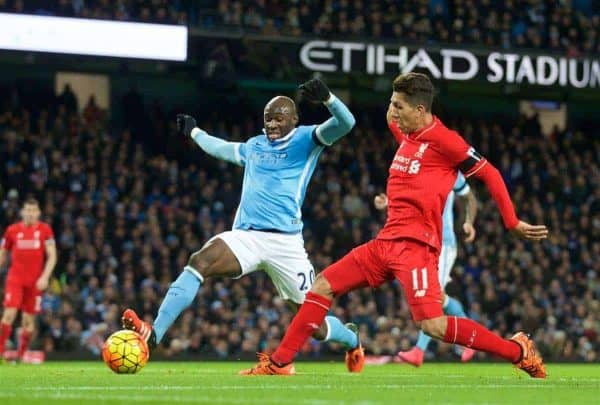 Wembley could then see the first outing for the theoretically dazzling Firmino–Sturridge strike-duo on the biggest stage.
Having ripped Man City to shreds in November, replicating it would be made all the more realistic with the two playing in tandem.
But Klopp could go with the same trio that fired Liverpool to a 4-1 dismantling of their final opponents and no doubt scarred the minds of City's defence.
Regardless, Klopp has options and most importantly quality to selection, making for a welcome change.
[interaction id="56bc6296e55f8d3b22b48d2c"]