While Liverpool FA Cup's elimination on Tuesday was tough to take, it will help keep Jurgen Klopp's squad fresh ahead of the League Cup Final.

Going out of the FA Cup in such gut wrenching fashion hurts, but the defeat now leaves Liverpool able to focus on three remaining competitions this season.
The Premier League is, in all likelihood, now little more than a case of finishing as far away from mid-table as possible, but the League Cup and Europa League do represent chances of a trophy.
The Reds have averaged over two games a week since Klopp's arrival in October and injuries have played a part in his team's stuttering performances.
Going out of the FA Cup will actually help in that respect and, assuming everything goes to plan, Klopp should have a fit, fresh team to select for the League Cup Final with Man City on 28th February.
The perfect scenario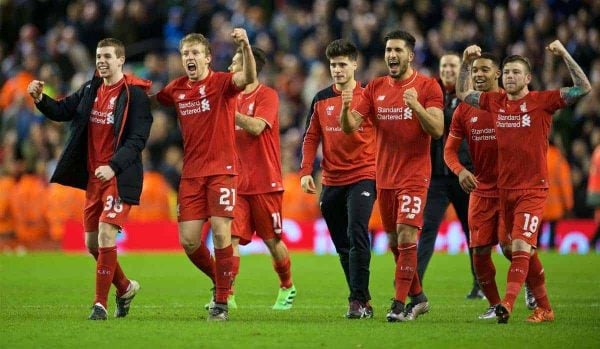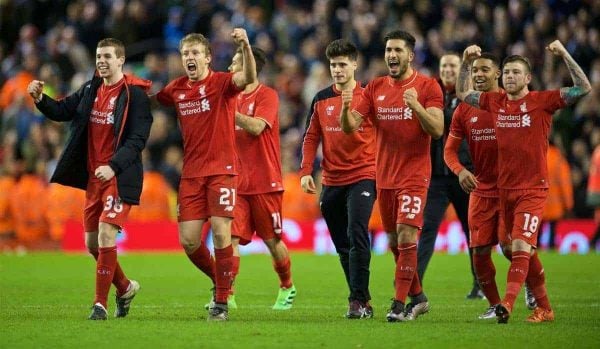 After Sunday's trip to Aston Villa, Klopp and his Liverpool squad visit Augsburg for the first-leg of their Europa League last-32 clash next Thursday.
For all of the Reds' struggles in 2015/16, it would be a surprise if they failed to overcome a team currently 14th in the Bundesliga over two legs.
Klopp should name a strong starting line-up in Germany, with no FA Cup fifth round commitments meaning a rare, free weekend following.
This is a best case scenario, but the hope is that Klopp's men can get most of the job done in the first-leg, therefore allowing him to rest key figures seven days later at Anfield.
Should this happen, it would effectively give a number of players a 10-day break heading into the Wembley showdown.
City beware

For much of the campaign, it has been hard to deny that the Reds have looked very average on paper. Important players have often been missing, and a lack of quality has been there for all to see.
However, there are signs that things are starting to come together in terms of available personnel and Klopp could have close to his best possible starting eleven available for Wembley later this month.
That is, of course, assuming the injury curse doesn't return in the meantime.
Many of us have spent the season longing for an attacking trident of Philippe Coutinho, Roberto Firmino and Daniel Sturridge and it is finally close to coming to fruition. The trio have never been on the pitch together this season thus far.
Klopp will no doubt be careful in not overplaying Coutinho and Sturridge against Villa and Augsburg, but just having them back in the fold is huge. The duo's class shone through against West Ham, despite the result.
Firmino, meanwhile, has been Liverpool's best player in 2016 so far and is someone who will be even better with similarly top class footballers around him.

Having the trio together in the same side is a mouthwatering prospect, and if none are required in the second-leg against Augsburg, it would be perfect heading into the City game.
Mamadou Sakho and Jordan Henderson are also two important players, but both have looked sluggish in recent weeks.
Sakho looks as though he needs time on the training ground to get his touch back, and for the first time in months, he should get that over the next couple of weeks.
Henderson's ongoing heel problem is a real issue, and wrapping the captain in cotton wool until the final is a potential option for Klopp.
The England international has clearly been hampered hugely in recent matches, and using him sparingly against both Villa and Augsburg, if at all, would be a shrewd move.
Klopp hasn't yet been able to enjoy a good run of training sessions, but the freeing up of fixtures that the West Ham defeat has created will allow him to have his side perfectly drilled for Wembley.
On the flip side

Considering how frustrating and unpredictable Liverpool's season has been, there is every chance that things won't pan out as perfectly as this.
It would be churlish to simply write Augsburg off, and they could quite easily win the first-leg in Germany next Thursday.
That would then completely scupper Klopp's plan of rotating for the return fixture, which comes just three days before the City game.
All of a sudden, the 48-year-old would have to start weighing up which competition was more important, and who should play in each game.
There isn't even 72 hours between the two kick-off times, so making any outfield player feature in both matches would be asking a lot of them.
A cup final would surely take precedence, even though Europa League glory means a place in next season's Champions League.
The belief and winning mentality that a League Cup triumph would bring, especially in Klopp's first season as Liverpool manager, would be huge for the squad.
Fingers crossed

Very little in 2015/16 has gone to plan, from a ridiculous amount of hamstring injuries to limp league results, but there is reason for positivity currently.
Coutinho and Sturridge, arguably the two most important players at the club, are back fit and the team is finally about to get some rest.
If Klopp can get a positive result in Augsburg with a strong side, allowing him to make numerous changes at Anfield, it will be perfect ahead of the League Cup Final.
It would allow the squad to be fresher than they have been all season, and extra time on the training ground will prove priceless for both Klopp and his players.
City understandably go to Wembley as favourites to lift the trophy, but Liverpool could be in just the right physical shape to spring a surprise.
Potential League Cup Final starting XI: Mignolet, Clyne, Lovren, Sakho, Moreno, Lucas, Can, Henderson, Coutinho, Firmino, Sturridge.