Saturday's walk-out protest at Anfield made the headlines more than Liverpool's 2-2 draw with Sunderland, attracting attention around the globe.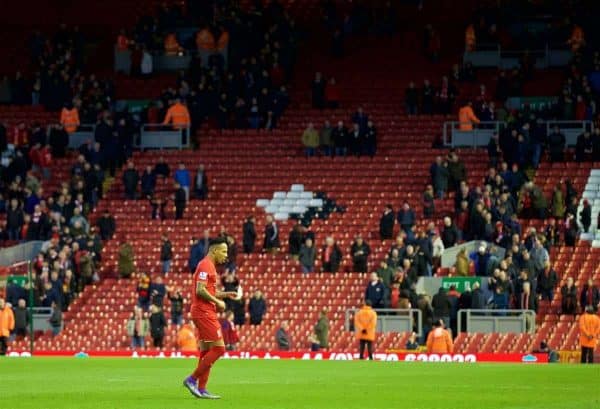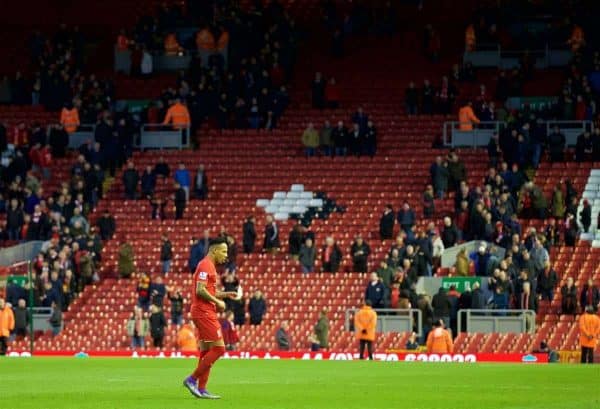 It was a strange afternoon on Merseyside and you couldn't help but feel that everyone was just waiting for the protest to arrive on 77 minutes.
By most estimates, roughly a quarter of Anfield, 10,000 supporters, left their seats and headed for home with 13 minutes left, telling owners FSG exactly what they think of any increases in 2016/17 ticket prices in the process.
The watching media understandably put much of their post-match focus on the walk-out, with the Reds' capitulation to the Black Cats playing very much second fiddle.

Andy Kelly of the Liverpool Echo described the events at Anfield:
It wasn't unanimous, far from it. But they were certainly scenes unprecedented at Anfield.

On 77 minutes, with songs of "Enough is Enough" and "You Greedy Ba***ards" flowing from their lungs, a good few thousand Reds fans headed for the exit.

They were surely footsteps that will have been heard back in Boston. A Liverpool legend in Jamie Carragher was among them.

Reds chief executive Ian Ayre will have seen the Paddock underneath his directors' box empty as supporters held their protest signs aloft.

Black flags on the Kop like a funeral for a way of life, for a support, for a relationship like no other in world football?

The Reds directors will have seen it all. Will they take solace from those who stayed or once again try to unite a support which can provide so much? The ball is very much now in their court.
The events were discussed on TV in Canada:
And written about in French newspaper Le Monde:
À Liverpool, les fans désertent le stade pour protester contre le prix des places https://t.co/S5MVue2GQd pic.twitter.com/dHh4hYR1HU

— Le Monde (@lemondefr) February 7, 2016
The Independent's Michael Calvin explained how even Liverpool's players have been shocked by prices for hospitality packages next season:
When Liverpool's players were offered first refusal on "an executive hospitality experience" in a US-style "super box" capable of seating 25 people in Anfield's new main stand, they baulked at the expense

The sales pitch spoke of a "specially designed roof which will project a wall of noise from over 20,000 fans on to the pitch," but the fee, "approximately" £13,000 per person, per season, affronted even the multi-millionaires who are supposed working-class heroes.

Allowing for wriggle room in the negotiating process – many first-team players currently share 10-seater executive boxes which retail at around £75,000 despite being officially priced at £100,000 – that meant finding in the region of £300,000 a year. No deal. No way. No how.

In the words of one source, who admitted he thought he was inured to the absurdities of football's value system: "The game really is going mad." His incredulity was shared by the owner of another executive box, who was offered an upgrade for £250,000 last July.

To put such figures into perspective, the most expensive box at Old Trafford is £175,000. Arsenal charge a top price of £150,000. Soaking the rich to assuage the poor may be an equitable economic principle, but in football the proceeds flow towards the shareholder rather than the spectator.

The Telegraph wrote:
The symbolism did not end with the fans' dissent. The comic timing of Martin Broughton, the ex-chairman, was impeccable as he made a rare Anfield return. Broughton was appointed to oversee the sale of Liverpool to Fenway Sport Group. It must have all seemed so familiar to him.

Kop protests, furious chants directed at the club's American ownership, and – in the opening and closing stages – the kind of putrid football from the home team he witnessed after appointing Roy Hodgson manager. It's not quite 2010 at Anfield, but the last time anti-ownership banners were witnessed on The Kop, Broughton was in the process of ousting Tom Hicks and George Gillett.
The protests were discussed on BBC's Match of the Day, with Alan Shearer backing the fans and saying nobody should have to pay more for a ticket next season when the Premier League have just agreed a new £8 billion TV deal:
The fan protest at Anfield was no excuse for Liverpool, says @alanshearer https://t.co/jn93g20BEd #MOTD https://t.co/KKqKXgMQBG

— Match of the Day (@BBCMOTD) February 6, 2016
Proud of the Reds who made a stand today. Not sure that happens at any other club to be honest. #LFC

— Gareth Roberts (@robbohuyton) February 7, 2016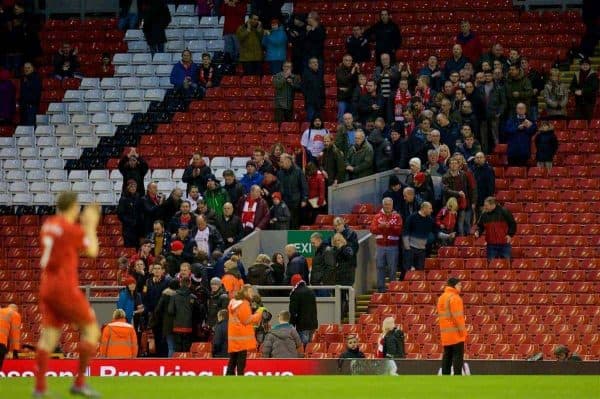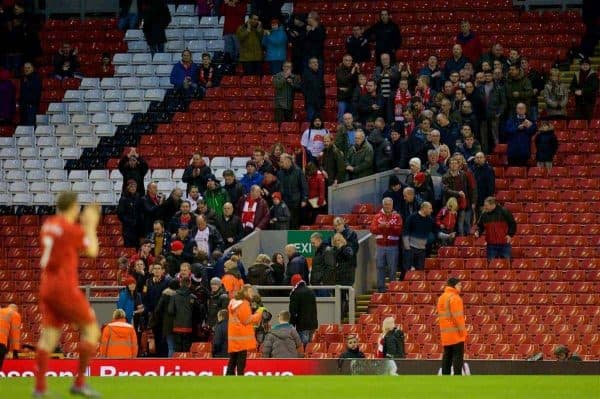 Average household income in Anfield is £23k, £13k off national. Don't tell people who live near the ground what they can and can't afford

— Laura Marie Brown (@MsLaura_Brown) February 6, 2016
For every fan who walked out today there were probably three more at home, long since priced out of going to the game.

— Jim Boardman (@JimBoardman) February 6, 2016
James Pearce of the Echo commented:
This wasn't a one-off. This issue isn't going to go away.

It's not about the 200 top priced £77 tickets there will be for category A games next season, it's about the fact that the cost of watching football is continuing to escalate at a time when top-flight clubs are about to share a TV windfall of £8billion.

Nearly half of the Kop was vacated early and thousands in other parts of the ground followed suit in a show of solidarity.

One elderly man in the Paddock raised a sheet of paper towards the directors box which read simply: 'Disgrace £77'.
Fair play to #lfc fans for walkout. Clubs have to address ticket pricing. TV deal worth £8bn. Pure greed. PR disaster for @premierleague

— Henry Winter (@henrywinter) February 7, 2016
Tough to see fans leave early today and also tough to really comment. Local fans are the lifeblood of a team.

— keith costigan (@KeithCostigan) February 7, 2016
Writing in the Guardian, supporter Rob Gutmann explained why he walked, saying:
The point we were making was this: we're worth more. An £8.5 billion TV windfall deserved to be shared and the launch of a new 8,500-capacity main stand at Anfield represented a major opportunity to do that. The planets were aligning: this was the moment when our club could have made us proud. We could have been first to the punch.

I've been giving Liverpool my money as a season-ticket holder for 30 years. They've got me. Like all of us, a slave to football's rhythm. We'd just like to feel they weren't laughing at us.

Today felt like a flag had been planted, and maybe things will never be the same again. I expected sadness but there was mainly stoic pride. The Kop, defiantly mute for an hour, roused itself with trademark angry majesty on 75 minutes and cheered the faithful home. Never so literally.

77 and out. So many of us gone – hopefully not for ever. But enough is enough.
Football365's Daniel Storey wrote, appropriately, that the ticket issue is a problem for all supporters to come together against:
Perhaps walking out will make a difference, perhaps it won't; that's beside the point. This is about reminding Ayre, John Henry and FSG that long after they, the players and the manager are gone, only the supporters will remain. When Anfield's new main stand has gathered moss and weathered in the rain, still the fans will sing. Protest is not just a response for revolutionaries and anarchists, but from those who have united to say "no more".

Liverpool's situation is replicated to lesser and greater degrees all over the country, so fans as a whole must stick together. Those who have become entrenched in tribal obsession, remember: In this battle of 'us vs them', supporters of Tottenham, Arsenal, Chelsea, Manchester United and Liverpool are all on the same side.

So do not mock those who preferred to stay in their seats at Anfield. Do not scold others that left for their alleged disloyalty. Rather than scoffing at empty seats in other grounds, understand the explanation. Each one is a lurid plastic shrine to the greed of modern sport.

Most of all, don't stop fighting the fight. The moment that football supporters lie resigned to their fate, the battle is lost. Defeat is not the worst of failures. The real failure is not to have tried.
Well said, Daniel.
> Protest inspirational, performance abject – 5 talking points
> Liverpool 2-2 Sunderland: Player Ratings